LOUISVILLE, Ky. (WDRB) -- At 2:19 a.m. on Sept. 10, some University of Louisville students were awakened by a campus safety alert warning them that "a Black Male wearing a red hoodie" had run from police in Indiana and was possibly on campus.
In addition to being unhelpful — the vague description could have applied to any number of Black students wearing the university's colors — the alert was even more problematic because it contradicted the new ethos at U of L.
As U of L President Neeli Bendapudi explained in a campus-wide apology, the alert was "not an anti-racist statement."
Anti-racism has become a popular concept in recent years, with universities and corporations holding workshops and trainings centered on it.
But Bendapudi, a 57-year-old native of India who took over at U of L in 2018, has conspicuously embraced anti-racism as a core value of U of L.
In July, as Louisville mourned the death of Breonna Taylor and protesters expressed rage over her shooting by police, Bendapudi announced her goal of making U of L "the premier anti-racist metropolitan research university in the country."
In doing so, she added "anti-racist" to the mandate the state legislature gave U of L in 1997 (to be "the premier anti-racist metropolitan research university").
RELATED PODCAST:
To Bendapudi, there should be nothing controversial about that aspiration. In fact, she said, "every university" should strive to be anti-racist.
"To me, anti-racism is extremely simple," Bendapudi told WDRB. "A racist idea is when you say that one race, by itself, is superior or inferior to another. So, anti-racism is the very simple premise that your race does not confer any inherent inferiority, or superiority, to somebody."
Bendapudi frames anti-racism not only in moral, but practical, terms. She calls it necessary to prepare students to thrive in racially diverse, professional settings.
"This is where the world is going," she said. "And so this will actually make my students and my faculty and my staff more ready for the world of work."
And she pointed to a study showing U of L's Black student population (about 11%) already ranks highly compared to other public universities, saying, "I think we have something to build on."
But Bendapudi is pursuing what she calls "The Cardinal Anti-Racism Agenda" in a state where the Black Lives Matter movement is viewed more negatively than positively by a wide margin, in contrast to the U.S. as a whole.
"President Bendapudi is fighting an uphill battle. All of us are, as we try … to balance the scales that have never been balanced racially. That is hard in a place like Kentucky," said Ricky L. Jones, the chairman of U of L's Pan-African Studies Department.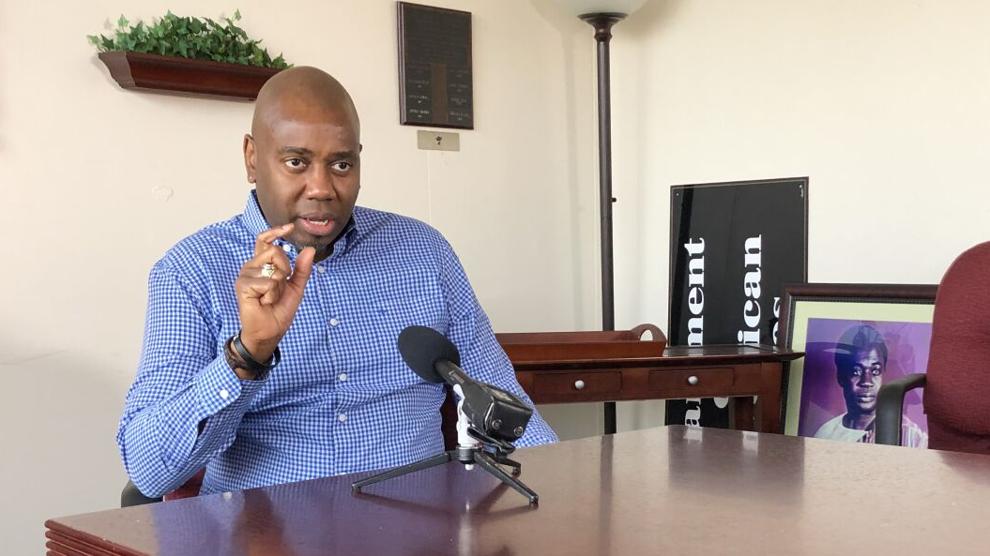 State Sen. Damon Thayer, a conservative and the No. 2-ranking member in the Senate's Republican majority, said anti-racism is "something we should all embrace," but Bendapudi's addition of the words to U of L's mandate shouldn't be construed as a legislative endorsement.
"I have a lot of respect for Dr. Bendapudi, but I wish she wouldn't speak for all of us when making statements like that before we've had a chance to look at the legislation," Thayer told WDRB. "Universities already have a lot of statutory protections at the federal and state level regarding anti-discrimination."
Anti-racism does not 'shut down debate,' Bendapudi says
Bendapudi has yet to detail the specific steps U of L will take to achieve its anti-racist ambitions. A group of more than 100 faculty, staff and students is working on a plan that is slated to reach the board of trustees at its meeting next week.
On campus, criticisms of the initiative include that it's not moving fast enough, or that anti-racism is just a slogan without concrete actions.
Maliya Homer, the president of U of L's Black Student Union, described the initiative as "infeasible at its base" during a memorial ceremony for Breonna Taylor earlier this month.
"A premier anti-racist university would not have cops at all, let alone have a partnership with one of the most violent police forces in the South (Louisville Metro police), the one that took Breonna's life," Homer said at the Oct. 2 event, with Bendapudi sitting a few feet away. "A premier anti-racist university would be free of charge to attend. A premier anti-racist university is an oxymoron, because institutions are inherently violent. And as a business, this university works to uphold capitalism and all of its functions."
Homer wasn't available for an interview, but said in a digital message that no one from the U of L administration has reached out to address her concerns.
On the other end of the spectrum, some worry about anti-racism leading to racial preferences in hiring and a narrowing of the range of tolerable speech and debate at U of L.
"I think that's the risk when you go down this road of anti-racism," said Russ Weaver, a professor of law, who describes himself as a libertarian. "Are you essentially cutting off all debate? Is somebody considered a racist because they don't agree with that position?"
Weaver, who calls himself "a big fan" of Bendapudi, said the initiative would succeed if it leads to "truly colorblind" policies.
Bendapudi, for her part, said she would be "disappointed" if the initiative hadn't sparked criticism from different corners of the campus.
"By and large, it's been very well received, when people know what we are talking about and what it means," she said. "And we're putting it out boldly that racism simply means, your race gives you superiority. Anti-racism means there's other factors … The vast majority of people, as we talk to them and engage them, are saying, 'it makes complete sense.'"
Bendapudi doesn't apologize for maintaining a campus police department to ensure students are safe. She calls herself "a businessperson" who supports capitalism and says some criticism of Black Lives Matter is because people associate it with Marxism.
Only one notion – the idea that one race is superior or inferior to another -- is "beyond debate" at U of L, she said.
"Anti-racism does not mean we shut down debate," she said.
'Not enough to say, 'I'm not racist''
Ibram X. Kendi, the author of the New York Times bestseller "How To Be An Antiracist" – which Bendapudi said she's read – has said anti-racism is about persuading people that neutrality is not an option when it comes to racial issues.
"What I'm trying to do with my work is to really get Americans to eliminate the concept of 'not racist' from their vocabulary, and realize we're either being racist or anti-racist," he said in a June 9 TED Talk.
But Jones, who chairs Pan-African Studies at U of L, said that's "too strict" a framework, especially in a less progressive state like Kentucky.
"If you're neutral, you may be a coward … that doesn't make you a racist," Jones told WDRB. "It doesn't make you helpful, but I wouldn't affix the label 'racist' to you because you're not helping."
Bendapudi seemed to adopt Kendi's dichotomy, however, when she announced the initiative in July. At the time, she said, "It's not enough to say, 'I'm not racist.' We must become anti-racist."
But speaking to WDRB, she was more circumspect about whether people can be neutral without being racist. "These are all ideas we're all grappling with," she said.
Bendapudi gave an example: What is an anti-racist person to do in a social group when a racist joke is told? She said she would understand the desire to avoid confrontation.
"But I think we need to give people tools on how to speak up," she said. "What can you say in situations like that? … Someone else is being racist, and you are there. Are you playing along and supporting it? Or are you standing up? That's one way that I think about, 'Are you anti-racist?'"
Bendapudi added that she has no problem with a student who might wish to remain neutral on racial issues.
"Does everybody who comes here, they're signing up to be an activist in a protest or something like that? Not at all," she said. "Putting people up to fit into this bucket or that, and (saying) 'you have to,' is not right. You know, we are here primarily for education."
'Talk is cheap'
Bendapudi said "talk is cheap," and the actions U of L will take to achieve its anti-racist goals are still being developed.
In an Oct. 15 letter obtained by WDRB, she and Provost Beth Boehm said the initiative would include, among many other steps, efforts to "recruit and retain more students, faculty, and staff of color," and to "build intentionally anti-racism curriculum across all disciplines."
Jones, of U of L's Black studies department, isn't involved in the initiative. He said the ambition should be applauded, but results matter.
For example, he said, U of L needs Black faculty members in every academic unit.
"If you're a biology major, it's possible right now, not only for you to go through the University of Louisville and not encounter a Black studies course, but you can go through the University of Louisville and not encounter a Black professor," Jones said. "That's the reality … you can avoid Blackness, period."