LOUISVILLE, Ky. (WDRB) -- After a white man shot and killed two Black people inside a Kroger store in October 2018, the Louisville Metro Police Department's top homicide investigator and a high-ranking major arrived at the scene after they had allegedly been drinking.
Joe Persails, a Louisville-based agent for the Bureau of Alcohol, Tobacco, Firearms and Explosives, told the LMPD's Professional Standards Unit in May 2019 that he talked at the scene with then-Lt. Emily McKinley, who led the homicide unit, and she seemed "tipsy."
The claims, which could have tainted the murder case against the shooting suspect, were made during an unrelated internal investigation of alleged drinking in the homicide unit. WDRB News won a lawsuit last year releasing the records, which LMPD had refused to provide under Kentucky's Open Records Act.
The investigation of the alleged party four months after the racially-motivated killings, included complaints by multiple law enforcement agents — Persails and three LMPD officers — about the culture of the homicide division, including drinking on the job.
It's not known what roles McKinley and the unnamed major played in the investigation of the Kroger rampage, but police department policies prohibit officers from reporting for duty with "any measurable amount of alcohol in their system." Showing up for work under the influence of alcohol can trigger an emergency suspension.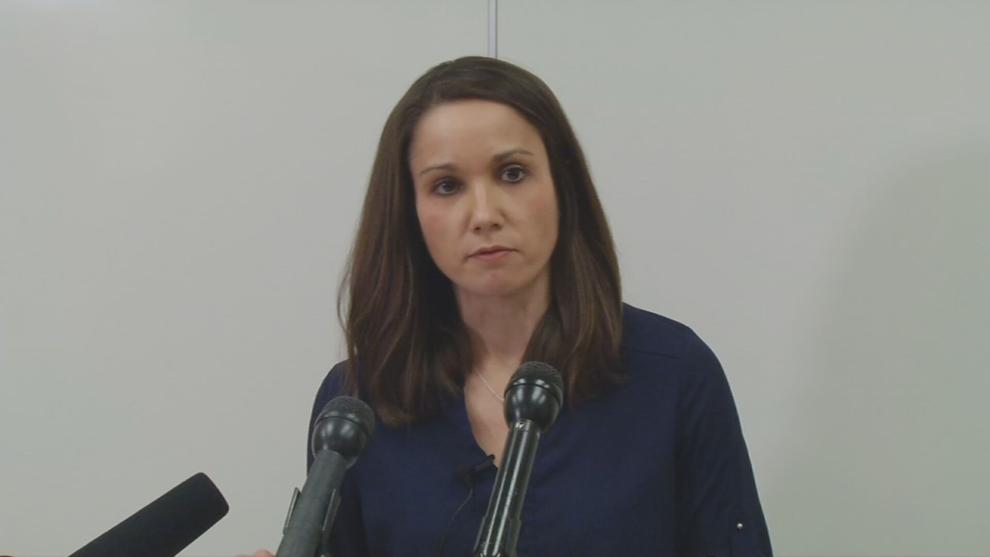 "She was kinda swayin'" Persails told LMPD investigators Maj. Frank Hardison and Lt. Jeff Artman of McKinley on May 2, 2019. "She was over — way over friendly than she normally is. ... I know what someone looks like when they're — they're drinkin' so ... "
And Persails said he believed a department major he saw at the scene also had been drinking. The major's name was redacted in records provided to WDRB News from LMPD in an open records request.
"They're standin' there swayin,' they had — I mean — like, they — you can tell when, like someone's face is flushed or, you know what I mean?" Persails told police in a transcript of his interview.
McKinley and some other officers had allegedly come to the Kroger shooting from the funeral home visitation for Sgt. Jon Lesher, who had died three days earlier on Oct. 21, 2018.
"They're over there havin' an Irish funeral in the corner of a parking lot," LMPD Lt. Grant Riggs told investigators, estimating that up to 20 LMPD homicide officers had gathered. "You know, where they're consumin' alcohol."
Both Riggs and Persails brought up the alleged drinking before the Kroger shooting during a separate LMPD investigation into misconduct related to an alleged gathering with alcohol at the homicide unit in the Edison Center at Seventh Street and Ormsby Avenue in early-2019. 
"If we're down at the (homicide) office they can't party and get drunk down there anymore, ya know," Pervails told investigators about concerns ATF had about working with the homicide unit.
It is unclear if LMPD conducted a separate investigation into the allegations about these overall concerns or, more specifically, drinking before going to the Jeffersontown Kroger scene. That's where Gregory Bush shot and killed Maurice Stallard and Vickie Jones because of their skin color about 3 p.m. on Oct. 24, 2018.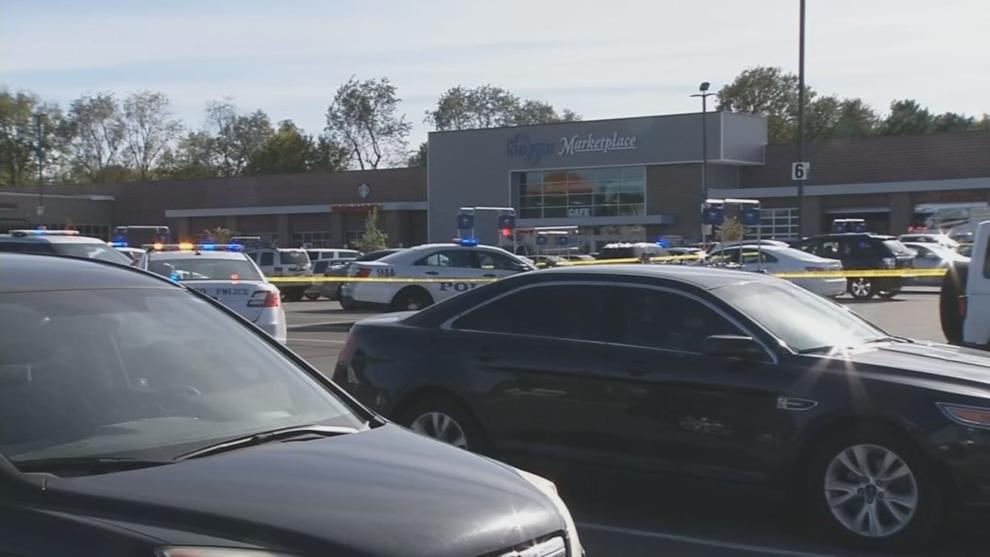 LMPD did not respond to a list of questions submitted Tuesday about this story, including whether an investigation was conducted. Chief Erika Shields did not respond to an email sent Tuesday.
On Wednesday evening, an LMPD spokesperson responded to the story with this statement: 
In 2019, LMPD conducted an investigation into allegations of an unauthorized party at the homicide office and intoxicated personnel at a crime scene. Department investigators found no evidence to support claims made by two individuals.  LMPD is committed to creating an environment of integrity and welcomes all purposeful testimony in any investigation.
However, a subsequent open records request found that no separate investigation was conducted by LMPD into allegations of drinking prior to the Kroger shooting. 
In a brief phone interview, McKinley said she would "rather not" talk about the allegations.
"I appreciate it," she added.
Attorney Thomas Clay, who has been meeting with two officers with knowledge of the alleged February 2019 party at the homicide office and the purported drinking before Lesher's visitation, said there's no indication police investigated whether officers had consumed alcohol before arriving at the Kroger shooting.
"There's no question an investigation should have been undertaken," Clay said. "It was pretty widely known throughout LMPD and even the law enforcement community that there was a course of conduct there at this shooting at the Kroger store that at least called for an investigation."
An 'Irish funeral'
WDRB News has requested McKinley's personnel file and any internal or criminal investigations involving her.
McKinley met with police investigators on Aug. 1, 2019, months after the claims that she had been drinking before the Kroger shooting.
Hardison and Artman did not ask McKinley if she had been drinking that day but did question whether she had ever been inebriated while on duty.
She said she had not. She also denied drinking in the homicide office.
Investigators interviewed dozens of homicide officers but did not ask any about alleged drinking at the visitation before the Kroger shootings.
On the day of the Kroger shooting, Persails said he was looking for the investigator in charge and walked up to McKinley.
"She didn't seem right and then I heard that they were, uh, drinkin' at the time," Persails said.
Persails said he has shown up at several crime scenes with McKinley previously and she is "not really talkative with us. She kinda just looked at us and, you know. She doesn't really acknowledge us being there."
But this time was different, Persails said. He said her demeanor had changed.
"I've been around a lot of people drinking and I can ... I know what someone looks like when they're drinking,'" he said.
Asked why he didn't report it at the time, Persails said, 'We were busy. I mean, there was bigger things to worry about."
He said he did not see McKinley or the unidentified police major drive to or from the scene and acknowledged he did not know how much of a role they played in the investigation.
The Jeffersontown Police Department led the Kroger shooting investigation. 
Riggs told investigators he didn't see homicide officers actually drink at the visitation but that more than a dozen of them had congregated together in the parking lot of Arch L. Heady Funeral Home on Bardstown Road.
"I think some folks were under the influence of alcohol," Riggs told investigators during his interview. He also drew investigators a map of the funeral home and where he said he believed officers from homicide had been drinking.
"And then when I'm inside the funeral home, you know, you hear comments about, 'Oh, boy, an Irish funeral going out outside," Riggs said.
When asked what an Irish funeral is, Riggs said, "Basically you're outside drinkin' at a wake. That's what it boils down to. Consumin' alcohol beverages at a funeral at a wake."
Riggs said he couldn't say how much alcohol anyone had consumed. The visitation was from noon to 8 p.m., according to Lesher's obituary.
"Either way, you shouldn't be consuming alcohol and reporting to duty in no measurable amounts," he said.
Homicide unit complaints
The Kroger allegations were brought up by ATF and LMPD officers in discussions about not only the alleged party, but the overall culture of the homicide unit. Riggs, Persails and others claimed some unit members drank on the job, and there was an absence of leadership and a lack of focus on solving murders in Louisville.
In a March 27, 2019, memorandum, Riggs told then-Chief Steve Conrad that he had been told of "several instances of inappropriate behavior from certain segments of the Homicide Unit that has been condoned by commanding officers and or covered up."
Persails, who works frequently with homicide detectives as part of a partnership between LMPD and ATF, said it was an open secret that there were issues with some in the homicide unit. But many were afraid to speak up because of the threat of retaliation, he said.
"There is ongoing rumors, or, uh, statements about there being ongoing drinking in the homicide office," a police investigator said to Persails.
"Yes," he responded.
"There's a lot of frustration toward the fact that, you know, they're over there havin' a party," Riggs said in his interview. "We're less than 50% of homicide clearance rates ... and let's have a party? And — I mean that's some frustration for these (ATF) guys 'cause they're trying to stop murder. And when they're over there havin' a party and a good time and they're not, you know, cooperatin' with them and they're not helpin,' there's a lot of frustration to be had that the ATF has."
LMPD Sgt. Bryan Edelen, who filed a complaint with Conrad on March 28, 2019, about the alleged party, told investigators he was trying to obtain a federal grant for the department to work with ATF but feared the unit's reputation was harming them.
During a March 2019 meeting between representatives from ATF and LMPD, ATF Special Agent in Charge of the Louisville Field Office Stuart Lowery talked about a "lack of cooperation" from LMPD, Edelen said, and that crime fighting tools provided to the department "could be lost if we don't fully get on board essentially," according to a transcript of his April interview with investigators.
"That was very concerning to me and that is what ultimately led me to, uh, when I came back from that meeting go to my command staff and say, 'Guys, we're — we're losin' some — a relationship here potentially with the feds."
Lt. Theodore Eidem, Edelen's supervisor, told investigators he was so concerned he filed a complaint and met with LMPD commanders about the alleged party and other issues.
"It's very frustrating," Eidem said.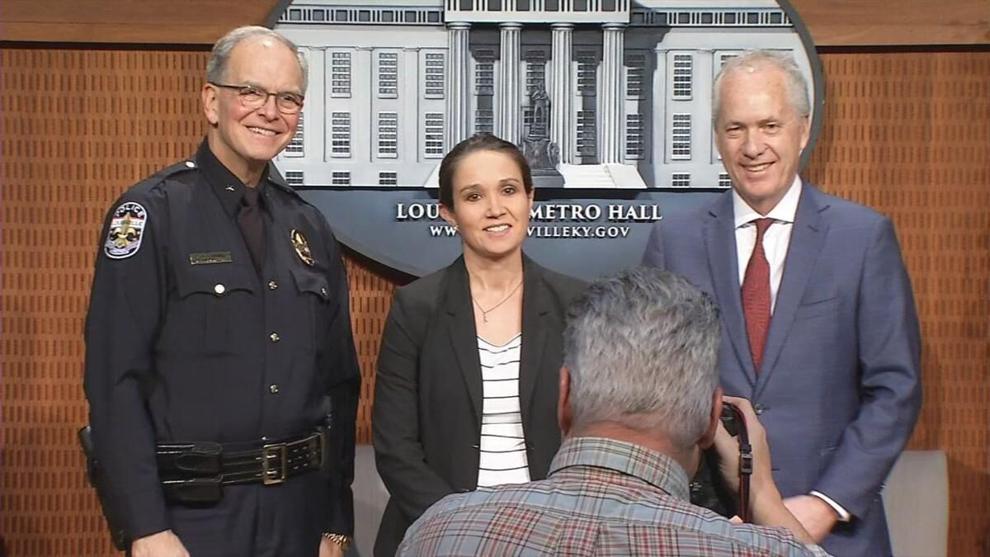 About eight months after the complaints was filed, McKinley was promoted to major, a rank she still holds. 
A party at the homicide office?
At least four complaints were filed about officers allegedly drinking in the homicide office on Feb. 27, 2019, with some having to be driven home, including McKinley and Maj. Todd Kessinger.
Kessinger has since retired but at the time was in charge of LMPD's major crimes division. He did not return a message left on a phone he has used, nor did LMPD provide any contact information for him.
Officers were ordered by McKinley and Kessinger, among others, not to talk about the party, according to the complaints. 
McKinley acknowledged being given a ride home but denied being drunk. McKinley told investigators she and some others went out to a bar to celebrate Kessinger's impending retirement. 
When they arrived back at the office, she said she became emotional talking about the death of Lesher, the officer whose visitation occurred the day of the Kroger shooting the previous fall. He worked in the homicide unit and died from a heart attack at 41.
McKinley told investigators she had a couple of drinks at the Granville Inn bar over about an hour and a half, and another officer drove her home. A separate officer followed, driving McKinley's car, she said.
Later in the interview, McKinley said she only had one drink at the bar and was not inebriated but was too emotional to drive.
She said Kessinger was also driven home because "he had drank at the Granville. I think it was just, like, uh, better safe than sorry." Another detective drove Kessinger's vehicle to his home.
But McKinley said Kessinger did not need to be carried or provided assistance to leave the office.
"I saw him walkin' out of the Homicide office," she said in her sworn testimony. "I don't recall anything out of the ordinary or control, like, you know, he was under control."
A surveillance video obtained by WDRB News shows three officers escorting a visibly unstable man out of the building. Documents and officer interviews suggest it was Kessinger.
Kessinger declined to talk with investigators.
Sgt. Scott Beatty, a detective who asked on-duty officers to give rides to Kessinger and McKinley, told investigators he didn't notice that either had been drinking.
"If they hadn't pretty much told me that ... that they had had a drink and that they needed a ride, I would not have assumed that they were," Beatty said.
But Detective Kevin Speaks told investigators he and Detective Russ Lassiter helped Kessinger to his feet, put their arms around him and walked him out of the building.
Lassiter said he had to walk Kessinger into his home and set him down.
And Detective Christopher Rutherford told investigators some officers may have been "overserved" at dinner and did the responsible thing by getting rides home.
Speaks said that later Kessinger told him, "Hell don't worry about talking about it with anybody."
Some of the complaints alleged an officer was sent to bring alcohol to the homicide unit for what was Kessinger's last day before retirement.
Persails, the ATF agent, said he spoke with some detectives who told him it was "so loud that they had to leave. That they just got up and left the office."
In the documents turned over to WDRB News, an anonymous complaint noted cameras located outside the homicide office "may have caught" inebriated officers leaving the building, some too drunk to stand on their own and having to be driven home.
"ATF has a long and productive working relationship with LMPD, specifically on task forces and joint investigations that involve violations of federal laws.  Together we share a mission to reduce violent crime and create a safer Louisville for everyone. We expect this strong partnership to continue," said Special Agent In-Charge of the Louisville ATF field office Shawn Morrow.
However, despite a court order, LMPD only turned over two of at least four exterior surveillance cameras on the building.
When asked about the other cameras, specifically one that would show the primary door that homicide detectives use to go into and out of the building, a spokeswoman for the LMPD said she turned over "all of the surveillance video available in the file."
An attorney for WDRB News asked Metro government lawyers about the missing surveillance video.
An attorney for the city responded this week: "You have what they (LMPD) have."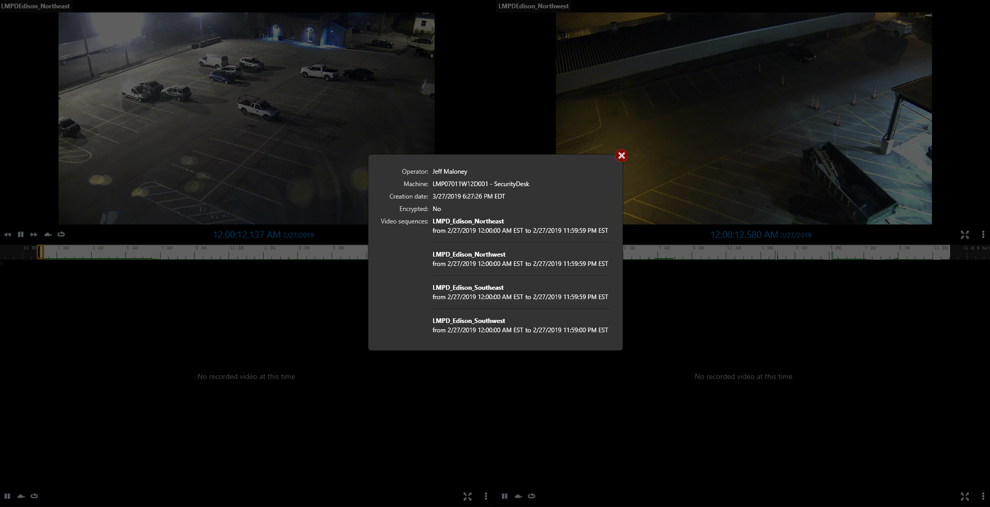 Clay, the lawyer consulting with officers with knowledge of the investigation, said there are certainly some serious mysterious circumstances surrounding this video."
"There have been different reports that it was deleted ... or somehow disappeared. ... That video footage should exist."
The investigation noted in a timeline that police obtained surveillance video but did not describe what was on it or if any was missing. The video was never referenced in any of the 54 interviews conducted by internal investigators.
Asked by police investigators if he believed there was a cover up, Riggs said: "Well, I mean, when you're telling your subordinates not to say anything about drinking alcohol at a police facility and getting' a ride home when — by your underlings when you're drunk. I think that's an inappropriate behavior you're coverin' up."
The internal police investigation concluded officers drank at a local bar for about an hour before coming back to the homicide office, where no drinking occurred. 
After dozens of interviews, "there was nothing found to support, nor substantiate, the allegations," according to the investigation summary. And because the allegations were "hearsay" and "second-hand," investigator Hardison recommended that "no member of LMPD be specifically named as accused in this investigation."
No one who was in the homicide unit that day told Hardison a party occurred.
In addition, Hardison proposed the investigation be categorized as a "General Inquiry" into allegations of drinking and sexual activity, with both charges being unfounded.
In fact, the investigation concluded there was not even a "party" at the homicide office.
However, a number of detectives interviewed mentioned current and former officers visiting the office that day to see Kessinger.
"Did you see anything indicative of a party, ice cream, cake, cookies, punch?" investigators repeatedly asked dozens of homicide officers.
Clay said he believes officers were coerced into giving false statements and he would hope LMPD commanders would go back and review the investigation.
"I hope that somebody go back and encourage those that witnessed what happened to tell the truth," he said. "It's very troubling to me."
Copyright 2021 WDRB Media. All Rights Reserved.