LOUISVILLE, Ky. (WDRB) – For about two weeks, dentists and hygienists with Shawnee Christian Healthcare Center have transformed an empty classroom at McFerran Preparatory Academy into a mobile dentistry clinic.
One by one, students in McFerran's elementary and early childhood schools got their teeth cleaned and examined by a pair of dentists Thursday. They left with bags that included toothbrushes, toothpaste and stickers.
Shawnee Christian offered dental services at the school for the first time this year, but the dental professionals will be back before the end of the school year to make sure their growing list of young patients stay on schedule with regular checkups. The healthcare provider expanded its footprint in Jefferson County Public Schools in 2019-20, treating more than 600 students in 10 local schools.
JCPS hopes its partnerships with Shawnee Christian and other dental providers will improve attendance across the district, which launched an initiative called Every Day Counts to tackle that issue in January.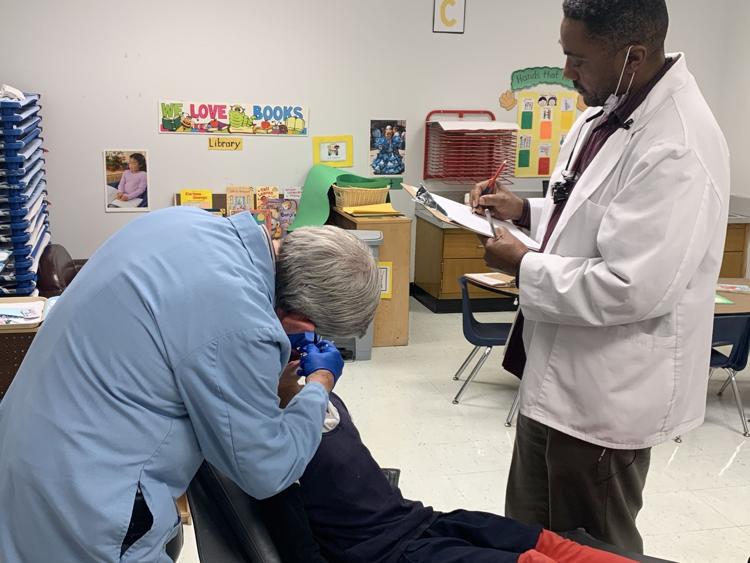 Jennifer Hasch, Shawnee Christian's dental services manager, said when students don't have to deal with pain from nagging toothaches, they're more likely to attend school.
"Anyone that has had a toothache can understand how hard it is to concentrate, to sleep, to behave, and so what we're doing is helping students stay healthy so that they can remain in the classroom learning," Hasch said.
Laura Thomas – who has more than three decades of experience in the classroom, particularly in early childhood programs – said that while younger students haven't often complained to her about toothaches, it's important to stay on top of any dental issues before they start.
"Early prevention is your best form of defense," Thomas said during an interview at McFerran. "… You've got to keep those pearly whites."
While Shawnee Christian just began its services for more than 100 students at McFerran, early indications are that the district's push to improve attendance has been paying off at the school.
McFerran had an attendance rate of 94.5% last school year, according to JCPS. So far this year, only one grade level, kindergarten, had a monthly attendance rate below that mark in October, according to a chart at the school's entrance.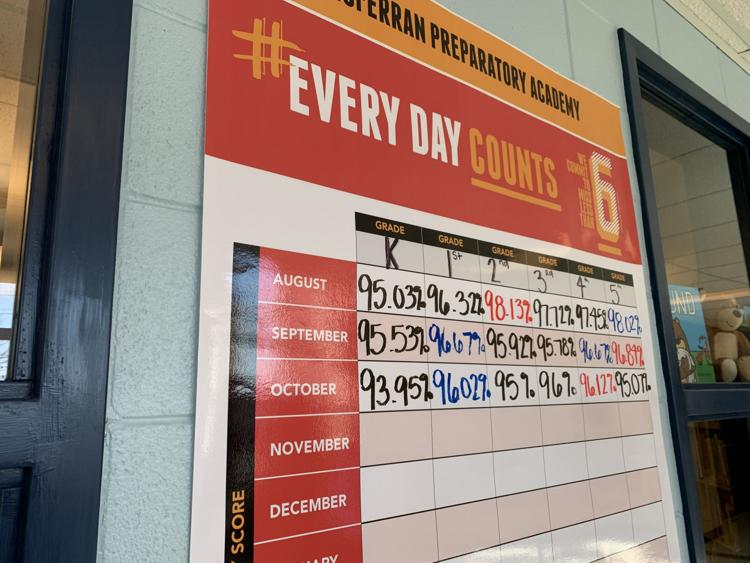 Shawnee Christian began offering dental screenings at Atkinson Elementary, the Academy @ Shawnee and Maupin Elementary, including its early childhood program, during the 2017-18 school year and has expanded every year since. It's added McFerran, Wheatley Elementary, Byck Elementary, Young Elementary, Dawson Orman Education Center, DuValle Education Center and Hazelwood Elementary's early childhood program since then.
Shawnee Christian now also offers health services at Atkinson, Maupin and Shawnee, Hasch said.
Two other schools, Pleasure Ridge Park High and Central High, will get dental services through a partnership with Park DuValle Community Health Center, JCPS Communications Director Renee Murphy said.
Another 20 schools will be serviced through agreements with Bardstown-based Davis Cosmetic & Family Dentistry and School Smiles, of Greenwood, Indiana, recently approved by the Jefferson County Board of Education, according to Murphy. She noted that insurance providers for JCPS students are billed for dental work.
Hasch said the program also aims to make young students familiar and comfortable with visiting dentists regularly. She has found that students who have been in Shawnee Christian's dental chairs before often greet dentists and hygienists with smiles and hugs rather than apprehension.
"Many people think of the dentist as something painful or negative, and what we're doing with the school-based program is starting dentistry on a positive note," she said.
"We know that with dental care, prevention is where we want to be, so if we're seeing folks every six months for positive visits, they never have to get to the point of pain or infection," she added.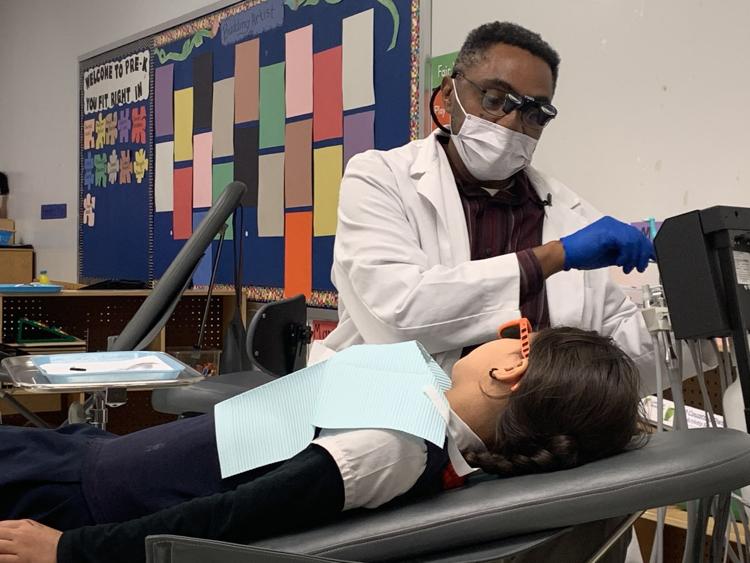 And instead of appointments at brick-and-mortar offices during normal business hours, Shawnee Christian's mobile clinic can set up essentially anywhere with enough space in a school.
That could mean setting up in a vacant classroom, such as at McFerran, or any other open area, such as cafeterias or hallways.
Hasch said the approach requires flexibility and resourcefulness. Along with dental equipment and tools, including a handheld X-ray machine, the mobile clinic also packs extension cords to make sure the dental professionals have power no matter where they see patients.
With some families unable to take their kids to appointments for follow-up care, Hasch said Shawnee Christian is exploring the possibility of bringing along specially equipped mobile vans during school visits next year to immediately take care of major procedures such as tooth extractions.
"We would have to get additional consent from the parents, but what that would do is eliminate those barriers and bring that restorative care here to the students so that they can get any pain resolved, maybe even the same day we find it," she said.
Copyright 2019 by WDRB Media. All rights reserved.