LOUISVILLE, Ky. (WDRB) – Nearly three years after his downfall, Papa John's International founder John Schnatter has released the full recording of a 2018 conference call in which he uttered a racial slur, claiming that the tape shows the public relations contractors on the other end of the call conspired against him.
The recording is part of the evidence exchanged in Schnatter's lawsuit filed in 2019, in which he accuses Papa John's' former creative agency Laundry Service / Wasserman Media Group of maliciously leaking the remark to Forbes as part of an effort to create "a false public belief that Mr. Schnatter used a racial slur when he had not."
The publication's July 11, 2018 story disclosing Schnatter's use of the "N word" on the call precipitated his complete divorce from Papa John's and his shunning by the University of Louisville and other causes he had supported.
The lawsuit, which is still pending, is part of Schnatter's ongoing efforts to salvage his reputation, saying he was unfairly portrayed as a racist and set up to take a fall.
An attorney for Laundry Service and Wasserman didn't immediately respond to a request for comment Wednesday. But the defendants said in court papers filed last year that Schnatter has no one but himself to blame for comments that led to his downfall.
As they point out, Schnatter in 2018 admitted to uttering the racial language, saying in a written statement, "Regardless of the context, I apologize."
"Schnatter seeks to re-write history and portray himself as a victim, making the fantastical claim that his admitted use of the "N-word" and other hurtful language were actually 'comments he made denouncing racism,'" Laundry Service and Wasserman said in a March 23, 2020 court brief.  
The recording of the May 22, 2018 conference call appears to show executives at the public relations agency marveling under their breath, and privately after Schnatter signed off the call, at what they viewed as Schnatter's insensitivity toward racial issues.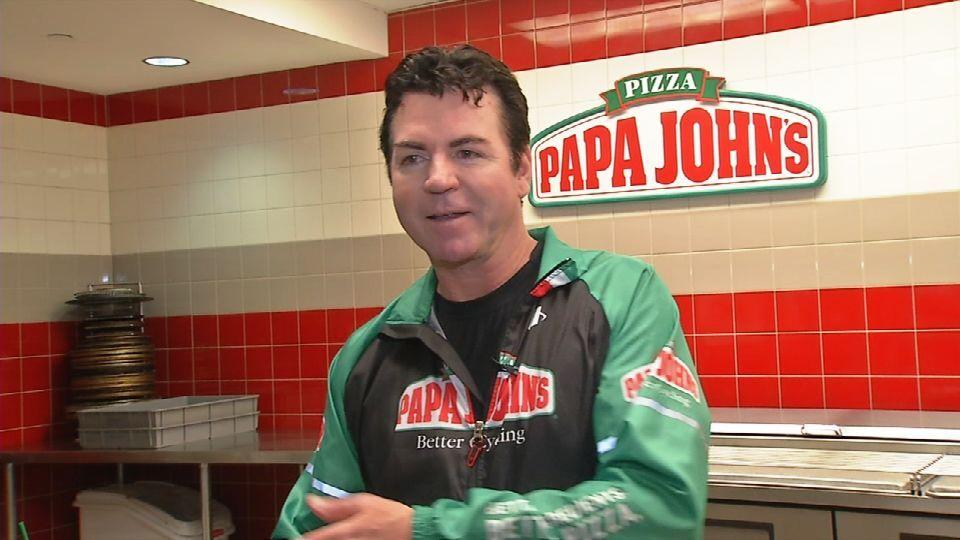 Schnatter's transcript of the call
At the time, the agency was preparing Schnatter for a media blitz aimed at softening the blow from another controversial comment Schnatter had made during a 2017 earnings call, when he called the NFL's mishandling of players kneeling during the national anthem "a debacle" hurting football viewership and in turn, pizza sales.
Just before the "N word" utterance during the May 2018 call, Schnatter complains about still being in hot water over the national anthem comments six months later despite the company's $40 million annual spending on NFL advertising. At the time, Papa John's' was the NFL's pizza sponsor.
"We're the number one brand and now all of a sudden, we're dealing with this shit. It's crazy," Schnatter said, according to a transcript of the call his team released.
A person identified as former Laundry Service CEO Jason Stein replies under his breath, according to Schnatter's transcription, "This is what happens when a sociopath spirals."
Schnatter then makes the comment that would ultimately sever him from the company he founded in 1984:
Up in New York we made a decision. We're going to go out and get killed again, then I don't have to worry about doing the ads. And I got to tell you, heaven forbid this company if they're not going to use me at all. After I've looked at this research, I mean, I'm just not seeing how you're not going to tell the Papa John story and let them – what bothers me is Colonel Sanders called Blacks n******. I'm like, I've never used that word. And they get away with it. Yet we use the word debacle and we get framed in the same genre. It's crazy. The whole thing's crazy.
After Schnatter and then-Papa John's CEO Steve Ritchie sign off the call, executives on the Laundry Service appear to vent frustration about how "out of touch" Schnatter sounds and to express a desire to see him repeat himself in public.
According to Schnatter's transcript:
Stein: I hope he gets fuckin' sent out to the pasture on this shit. I really, really fuckin' do.
Unidentified speaker: All of his answers just said a lot about him. They were very revealing.
Stein: Yeah. I mean I already, that's already all been revealed to me. That's why I just want him to go out and talk.
Unidentified speaker: Because he can't even take the most, like, simple, like just acknowledge the fact that, find something that [UNINTELLIGIBLE] why they're doing this protest, like he wouldn't even pick up on that.
Unidentified speaker: Yeah, he's really not in touch.
The Laundry Service executives also scoffed at a comment Schnatter made earlier in the call, when he talked about the "bullshit" near where he grew up in Utica, Indiana in the 1960s and 1970s, where Black people were warned not go after dark. "You know, they used to drag Black people behind a pickup truck until they were dead," Schnatter said on the call.
The Laundry Service executives go on to discuss how Schnatter's comments show he is a racist and how he would likely implode if interviewed on video at length.
"No one has said to him, 'dude, are you really not getting it? You are out of touch.' Everyone, including us, are pandering a little bit to him. No one is saying to him, 'you are actually out of  touch. You cannot say these things,'" a speaker identified as former Laundry Service employee Tim Polder says, according to the transcript.
Stein, according to the transcript, says, "(J)ust have to make sure it's an hour-long conversation, so that he says shit like he said here. It's gonna come out. He can't control it."
Schnatter wasn't immediately available on Wednesday. In a statement, he said it's "a major relief" to have the full recording released.
"Everyone can hear for themselves how I was raised to totally reject racism," he said. "The American people can hear for themselves that the Laundry Service staff were laughing about setting me up to take a fall."