FRANKFORT, Ky. (WDRB) -- Hours after its passing, Kentucky Gov. Andy Beshear on Thursday vetoed parts of a bill that would nullify the state's mask mandate in public schools, but was quickly overridden by both the Senate and the House.
The Kentucky General Assembly passed the legislation Thursday which would also grant districts additional flexibility in navigating the COVID-19 pandemic.
Senate Bill 1 passed the Senate on a 28-8 vote on the third day of the special legislative session.
Hours later, the House of Representatives voted 70-25 to send SB 1 to Beshear's desk for his consideration.
Beshear issued line-item vetoes to the parts of SB 1 that would have ended Kentucky's school mask mandate for K-12 public schools and child-care centers. 
But the vetoes were quickly overridden by both the House and Senate. The House voted 69-24 to override the veto while the Senate voted 21-6 on the override. 
Beshear's veto message referred to masks as a "safe and effective way" to combat the spread of COVID-19. The governor previously issued statewide mask mandates and recently said he thought another mask order was needed to confront the current surge.
Each chamber of the legislature debated the measure for more than an hour before Thursday's floor votes.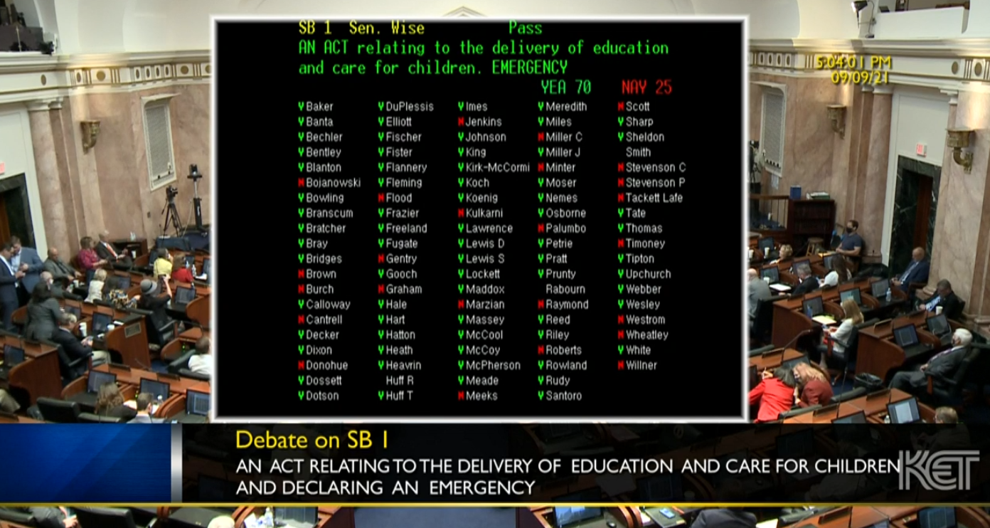 The legislation reverses an emergency regulation passed by the Kentucky Board of Education requiring universal masking inside public schools within five days of becoming law. The state board will be barred from passing similar emergency regulations until June 1, 2023, once SB 1 becomes law.
That aspect of SB 1 has drawn criticism from Beshear, Kentucky Education Commissioner Jason Glass and some Democratic lawmakers.
Glass said SB 1 doesn't provide enough flexibility to meet the needs of the state's varied school districts.
"The politically-motivated effort to remove masking requirements in public schools weakens our virus mitigation efforts as a state at the very time they are needed most," he said in a statement. "We will be working with Kentucky's school districts as they continue to try to keep students in school safely and do our best to manage the consequences of the decisions made by our legislature in this special session."
Despite such misgivings, lawmakers overwhelmingly voted to pass SB 1 on the third day of the special session, which was called by Beshear after the Kentucky Supreme Court ruled laws limiting gubernatorial authority during emergencies should go into effect while his lawsuit challenging them continues.
Sen. Max Wise, a Campbellsville Republican who chairs the Senate Education Committee, said the measure gives school districts across the state a "tactical approach" to handle COVID-19. He and others noted that lawmakers can offer more help for school districts when next year's legislative session convenes in January if needed.
"This bill will give local control back to the districts," Wise said. "Not mandating they do, not mandating they don't. They make the decision of what they think is best for their constituents and their communities."
Other supporters of SB 1 echoed that point.
"Let me assure the people at home, we are not taking masks away from your children today regardless of what you've heard here," said Rep. John Blanton, R-Salyersville. "Masks are still a part of the tools that's provided for each and every school district across this state."
SB 1 also nullifies state masking requirements in child care settings. Masks are required on school buses under a federal directive.
Senate Minority Caucus Chair Reginald Thomas, D-Lexington, said lawmakers who vote for SB 1 are ignoring health and safety concerns in the midst of the COVID-19 pandemic.
"We're going to leave that up to local school boards," Thomas said of masking policies. "That sounds good ... until we realize that there is no local control of this virus."
Leaving such decisions in the hands of school boards could present other problems as members debate such hot-button issues, others said.
"I think you are asking for fights in school board meetings where parents are going to be intimidated, where school board members are going to be intimidated, where superintendents are going to be resigning," said Sen. Karen Berg, D-Louisville. "... We need to be the adults in the room, and I think we have just given up that responsibility, and I'm embarrassed."
At Shelby County Public Schools, administrators like Joanna Freels, the chair of the Board of Education, say they won't buckle to any political pressure.
"We don't make a decision to be re-elected," Freels said. "We make our decisions based on what is best for our students and staff."
However, Superintendent Dr. Sally Sugg says administrators haven't yet made a decision on the future of masks at Shelby County schools, if SB 1 becomes law and gives districts more control.
"We're going to be listening," she said. "And we're going to not only be listening to our community, but we're also listening to our medical community."
SB 1 also gives schools districts up to 20 remote learning days for particular schools, classrooms or groups of students if needed because of COVID-19 cases and exposures.
That drew some concern from lawmakers who represent large school districts like Jefferson County Public Schools, Kentucky's largest public school system with more than 150 schools.
"In order to make this more of a flexibility that can help us to address COVID in our schools, I would like to propose that we offer this 20 days per school building," Rep. Tina Bojanowski, D-Louisville, said before trying to secure a vote on a floor amendment to that effect.
Bojanowski's was one of several failed attempts to consider floor amendments to SB 1 in the House.
Rep. Jason Nemes, R-Louisville, said the 20 remote learning days combined with the 10 nontraditional instruction days allotted to school districts should be enough to get them through the end of the semester.
Districts cannot get more than the 10 nontraditional instruction days allowed by state law in the bill, though the bill allows districts to fulfill 1,062 learning hours rather than the 170 instructional days required under state law.
"That's 30 days of grace that we've given if you need it," Nemes said. "... We're trying to keep our kids safe and our teachers safe."
The legislation allows school districts to use either 2018-19 or 2019-20 attendance data to determine their state funding and eases restrictions on hiring retired or prospective employees and substitutes in response staffing shortages.
SB 1 also directs the Kentucky Department for Public Health to develop a "test to stay" program to allow districts to test asymptomatic students who have been exposed to those with COVID-19 and allow them to avoid quarantining if they test negative.
Copyright 2021 WDRB Media. All Rights Reserved.