LOUISVILLE, Ky. (WDRB) -- One day after the U.S. Department of Justice laid out major issues with the Louisville Metro Police Department after a two-year federal civil rights investigation, LMPD's interim chief and mayor said they're moving forward trying to fill a massive officer shortage.
Interim chief Jacquelyn Gwinn-Villaroel said despite the scathing report released Wednesday by U.S. Attorney General Merrick Garland and wavering public trust, morale remains good.
"The report came out yesterday, and that's troubling," Gwinn-Villaroel said Thursday. "We have quite a bit of our officers that are taken back by it and that are hurt by it. Understood. Morale is still good. ... I'm encouraging them that they still go out in the community and police the right way.
"We're transparent and the community deserves that."
The DOJ report said LMPD repeatedly violated residents' civil rights and discriminated against people, outlining 36 measures of improvement for the years ahead. Louisville Mayor Craig Greenberg joined Gwinn-Villaroel in her desire to press forward and be better. 
"What we are focused on is embracing reform and improvement, even if there are things we disagree with in the report," Greenberg said. "We need to focus on moving forward."
Garland said federal and local officials have agreed in principle to enter a court-enforceable consent decree as the department makes agreed-upon changes to policing practices. Greenberg said the plan could take four to six months to get approved and will include community input.
Below is a full Q&A with Greenberg and Gwinn-Villaroel from Thursday:
Q: "You're still going through the DOJ report, I'm sure. What was your reaction when you first read it?"
Greenberg: "Lots of emotions. It was we first heard about it before we read about it. I heard about the findings from the Department of Justice a few days ago, and hearing that, it's difficult, it's painful, it's infuriating, all of those and many more emotions. These were my reaction to it. But I also thought it was very important and necessary for our community to have this report so that, as bad of a picture of the past that this report paints, we can now move forward.
"We can move forward, embracing reform, embracing improvement, embracing a commitment to progress in LMPD, in our city as a whole. And that's the chief and my commitment is to work together with the community so that everyone in this city feels like the police department is working for and with them to keep them safe."
Q: "You inherited these issues. You weren't in office when these things happened. How do you move on exactly? How do you gain the trust of the public?"
Greenberg: "I think with action. Words are easy to talk about. Hopefully that's helpful, that people know where our heart, where our mind, where our effort is focused on action. But we understand that the community wants to see action and we have not waited. The chief has already begun to implement reforms and improvements for LMPD, and we're going to continue.
"It's going to take several months to have a consent decree in place. We're not waiting for that. We are acting."
Q: "It will take a lot of time and community input. How does that work exactly, and why does it cost so much? It could cost $8 million to $10 million."
Greenberg: "Well, the cost really comes in implementing the reforms, in the improvement. A lot of what the Department of Justice has suggested in its report — and my guess is what will end up in the consent decree — requires more training, requires a level of supervision. There are comments about the quality of our facilities in LMPD and the need to upgrade some of our facilities to have more mental and physical wellness opportunities for officers so that they're able to do their job in the right mindset and have the support they need for when they deal with traumatizing situations as well.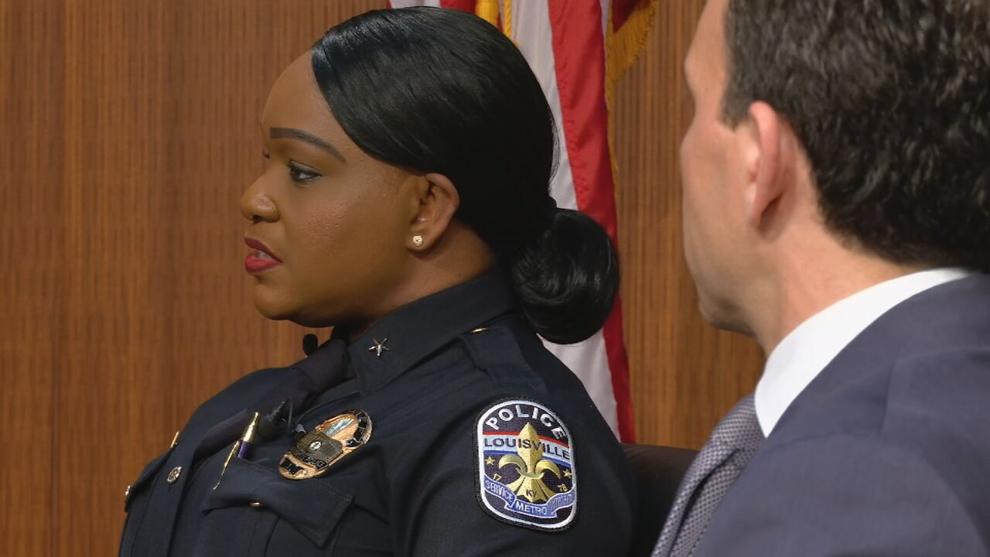 "And so all of that costs money, and we will invest in that. At the same time, we're going to continue to invest in our community because we can't just police our way to safety. We also need to invest in people in neighborhoods and institutions that have been overlooked for our entire lifetime and give them the resources they need so that every young person in our city is growing up with the belief that they can pursue their dreams, where they have hope and opportunity and they have the access to the resources they need to get a great education, to have enrichment, educational, athletic, cultural experiences that we want every child in our community to have.
Q: "But where all the money come from? $8 million to $10 million is a lot of money."
Greenberg: "Well, we haven't put a number on it yet. So we are just focused on what the reforms are. And then, of course, you have to translate that into action. It will come from a combination of sources. Some of it will be have to  be funded by the city itself. But we had a short meeting with Department of Justice officials after the announcement yesterday, and I made it very clear that we're going to be asking them for help.
"We're going to be asking our federal partners, the Department of Justice and elsewhere, to help pay for some of the reforms that they are requesting we implement here in Louisville. And so I'm hoping we have a partnership with our federal friends. There might be some state resources available. We're going to be looking everywhere to ensure not just LMPD, but our entire city has the resources we need to go forward in the right direction moving forward."
Q: "What is the morale like right now at LMPD?"
Gwinn-Villaroel: "The report came out yesterday, and that's troubling. And we have quite a bit of our officers that are taken back by it, and they're hurt by it. Understood. But the morale is still good. We're maintaining, because I'm encouraging them that they're still doing the good work and encouraging them to make sure they still go out in the community and police the right way that I support them.
"And that's what I need to hear, because if we're doing it the right way, we are. We're doing it the right way. We're open. We're being transparent, and the community deserves that, and so do our officers. They're feeling a little bit rough right now, because, again, if anybody is doing anything to taint the badge, it bothers everybody that is trying to do this profession the right way.
"But we're encouraging them. Our command staff is engaged, and I made a point to them yesterday: 'I need for you to be front and center and take care of your people. I need for you to hear them.' I need for them to be able to express themselves, not shutting them down, because the community has stated that we didn't hear them a lot of the times.
"And I don't want us to to actually operate in that vein, that we hear each other as well as hear the community as we navigate through this this process."
Q: "The department is short 290 officers. How how do you recruit more officers during a time like this when the DOJ report comes out?"
Gwinn-Villaroel: "That's a great question. I was asked that earlier. Now, my strategy for marketing and recruitment is going to change a little bit. I got to be more deliberate and say, 'Join this department if you want to be a part of the change, if you want to be in department.' It's going to be the department that the nation looks to.
"... Get on board now and help us move this department forward. We need you. We want you. We're not going to be desperate.
"And taking anybody that doesn't want to embrace the change, that doesn't want to embrace reform. I don't need those individuals. But I need those ones that have the passion to drive and still understand. This is a noble profession. You need to join us.
Q: "And what changed starting yesterday? Are there any new things that change? Some things were being implemented before, but were any changes put in place yesterday after the DOJ report?"
Gwinn-Villaroel: "We're still steady. We're still implementing our reforms. We're still doing what we were doing before the report came out. Our wellness unit is up and running. Our auditing team was still auditing yesterday. But let me actually assert our officers were still working. This report came out, and officers were still answering the call to service."
Q: "There are some on the department who may have participated in some of the discrimination and civil rights violations. Are you going back and looking at more cases after the DOJ?"
Gwinn-Villaroel: "We will review the report as it's been delivered to us, and any infractions that we see ,that we need to do a proper investigation on, we will."
Q: "What's your message to officers who participated in those types of activities? Who violated people's civil rights?"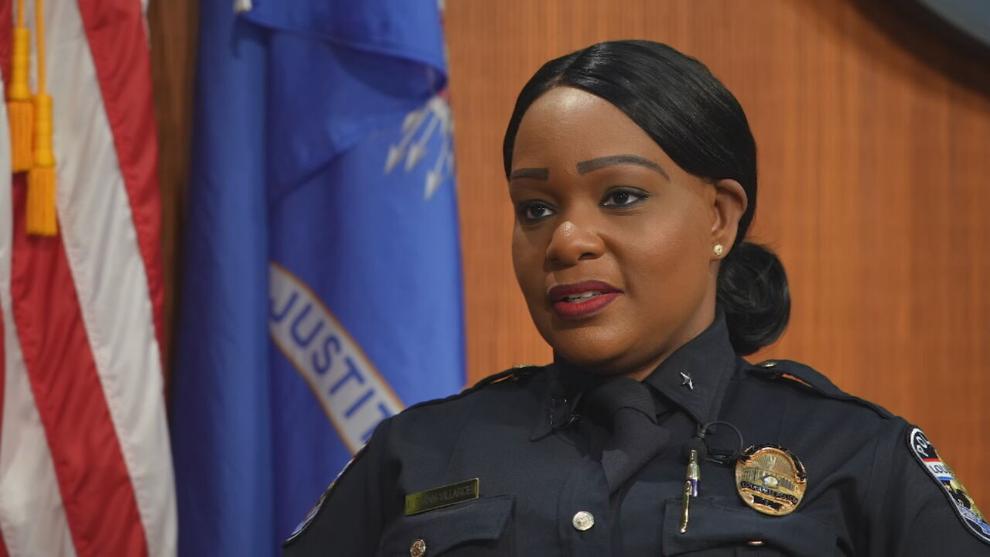 Greenberg: "We will not tolerate that behavior. What happened in the past would never be tolerated in the present and moving forward in our future. So, again, we're going to be very strong in our message and we're going to be very determined in how we police and train with our policies but ensure that the officers understand that we want great people serving the citizens of Louisville."
Q: "Is there anything in the report that you disagree with?"
Greenberg: "Well, we're still going through the entire thing. What we're focused on is embracing reform and improvement. So even if there are things that we disagree with in the report, we need to focus on moving forward. We need to focus on what changes are needed so that our police department is one that everyone in the entire community trusts, is proud of and is operating effectively so that our city reduces the amount of violent crime and that everyone is safe and feel safe."
Q: "How long will it take for people to really notice the change at LMPD and with the city?"
Greenberg: "I think changes will start happening soon and certainly within the department. I think people know, under Chief Gwinn-Villaroel's leadership, changes are already here, and that will continue. Part of it is a mindset and a cultural change, and that sometimes takes times. But you also see improvement along the way. And that's what we're striving for, that every day.
"I feel the same way about my job as mayor. Every day, I want to do better. Every day, I want to improve. I want to learn from the past, to move forward in even a better way, future forward. And that's our message to everyone that works with us at LMPD, everyone throughout city government.
Q: "Where does it stand on hiring a permanent police chief?"
Greenberg: "So as I announced during the campaign and then when I first took office two months ago, we would hire a search firm to have a search that we could get community feedback into by next week. We should have that search firm engaged by the city and will then seek community input. So we're still a couple of months away. But let me be clear that regardless of the words of the title, Jacquelyn Gwinn-Villaroel knows that she has my complete confidence.
"She is fully empowered to lead the department, and all of us are fortunate to have a leader like our chief leading us through this challenging time that has experience in effective and appropriate policing, that has experience with training, which is so critical to improve as we move forward, and that has compassion for others, that has lived experiences that have added to her approach to policing. And she has the respect of her officers and command staff.
"And so she is fully empowered to lead the department as we move forward."
Q: "Former Chief Erika Shields was implementing some programs before the DOJ report, of course, and before you came into office. Why was she let go when she was trying to move the department forward, as some people would say?"
Greenberg: "My view was that our city needed to move in a new direction, and part of being a new mayor is having a new team. And so I thought that was the right way that we as a city were going to move forward. And just as I brought in new deputy mayors, I thought it was appropriate to have a new police chief as well.
Q: "You have talked about transparency, wanting to be transparent with residents. There are a lot of police investigations where open records were filed, and it's a long time to get any information or KSP is handling it. What is your opinion on the process of handling police investigations? Will that change under your administration?"
Greenberg: "We are evaluating that right now. Even before the DOJ report came out — particularly given a couple of incidents that happened two weeks ago on-back to-back evenings — the chief and I are and our teams are evaluating the policy that we have in place and we will be making an announcement. We're seeking some input. We've had some conversations with community groups already, and we'll be making an announcement in the coming weeks on that policy for moving forward."
Q: "When a polic- involved incident happens and there's a body camera video, what is reasonable to you for that body camera video to be released?"
Greenberg: "That will be part of our announcement. We understand that the public wants to see the body camera footage based on where we've been in the past. That's important. And even the experience that I've had over the past couple of weeks in the reaction to the two officer-involved incidents that we had a few weeks ago, it's just been a reminder of that.
"And so we inherited a certain policy. Both the chief and I inherited this policy, and we're now evaluating that. And our response time on releasing body cam footage will be part of that. But we understand the public's desire to know, and we'll be responding to that."
Q: "People in our community, of course, are worried about safety. They're worried about violence. They hear about the incident at Waterfront Park with a bunch of youths. What is being done to address youth violence, specifically?"
Gwinn-Villaroel: "Yes. And so with our youth, again, we're moving forward as you to ensure that we're actually connecting with the parents. We actually are having more community involvement and talking about our youth crime. The parents are critical, pivotal, in ensuring that we can do something with our youth that are facing some troublesome times and so forth but also to how we are engaging as a department to reach youth so they won't go down a path of criminal activity.
"So I'll submit to you, we have our Youth Advisory Council that we meet twice a month with the youth across the city who are engaged. We are having these courageous conversations with us, want to know about training and want to know about how police officers go about their day. And we're showing them how to even deal with their own trauma.
"And then we have our how our police activities lead. I will advise you that 500 children have been impacted through this program and over 50 officers are regularly involved in this program with our youth around the city. That is amazing. They're fishing. They're being exposed to fishing. They're being exposed to bowling on a regular basis, even archery. Some of our youth have never experienced archery before.
"And now we're opening those doors for them cooking. We're got them in the kitchen and we have that community support as they open doors and allow our youth to come in with the officers. And you just see them even when they're playing basketball and they are dribbling on the court, and then they'll wave at the officer, give them a high five and a hug.
"That's community building. That's community trust. That's that's where it starts, where we are tutoring the community children. I would also advise you on yesterday when the DOJ report came out, I had officers in schools reading to our children. The work was still going on, because we know that is important and we're not laying down in that effort. Because the community needs us and they deserve to have a great department."
Q: "There are a lot of great programs that people are worried that summer is coming up and there are teenagers who may not have anything to do. And they're worried that things like Waterfront Park or other incidents will happen again. How do you parent prevent that?"
Greenberg: "Through a through a lot of ways. I think a lot of the things that the chief just described, continuing to invest in those programs and support them. We have a great summer works program here in Louisville that we just announced this summer's activities for a couple of weeks ago, where youth have an opportunity to have a job and to learn about being employed but also to get some funds.
"That's a positive experience we need. We're going to invest more in our parks and our community center hours to ensure that the programing is there, that those facilities are open so that youth have a lot of different outlets to have positive experiences in life. That is what we're going to be focused on in this summer and really throughout the entire year."
Copyright 2023 WDRB Media. All Rights Reserved.