LOUISVILLE, Ky. (WDRB) -- The U.S. Department of Justice announced Wednesday the results of its wide-ranging civil rights review that began nearly two years ago, promising to look at Louisville Metro Police officers' use of force, including against people participating in First Amendment-protected activities.
Speaking in Louisville, U.S. Attorney General Merrick Garland and his investigators said federal and local officials have agreed in principle to enter a court-enforceable consent decree as the department makes agreed-upon changes to policing practices.
The terms will be negotiated in the coming months before the agreement is filed in federal court, said Associate U.S. Attorney Vanita Gupta said.
It's expected to cost Metro government $8 million to $10 million annually in reform-related costs, according to figures a consultant presented to Metro Council in 2021. 
But what is a consent decree? And what can Louisville citizens expect from their police department in the years to come?
There are 18,000 law enforcement agencies in the United States, according to the DOJ, and in the last 25 years, fewer than 100 have been placed under a consent decree.
By those statistics, the contract with the federal government for police reform is a rare form of sanctioning used at the conclusion of a pattern and practice investigation when a law enforcement agency shows a habitual or systemic issue with breaking the law.
The U.S. Department of Justice launched a 'pattern or practice' investigation of the Louisville Metro Police Department in April 2021. 
The oversight agreement sets tangible requirements for change, metrics to measure the improvement and timelines to achieve them. It's all approved by a federal judge, legally binding and then overseen by a independent monitor who must regularly report progress or any problems to the public.
Whether consent decrees really work depends on who you ask.
"Officers begin to understand that these issues will be investigated thoroughly and quickly," said Peter Harvey, an independent attorney who oversaw the application of a consent decree in the Newark Police Department. "They will be given great attention immediately and that there will be a consequence."
Jesse Panuccio, the former acting associate attorney general, disagrees.
"Consent decrees turn DOJ litigators, private plaintiffs, federal judges and private monitors into regulators even if they lack the time and expertise to properly regulate," Panuccio said during a speech in November 2021. 
Former President Donald Trump's administration halted the use of consent decrees in early 2018 as one of the final acts under outgoing Attorney General Jeff Sessions.
"I made it clear that this DOJ will not sign consent decrees that will cost lives by handcuffing the police rather than handcuffing the criminals," Sessions said in a speech in late 2017.
Current Attorney General Merrick Garland brought them back in April 2021 and set sights on Louisville Metro Police after detectives killed Breonna Taylor in a botched raid.
The police beating of Rodney King in the early 1990s and the riots that lit Los Angeles on fire after the officers were cleared on state charges were the driving force for the federal government to create a pathway to mandate local police reform.
The map below shows places where consent decrees have been implemented: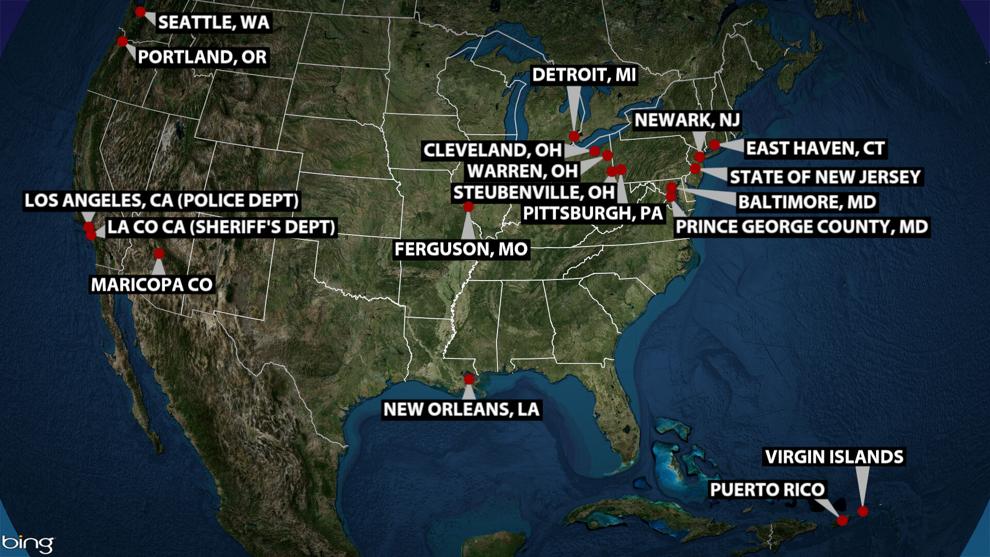 Louisville's NAACP said the agreement to enter a consent decree is a "different ball game."
The organization said the legal binding elements of the agreement will enforce real change. The group felt the DOJ investigation's findings validated what they've seen, heard and witnessed for years.
It also required people to pay a price.
"I think about the young man who was stopped over here on 18th Street, made a wide turn, taken out, handcuffed and humiliated in public," Raymond Nurse, NAACP Louisville First Vice President, said. "This report doesn't do anything to change that. We feel very, very sorry for folks that had to endure this but hopefully with what's coming up now, we can get some changes made."
The NAACP hopes to be part of negotiations related to the consent decree and that there is transparency throughout the entire process.
The timeline for the federal oversight varies. It's a minimum five years, but often, it's much longer.
For example, Cleveland went into a consent decree nearly eight years ago. One in New Orleans lasted 10 years. The Oakland Police Department was under a consent decree for 20 years.
In the end, the goal is for the police department to implement best practices for how it engages the public and for the city to trust its officers again.
Copyright 2023 WDRB Media. All Rights Reserved.