LOUISVILLE, Ky. (WDRB) – Even as many remain unsatisfied with the lack of charges for Breonna Taylor's tragic death, there is broad sentiment among business leaders and elected officials that it's time for the plywood boards protecting downtown storefronts and office buildings from civil unrest to come down.
"The boards really send a message that we're divided. And that has a psychological impact," said Sarah Davasher-Wisdom, CEO of Greater Louisville Inc., the metro chamber of commerce.
In an op-ed published last week, Davasher-Wisdom called on business owners to remove the boards or, at the least, have them painted by Black artists.
She added that efforts to restore the vibrancy of Louisville's downtown need to be accompanied by businesses showing a commitment to "racial equity" and by increased police presence in the Central Business District to ensure people feel safe.
"The stronger we come out and say, 'We are supportive of racial equity; we want to move forward in a very positive and united way,' the more the outside world will look at us and say, 'That's the place I want to be. That's a place where the business community saw that there was a need for change, and really made that change created that change,'" Davasher-Wisdom told WDRB. "So together, we can change the narrative."
Protests have roiled since May over the police shooting of Taylor, who died in her apartment as officers executed a midnight drug raid but found nothing illegal.
While they have been mostly peaceful, some demonstrations in late May resulted in broken windows and other damage to downtown properties.
Agree with Bill here. I have told President James and the Administration that if the broads on City Hall aren't down by tomorrow, I will be heading over there with a ladder and my cordless drill. We can't ask businesses and others to return to normal if we won't lead the way. https://t.co/zuRgEpUL42

— Councilman Anthony Piagentini (@CMPiagentini) October 6, 2020
Amid disruption from demonstrations, downtown has also reeled from the loss of professional workers who are working from home because of the pandemic.
"Bringing those boards down helps people to understand there's business going on down here," said Sondra Wilkerson, co-owner of Big City Styles, a downtown barber shop whose boards have long been removed. "… Business has to go on. And that the only way that that happens is when people feel invited and welcomed to come down."
Some property owners are heeding the call.
Boards will be removed from three of the city's premier office towers – Brown & Williamson Tower, PNC Tower and 400 W. Market Street (formerly Aegon Center) – within the next two weeks, Doug Owen, senior vice president at JLL, the leasing agent for the buildings.
Owen said the boards can't come down overnight because crews who remove them are in high demand and, in the case of Brown & Williamson Tower, the removal must be paired with repairs to broken windows to avoid creating a safety hazard.
Owen echoed Davasher-Wisdom's for more police in the Central Business District. He said "walking patrols" would help counter an errant perception that people aren't safe downtown.
"We think the best way to do it is to have foot patrols – a visible presence from the police," Owen said, describing the consensus among downtown business leaders who took part in a call on Monday.
GLI's Davasher-Wisdom said the chamber is having "conversations … with Metro officials and LMPD to enhance and continue the safety." She did not elaborate. 
Jean Porter, a spokeswoman for Louisville Mayor Greg Fischer, said the possibility of adding police foot patrols downtown "is being discussed internally, as it would require an adjustment of resources for the First Division (of the police department)."
As for Metro government buildings downtown, Porter said, "We are working now on a plan for taking the boards down (as soon as possible)."
Urban League CEO: Black community not interested 'lip service'
Asked what businesses can do to achieve racial equity, Davasher-Wisdom said "there are a number of initiatives under way."
She specified two: GLI's Business Council to End Racism, a group the chamber announced in June; and plans for a "minority business accelerator," a program that would help people of color start businesses.
Louisville ranks poorly compared to peer cities in its concentration of minority-owned businesses, she said.
"If individuals are not creating their companies, then they're not building wealth to the same degree," Davasher-Wisdom said.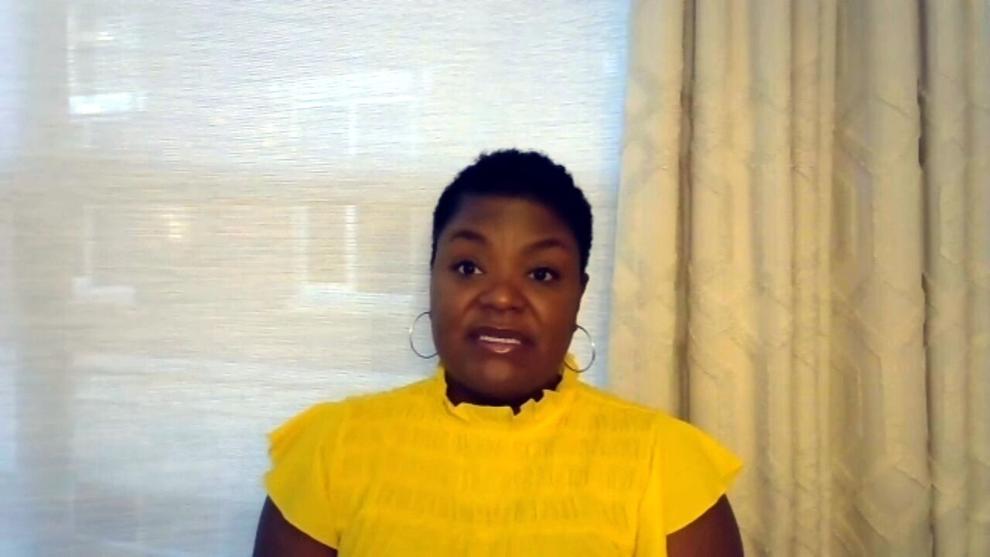 Sadiqa Reynolds, CEO of the Louisville Urban League, told WDRB that she agrees with the chamber that it's time for boards to be removed from downtown businesses.
But for businesspeople to address racial equity, she said, means tackling the racial achievement gap in schools, the lack of affordable housing, racial bias in policing, Black representation on company boards and bank financing for Black entrepreneurs, among other systemic issues.
"I think that people with privilege have a perspective that those who are suffering do not have. What I see and what others see is a lack of intentionality around investment … What we see is a lack of commitment to diversity in many of these workplaces and on the boards. They take one or two or three of us and stretch us so much across the city that we can barely be effective. It is exhausting," Reynolds said.
Reynolds continued, "I agree that the boards need to come down, but I have no faith in anybody's future promises. We need the work done today. We need to be able to move as quickly as they would move, if it were their lives on the line, their children's success is on the line. And we haven't really seen that. So I think that Louisville has proven itself to be very good at lip service. And the black community is no longer interested in it."
Correction: A previous version of this article misstated one of the office towers whose boards will be removed. It is 400 W Market Street, not 500 W Jefferson St.