LOUISVILLE, Ky. (WDRB) -- A former Stuart Academy teacher reached her breaking point in late September 2016 when the school's security monitor approached her from behind while she was meeting with three of her colleagues and wrapped her in a bear hug, touching her breasts in the process.
It was the latest in a serious of lecherous interactions between her and the in-school security monitor, Jason Breckenridge. By that point, she told WDRB News, she had had enough.
"All of a sudden, he comes from behind me, wraps his arms around me, his hands, arms all over my chest, and like squeezes me so tight," said the woman, who no longer works for Jefferson County Public Schools.
She agreed to speak on condition of anonymity as a victim of sexual assault and harassment.
"I completely just freaked out and kind of exploded my arms out of his embrace, and I kind of yelled, 'Get off of me. Do not touch me. I have told you I do not want to be touched.' It just sent me over the edge."
Her allegations led to a Sept. 23, 2016, due process meeting between school administrators and Breckenridge, who had just started as Stuart's in-school security monitor. He agreed not to act inappropriately toward the woman or any other school employees.
But it was just the beginning of allegations against Breckenridge, who was later accused of inappropriately touching two students and a kitchen staffer at the school. He was temporarily reassigned to the Burks Bus Compound on May 20, "pending final personnel decisions." It's the same wording JCPS used in past letters to him when he had been reassigned and investigated, according to a letter obtained by WDRB News through an open records request.
JCPS investigators determined that the girls' allegations were unsubstantiated. Complaints that he pressed himself against a cafeteria worker led to another due process meeting on Oct. 1, where he again agreed to act appropriately toward school staff. He told former Stuart Academy Principal Laura Dalton during the meeting that he had never "put my thing up against her" and claimed the only physical contact he had with the employee in question was one hug when the woman "was having a bad day."
Exactly why Breckenridge was temporarily reassigned is unclear. Neither he nor Teamsters Local 783 President John Stovall, his union representative who sat in on Breckenridge's interviews with JCPS investigators and administrators, responded to requests for comment, and JCPS Communications Director Renee Murphy declined an interview request.
At the time, the teacher said she simply wanted him to leave her alone. After seeing questionable interactions with students — grabbing "more physically mature" female students in hugs and spinning them in the air and bringing some of them lunch from off-campus restaurants — she wishes she had pushed for his termination.
"He does not need to be around children in a school building, especially in an authoritative role," she said in a phone interview with WDRB News on Wednesday. "One-hundred percent."
Breckenridge's latest reassignment came little more than a month after he was allowed back on Stuart's campus from the Moore Bus Compound, where he was reassigned on Oct. 10 pending a JCPS investigation into an accusation that he touched a girl's buttocks while searching her for a cellphone on "several different occasions," according to a report of the district's investigation.
In that case, which began Oct. 5, the girl also claimed that Breckenridge had engaged in "physical horseplay" with her, according to the investigation report. She accused him of inappropriately touching her buttocks and breasts, allegations that Breckenridge denied.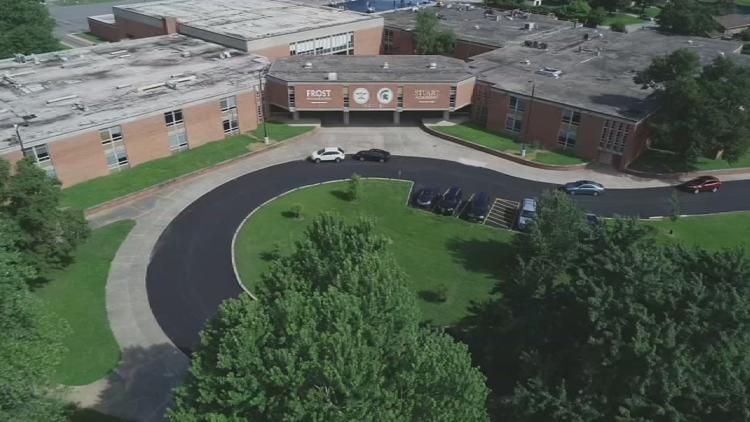 "During his interview, Mr. Breckenridge reported that if he has to take a cell phone from a student, including (redacted), he just gave them a verbal directive to turn it over," the investigation report says.
Breckenridge told investigators that the girl "has never demonstrated that she was uncomfortable around him."
"Mr. Breckenridge further stated that he feels (redacted) and other students have been collaborating to create allegations against him," the investigation report says.
The girl said her concerns with Breckenridge dated back to the 2017-18 school year and provided names of other students "who she stated had similar concerns with Mr. Breckenridge," according to the report.
The investigator found the girl's allegations of inappropriate touching by Breckenridge unsubstantiated and an accusation that he made sexual comments toward her — she claimed he flirted with her mother and commented on her "big boobs," which he also denied — inconclusive.
Personnel records show that Breckenridge is in his third temporary reassignment since joining Stuart's staff for the 2016-17 school year.
His first reassignment to one of the district's bus compounds came Sept. 11 after a student claimed the security monitor touched her friend's breast and inner thigh over a two-day period beginning Aug. 21, when the girl said Breckenridge reached into her pockets after stopping her in the hallway and told her he was looking for gum.
Breckenridge denied reaching into the girl's pockets during his interview with the investigator.
The next day, the girl said Breckenridge stopped her again in the hallway and told her she was in violation of the school's dress code because her shirt was pulled back in a knot and tied with a ponytail holder. Later in the day, the girl said Breckenridge entered her seventh-period class for an unrelated matter and approached her before he left. She said he tried to pull the knot out of her shirt, then tickled her near her breast and rubbed his hand across her inner thigh.
The girl told the investigator that she did not think other students in the class saw the incident, and none who were contacted as part of the inquiry recalled seeing or hearing anything from the alleged incident.
Breckenridge told the investigator that he observed the girl in violation of the dress code three times, the last during her seventh-period class. He said he approached her in class and tried to get her to address the issue without causing a scene, but when she didn't respond to him, he attempted to remove the hair tie himself.
"According to Mr. Breckenridge, as he reached his hand toward the back of (redacted)'s shirt, she quickly flinched and moved away, to keep him from removing it," the investigation report says. "Mr. Breckenridge reported that he did not make any other physical contact with (redacted), nor did he make any additional statements to (redacted). Mr. Breckenridge stated that he did not want to escalate the situation so he immediately left the classroom."
The investigation ultimately found the allegations unsubstantiated but noted that Stuart's dress code policy did not explicitly prohibit wearing shirts as the girl did.
For the former Stuart teacher, her concerns about Breckenridge began after he grabbed her University of Louisville lanyard near her chest, touching her breasts in the process. According to a listing of her questionable interactions with Breckenridge that she submitted to Dalton, the school's principal, that incident happened Sept. 8, 2016.
She also detailed several instances of unreciprocated hugs, times in which Breckenridge told her that he loved her and an instance where he threatened to "Jap slap" one of her students. She also claimed that the security monitor touched her breast as he grabbed a laser pointer from her hand as she held it near her chest.
It wasn't always like that, she said. At first, they talked about things like sports as they passed in the school's hallways.
"The chumminess kind of escalated to touching," she said. "He would hug me, come up behind me where I wasn't expecting it and wrap me in these big, tight bear hugs.
"I told him very frequently, 'I don't like hugs. I don't like to be touched. Don't touch me please, especially in front of students. I think it's unprofessional.' He said, 'Aw, you're going to have to get over that. I'm a hugger. You're just going to have to deal with it.'"
The former Stuart teacher also questioned how seriously Dalton took her concerns, calling the school "very toxic" under the former principal's leadership.
When she initially brought her complaints to the former principal, the teacher said Dalton "laughed off" her concerns.
"'Oh, that's just Breck,'" the teacher recalled Dalton saying. "'That's just how he is,' and she's like, 'But I'll talk to him if you want me to, but he means no harm.'"
Dalton, who signed the due process meeting report on Sept. 29 along with Breckenridge, did not respond to a message seeking comment. She transferred from the school in late-December and now works in the district's Office of Transition Readiness.
Months of silence from Breckenridge were broken, she said, when he again approached her and grabbed her new U of L lanyard in the same manner as before, touching her breasts in the process.
"This was out of nowhere after a month or two of no contact, no interaction," she said. "He just grabs it."
The woman said she immediately went to an assistant principal, who took the matter to Dalton.
"But again, my principal was very dismissive of it," she said. "She was like, 'What do you want me to do? Do you want me to fire him? He's good at what he does.' She was like, 'You all just need to stay away from each other,' and that was it."
There is no record of a follow-up due process meeting with Breckenridge to discuss those allegations in his personnel file.
She said Breckenridge's harassment stopped during the following school year during a pregnancy. That's when she said he turned his attention toward girls who attend Stuart, adding that he also became "more aggressive" toward some boys at the school. At one point, she said she witnessed him slamming a boy against a wall "by his neck."
"I filed a complaint about that as well, multiple times about all these interactions with students," she said. "I went to my principal and I said, 'Look, you're flirting with a lawsuit here with the way that he interacts with females.'"
"Again, it was, 'He's just friendly,'" the teacher continued. "'Oh, he's harmless. The kids love him.'"
There are no records that indicate school officials followed up on the teacher's complaints in Breckenridge's personnel file.
The teacher said she wasn't surprised at news of the previous investigations or the fact that Breckenridge had been reassigned again.
In fact, she said she was "relieved."
"This was well known, but people just kind of tolerated it," she said. "It wasn't just me."
Copyright 2019 WDRB Media. All Rights Reserved.