ELIZABETH, Ind. (WDRB) – Like a Black Friday crowd at a big-box store, hundreds of customers streamed into the new, $90 million Caesars Southern Indiana casino on Thursday.
Among them was Patricia Marking. Like many of the eager gamblers, she was from Louisville.
The 88-year-old retiree, who lives in Hikes Point, said she and her daughter come to the casino (formerly a riverboat called Horseshoe Southern Indiana) every week.
She called the new bricks-and-mortar casino "just plain awesome."
"Compared to the way it was, it's unreal how they did that," Marking said.
The decision by Las Vegas-based Caesars Entertainment Corp. to upgrade its 20-year-old riverboat with a new land-based casino in Harrison County raises the stakes in a Louisville-area gambling market that is more competitive than ever, despite Kentucky's prohibition on full-fledged casinos.
Caesars is hoping to win back gamblers lost when Churchill Downs Inc. launched Derby City Gaming, which features a  game called historical horse racing that resembled slot machines. Louisvillians and others put $1 billion into the machines at Derby City Gaming in its first year of operation.
Churchill Downs will up the ante in 2021 when it adds another 1,000 slot-like racing machines – along with a hotel – to its historic Louisville racetrack on Central Avenue.
While new Gov. Andy Beshear campaigned on finally allowing casinos in Kentucky, even supporters of expanded gaming doubt its chances in the Republican-controlled state legislature.
But there will be push in the legislative session that starts next month for Kentucky to allow sports betting, which Indiana legalized last year.
"I think we have a good chance; I don't think it's a slam dunk," said Rep. Adam Koenig, a northern Kentucky Republican and sponsor of legislation to allow racetracks and the Kentucky Speedway in Sparta to offer sports wagering.
Marking, the Hikes Point retiree, said she would love to avoid the 25-mile drive to Caesars if Louisville had something like the southern Indiana casino.
She likes Derby City Gaming, but's not a casino, she said.
"I like the slots; my children like the roulette and black jack and all that," she said.
As for Kentucky state government's reluctance to embrace traditional casinos, she said, "Look at all the money they're losing."
Stagnant casino revenues
For Caesars, the $90 million building is not only about keeping up with new competition in Louisville. It's about proving that the best days are ahead – not behind – the Southern Indiana casino.
The casino, which opened in 1996, had its best year in 2007 when it garnered just shy of $350 million in "win," or gaming revenue. The business has generally been on the decline for more than a decade. Last year's revenue of just over $200 million was the lowest since 2001, according to Indiana Gaming Commission reports.
Tony Rodio, CEO of Caesars Entertainment Corp., said the company hopes the polished new venue – with its games, bars, restaurants and sports book all on one floor – will be more attractive than the aging, four-floor riverboat.
"One of the reasons you've seen that stagnation in this market is because of the experience we were delivering," Rodio told reporters on Thursday. "We feel strongly about the Louisville market, and with an upgraded experience, we think we're going to get a revenue boost."
Rodio said the bricks-and-mortar casino, which Indiana allowed in 2015, is a destination even for non-gamblers. 
"There was no way anyone was going to that riverboat and spending an evening if they weren't interested in gambling," he said. "You could, I think, have an enjoyable evening here without making a wager."
Slot-like machines show 'appetite for expanded gaming'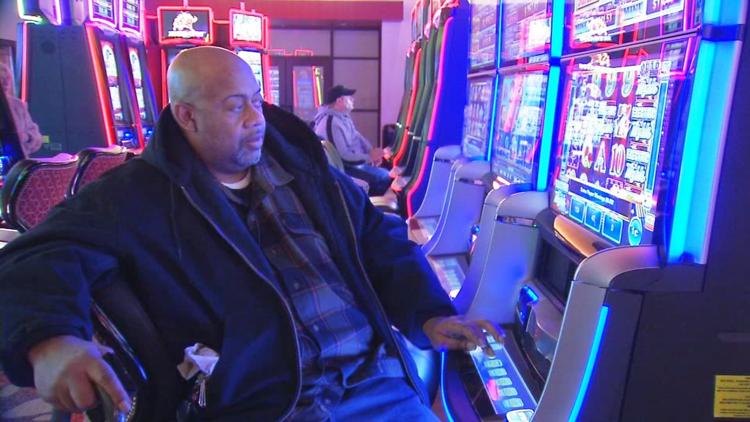 While casinos are not "in the cards" for Kentucky, as Koenig said last week, historical horse racing has flourished in recent years.
Consumers put $2 billion into the slot-like machines at four racetrack-owned venues in the year ended June 30, up 85% from the previous year.
Churchill Downs, which has touted its profits from Derby City Gaming, is jumping headlong into historical racing, with venues in the works at Oak Grove, at Turfway Park in Florence and at the Louisville track.
The investments come even as a challenge awaits at the Kentucky Supreme Court. The high court next year is set to take up the legality of historical horse racing for the second time in a decade-old legal fight waged by the Family Foundation of Kentucky.
The foundation argues that the wagering facilitated by the machines is not the pari-mutuel style now permitted in the state; that is, in which players bet against each other and not against the house. 
Rodio, of Caesars, said historical racing is "a viable competitor" but it "doesn't nearly the experience that this facility (Caesars Southern Indiana) delivers."
Koenig, also a longtime supporter of casino legalization in Kentucky, said the success of the slot-like machines "shows an appetite for expanded gaming in Kentucky."
For now, he said, the focus is on taking the incremental step to OK sports betting, as about 20 other states have.
If a sports book is combined with historical racing, "That's pretty far along the way to having a robust gaming market where people can enjoy themselves and have an experience like you have in other states," Koenig said.
Public figures show most of Indiana's sports betting has taken place online – particularly through casino-affiliated phone apps that work anywhere in the state.
The state generated $274 million in sports wagers from all sources from September through November and $2.8 million in taxes, state data show. (A significant portion of the wagers haven't been taxed yet because the sporting events are in future months).  
Caesars, which is planning to get into mobile betting next year, devoted a sizable chunk of the new casino floor space to "The Book."
With plush, theater-style seats, a bar and dozens of TVs, it looks like a Las Vegas sports book.
One of The Book's first customers Thursday was Mark Olson, who made the 45-minute drive with his wife from their home in Shepherdsville, Ky.
Olson, a worker at Ford's Louisville Assembly Plant, likes betting on football and basketball but not on horse racing.
He said he had hoped Kentucky would legalize sports betting and doesn't like that the taxes from his bets support Indiana.
"We need a lot of roadwork in Kentucky. We need our teachers to get their retirement benefits," Olson said, " I think (for) all that money, they should open it up."