MUNFORDVILLE, Ky. (WDRB) – He was described as "depressed and suicidal" by his mother and had threatened to jump from a bridge over the Green River in Hart County.
So, when 19-year-old Brandon Crain's body was recovered from the river in the spring of 2012, it seemed an obvious suicide. His wallet and cell phone were left at home, and a gas station surveillance video appeared to show him walking toward the bridge the day he disappeared months earlier.
In fact, a medical examiner concluded Crain had drowned, and the Kentucky State Police ruled his death a suicide. Case closed.
Or so it seemed.
The case has taken a series of twists and turns since then, including a manslaughter conviction of an Amish man with a low IQ, claims of a false confession and accusations that prosecutors withheld key surveillance footage. 
A Hart County judge wrote in a court ruling that, although he has presided over "thousands of cases, this is the only one with the possibility of ever being telecasted on Dateline or 48 Hours."
The Amish man, Daniel Hostetler, has spent several years in prison for killing Crain even though his attorneys claim Hostetler didn't know Crain and was three hours away with his family in Fleming County without a vehicle when the teen disappeared.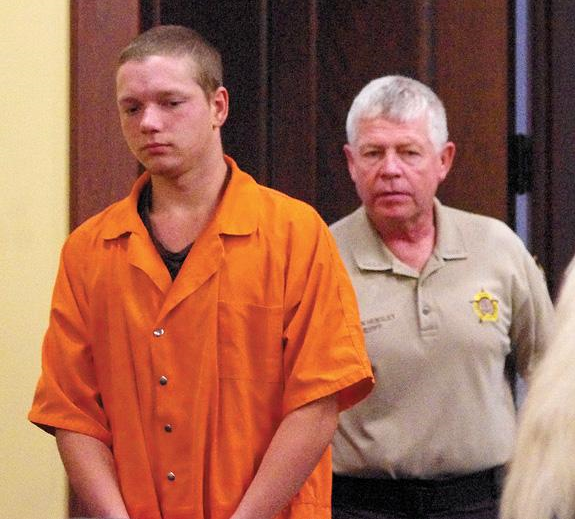 There is also no physical evidence tying Hostetler to the death, and the surveillance video shows grainy footage of a man believed to be Crain walking toward the bridge the morning of Jan. 26, 2012, the day he disappeared.
But Hostetler's attorneys, including the Kentucky Innocence Project, have been fighting an uphill battle trying to prove his innocence, thanks to one significant problem: A confession.
Hostetler admitted to killing Crain and pleaded guilty to manslaughter and tampering with physical evidence. He was sentenced to 13 years in prison and is not up for parole until 2025.
"Why did he confess? That is a very difficult thing for people to understand," said Aaron Baker, one of Hostetler's lawyers. "The unfortunate truth is false confessions happen."
Last week, the Kentucky Court of Appeals agreed to take a second look at the case, specifically whether Hostetler received adequate assistance from his attorney at the time, giving him a chance to prove what his current lawyers have said is his "clear innocence."
"This isn't just a case where I think, 'Man, my client might be innocent; this just doesn't seem right,'" said Baker, who is working with attorney Ryan Chailland. "I know in my heart that my client is innocent."
Crain's death was not reexamined until more than a year after he disappeared in January 2012. Hostetler, on leave from his Amish community and living in Metcalfe County in 2013, told his brother by phone that he had accidentally killed someone during a boxing match in Glasgow and placed the body "in the water somewhere" before it was found, police have said.
The brother believed Hostetler was lying but notified his local Amish bishop, who in turn told a Flemingsburg police officer. The officer, Hostetler's attorneys argue in court records, "engaged in some late-night internet sleuthing and decided that the victim must have been Brandon Crain."  
Officer Josh Plank initially sought out help from Kentucky State Police but was told "it was a suicide case" and was closed, according to court testimony from Plank in 2016.
Plank instead enlisted the help of sheriff's deputies in Hart and Barren counties who picked up Hostetler and interviewed him.
The interview was not recorded, but Hostetler said in a written confession a friend of his, Joey Johnson, told him to pick up a man in Munfordville in the middle of the night and take him wherever he wanted to go.
Hostetler confessed that he took a man to a secluded wooded area in a Ford Mustang, then got into a fight. Hostetler said he hit the man once in the neck, killing him.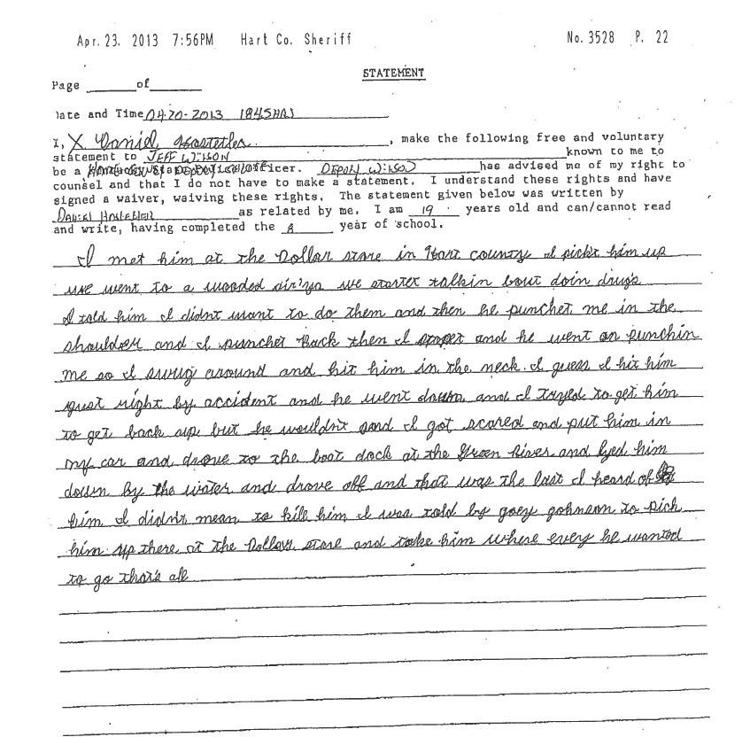 Hostetler told police he then took the man to a boat dock on the Green River and put him in the water. Police then showed Hostetler a photo of Crain and identified the dead man by name; Hostetler confirmed that information.
Police charged Hostetler with manslaughter, but just as the case was ready to go to trial, he was offered a plea bargain that he initially rejected. His defense attorney, Crystal Thompson, and her supervisor convinced him to take the offer.
Hostetler then tried to withdraw his plea to manslaughter, arguing Thompson told him he would be charged with "an even more heinous crime of murder" if he didn't accept the agreement, according to court records. He also claimed he made up the story about killing Crain.
A judge rejected his request, and Hostetler, now 26, was sentenced to 13 years in prison. He is serving the time in the Roederer Correctional Complex in LaGrange.
'Dan is home'
Although false confessions are not unusual, Hostetler's attorneys say this case involved a perfect storm of bad luck, including an ineffective defense attorney, prosecutorial and police misconduct and a ruling throwing out the conviction that was later overturned.
For starters, prosecutors told Hostetler's attorney about the gas station surveillance video but didn't turn it over, according to court records and testimony.
And his attorneys say Hostetler's sheltered Amish upbringing, low intelligence and subservience to people in authority hurt him in his dealings with police and even his own lawyers. Hostetler has an IQ of 84, below the U.S. average of 98.
Hostetler testified that at the time he confessed he had been drinking and doing drugs while on leave from the Amish community as part of "rumspringra," a period of exploration.
His attorneys say the confession was full of inaccuracies that should have easily been caught by police and Hostetler's own defense team. One example involves Johnson, the man whom Hostetler said in his confession asked him to pick up Crain.
The attorneys argue Hostetler hadn't yet met Johnson on January 26, 2012, the day Crain disappeared. Moreover, they say, Hostetler didn't yet own a Mustang when he was supposed to have picked up Crain at Johnson's direction.
Johnson later testified he didn't know Crain and never told Hostetler to go pick him up. Court testimony also showed Hostetler bought the Mustang after Crain's death.
Hostetler's lawyers also say police coerced him into confessing, fed him information about the case – including Crain's name and picture – and then had him write a confession statement.
Police initially said in court records the confession was recorded but later acknowledged that didn't happen.
Officers denied any coercion but testified they did not corroborate evidence in Hostetler's admission or look into information that would contradict it.   
Hostetler's family said he was visiting them in Fleming County, east of Lexington, when Crain went missing. His mother testified Hostetler was with them, and his sister-in-law Susan's diary from that week is part of the evidence in the appeals case.
Referring to Fleming County, she wrote, "Dan is home" on Jan. 17, 2012, four days before Crain disappeared. She testified she also saw him at church on Jan. 29. On Jan. 31, an entry in the diary says, "Dan left again."
Hostetler, who was dating, doing drugs and drinking while on "rumspringa," said he made up the story about killing someone because he needed an excuse to not return to the Amish community.
In the hearing appealing his conviction, Hostetler testified he didn't remember confessing to his brother about killing anyone, saying he was taking drugs at the time.
He said he asked his attorney to get the gas station surveillance video but was told it no longer existed. 
The surveillance video, Hostetler's attorneys argue, shows Crain walking toward the bridge, in the opposite direction of where Hostetler told police he picked him up at a Dollar Store miles away.
Crain's family had said that he was depressed, talked about killing himself, had seen a therapist and started taking anti-depressant medication.
In addition, Crain shot himself in the leg a few weeks before he disappeared and had been in a fight with a friend the night before, according to court records. 
Attorney Thompson, who represented Hostetler, testified in a 2016 circuit court hearing that she never received the surveillance video from prosecutors and didn't remember the reason why it wasn't turned over.
Hostetler said he also told Thompson about the diary and that he was with his family in Fleming County when Crain disappeared. And he said he asked her to talk to Johnson.
Thompson testified she was never told about the diary, did not look to see if Hostetler owned a Mustang at the time and said she couldn't find Johnson, though she only attempted to call him.
She said she was hesitant to talk to Hostetler's family, in part, because his brother had turned him in.
And she testified that Hostetler repeatedly changed his story with her about whether he killed Crain or not and that she didn't believe police coerced him into confessing.
"It is obvious that (Thompson) was ready to believe the police version of events," Hostetler's current attorneys wrote in court records. Hostetler "gave a confession full of details that could be checked – but no one checked them, and they turned out to be false."
Hostetler's new attorneys asked Hart Circuit Court Judge Charles Simms to throw out the conviction because of ineffective assistance of counsel. He denied the request, ruling, in part, that Thompson's investigations of Hostetler's claims were hindered because he "appeared to be a compulsive liar," repeatedly changing his story about the slaying.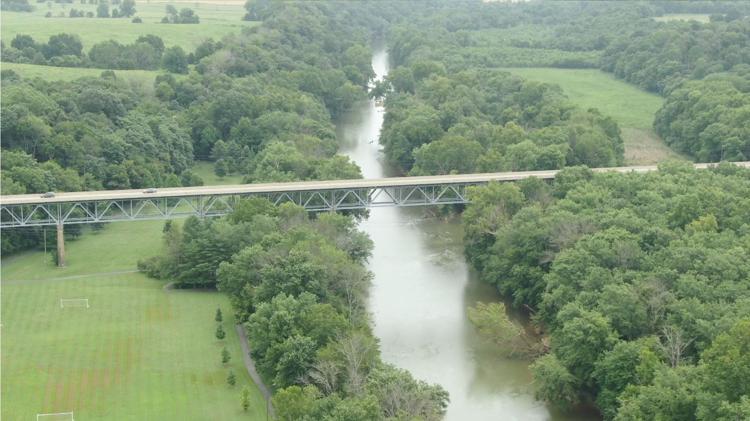 However, Simms allowed Hostetler to withdraw his guilty plea and released him from prison because prosecutors didn't turn over the surveillance video, throwing out the conviction on what is called a "Brady violation," referring to a Supreme Court ruling that requires police and prosecutors to turn over exculpatory evidence.
"In the vast majority of cases, a confession to one's brother and to law enforcement is virtually impossible to overcome," the judge wrote in his April 4, 2017, overruling the conviction and releasing Hostetler. "However, in this case, the confessions are contradictory and portions are completely false."
Crain's glasses
Hostetler's freedom was short-lived.
About a year after his conviction was thrown out, the Kentucky Appeals Court overruled Simms, finding, in part, that prosecutors didn't suppress the video and had told Hostetler and his attorney about it before he pleaded guilty. 
The Kentucky Supreme Court declined to hear the case, and Hostetler was sent back to prison in October 2018.
The state Court of Appeals last week agreed to hear Hostetler's claims of ineffective assistance of counsel, which it had not ruled on previously. Hostetler's attorneys have also filed a petition for a federal judge to review Hostetler's case and free him because he is innocent and his incarceration is unconstitutional.
"Dan is factually innocent," Baker, Hostetler's attorney, said in an interview. "And keeping someone who is factually innocent (in prison) is the definition of cruel and unusual punishment."
Prosecutors and police have argued, however, that although the case against Hostetler relied mainly on the confession, he also knew an important detail no one else knew.
When asked what happened to the glasses Crain was wearing when he disappeared, Hostetler said he put them in Crain's shirt pocket, where they were found, an officer testified.
Hostetler's attorneys noted that he first told police he took Crain's glasses and put them in his car, before learning that was not correct. He then told police he had placed them in Crain's shirt front pocket.
And police said Hostetler rode with police pointing out the areas where he and Crain fought and where he dumped him in the water.
Thompson, who had become a prosecutor in Fayette County by the time she testified in Hostetler's March 2016 appeal hearing, also defended her handling of the case and recommendation he take a plea, saying she believed the evidence would have led to a conviction.
"He had not only confessed but he had told details to the police," Thompson testified, noting if convicted he could have been sentenced to 25 years in prison. "I felt sure … a jury would find him guilty."
In addition, Thompson testified Hostetler told her at one point that he did kill Crain, providing her the same story he told police, but adding that Crain had made a sexual advance on him leading to the fight. Later, he told her police coerced him into a confession, she said.
Hostetler testified he didn't remember telling Thompson he had killed Crain.
Thompson also didn't believe Hostetler had been coerced by police, testifying the main officer involved did "not have a reputation of being coercive."
And though some family and investigators initially said they thought it was Crain in the surveillance video, there is now disagreement and doubt. One officer testified in 2016 he believes it is actually a local man who  is mentally ill and  walks around town day and night.
The prosecutor in the case, Joe Ballard, did not return a phone message seeking comment.
Crain's family did not initially respond to a request for comment. The current Hart County Sheriff, Jeff Wilson, who interrogated Crain, did not respond to a request for an interview.
Hostetler's attorneys say in interviews and court pleadings that Thompson failed in her duty to represent her client.
In one motion, Baker said Thompson's move to become a prosecutor shortly after the Hostetler case "explains her otherwise baffling hostility to Dan's counsel and friendliness towards the prosecution and police" when she testified at the 2016 appeals hearing. 
"Dan pled guilty on his pretty bad lawyer's advice, quite frankly," Baker said in an interview.
Reached by phone, Thompson declined to talk about the case, saying "anything you need is in public record, and I'm not going to comment."
Copyright 2019 WDRB Media. All Rights Reserved. Reporter Travis Ragsdale contributed to this story.