LOUISVILLE, Ky. (WDRB) – Most of the road work is done. New buses are running. Elected leaders have proclaimed a new day for southwestern Louisville.
So what is the reaction to the $35 million "New Dixie Highway" project now that it is basically over? It depends on who you ask.
To some people who live along and use the route, the newly aligned corridor has created bottlenecks, cut off businesses, made U-turns commonplace and literally erected barriers to first responders.   
But project advocates say a stretch of Dixie Highway known for car crashes, few crosswalks and darting pedestrians is safer, more accessible and primed for business growth.
"Who wants to invest in a street that's called a 'Dixie Dieway'?" said Metro Council member Rick Blackwell, one of the makeover's supporters. "What business wants to come to that?
"If we're going to compete with Hurstbourne Lane, Shelbyville Road, Bardstown Road, we need to look more like Shelbyville Road, Hurstbourne Lane and Bardstown Road – and now we do," he added. "So I think it will pay off."
Hatched roughly a decade ago, the project spanning the Watterson Expressway and the Gene Snyder Freeway needs only additional striping and paving work before it's complete. That work is scheduled for the spring, while traffic signals are being fine-tuned.
Crews already have added sidewalks, raised medians over a 4-mile section from Crums Lane to Greenwood Road and new turning lanes in an effort to make Dixie Highway safer for drivers and pedestrians. Another feature along the corridor: An "Intelligent Transportation System" coordinating the timing of lights and other traffic signals.
Local, state and federal leaders gathered last week to mark the start of new bus service that promises faster trips downtown – one of the last major pieces of the project. TARC'S new "Dixie Rapid" route includes 37 new bus shelters and technology that lets buses control some traffic lights.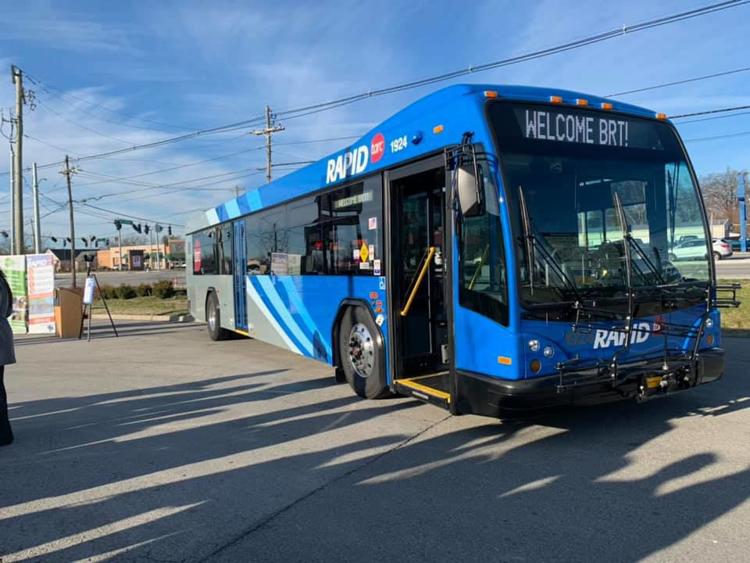 A nearly $17 million federal grant from the U.S. Department of Transportation covered about half of the overall cost. Kentucky lawmakers approved about $12 million, while Louisville Metro government added $750,000. About $5 million came from the Kentuckiana Regional Planning and Development Agency.
The chief goal was to make Dixie Highway safer, but planners also sought to improve traffic flow between the Gene Snyder Freeway and downtown and make TARC more efficient and reliable.
For now, Allen Home Improvement co-owner Karla Allen said she is trying to give the revamped Dixie the benefit of the doubt.
"I think part of it has worked," said Allen, whose business is based on Rockford Lane.  "I just don't think it was thought out all of the day."
She said she's seen turning lanes packed with cars, creating traffic jams in adjacent lanes as not enough drivers pass through green lights. (A project spokeswoman says traffic devices are being fine-tuned to ease those backups.)
Allen also fears that small businesses will suffer because long sections of raised medians have cut off familiar entrances, forcing drivers to make permitted but unexpected U-turns instead.
She said her company's drivers haul trailers that can't navigate some of the U-turns. Instead, she's directing those shipments to avoid Dixie Highway and use neighborhood shortcuts when possible.
"This is how sad it is," Allen said. "I am taking and having our secretary print off another route to go and then having to take them through back streets. So now our trucks and trailers are on these back streets that they don't even need to be on."
Perhaps not surprisingly, the number of injury crashes between Crums Lane and Greenwood Road — where the design work was concentrated — was higher before the construction period, according to a WDRB News analysis of Kentucky State Police collision data.
There were 121 such crashes in 2014 and 129 in 2015, the data show, compared with 94 in 2018 and 81 in 2019.
Historically the fatality rate on Dixie Highway has been three times higher than on comparable roads, Louisville Mayor Greg Fischer said.
Adding concrete raised medians that divide the highway is a way to address that, he added.
"They make the highway safer by reducing the number of mid-block left turns that contribute to slow downs and far too many accidents," Fischer said. "That's what the data showed us – the design of Dixie Highway, the new Dixie Highway, was driven by data."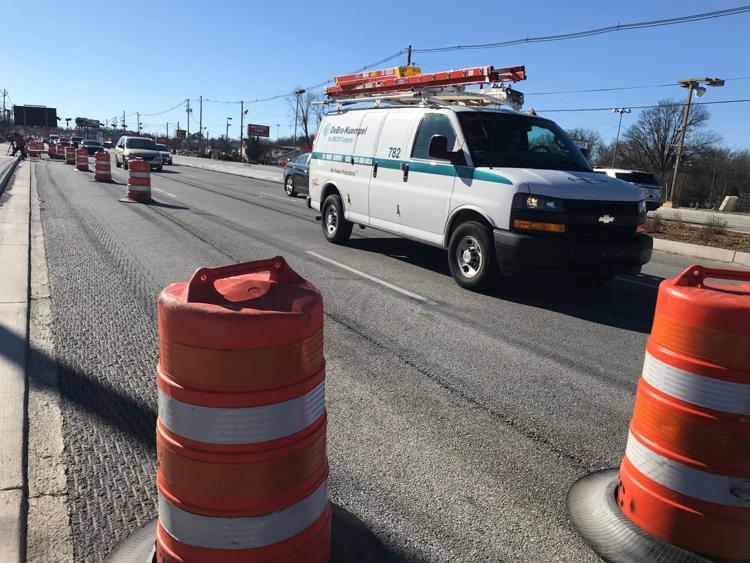 But the medians have created new obstacles for ambulances and fire trucks, which had been able to cross into opposite lanes before the reconstruction.
The Pleasure Ridge Park Fire Protection District has adjusted some of its routes when responding to calls, using side streets and avoiding Dixie at times because turning lanes are filled, Fire Chief Doug Recktenwald said.
"That's the one thing that we pride ourselves on is knowing our district very well and making those changes on the fly," he said.
While some response times have been slightly longer, he said he's not aware of any delays that have had serious consequences. Recktenwald said he's hopeful that some of his concerns will diminish once traffic lights are synced and if the department's vehicles can eventually tie into the TARC technology that helps control traffic lights.
At Hillview Community Church, the raised medians eliminated an easy left-hand turn from southbound Dixie Highway. Pastor Ken Cutrer blames the new configuration for the loss of a student tutoring group that rented church space for $1,000 per month.
"It was taking them an inordinate amount of time to pull U-turns and get on in," he said. "We have lost them. They have decided to go somewhere else. So that's $12,000 a year out of our pocket that a small church really takes a hit on."
Cutrer also said he's also lost some members of the congregation, which had doubled to 50 people since he took over in 2015. Meanwhile, he points to examples of businesses that have folded nearby, such as the Heitzman Bakery that closed during construction.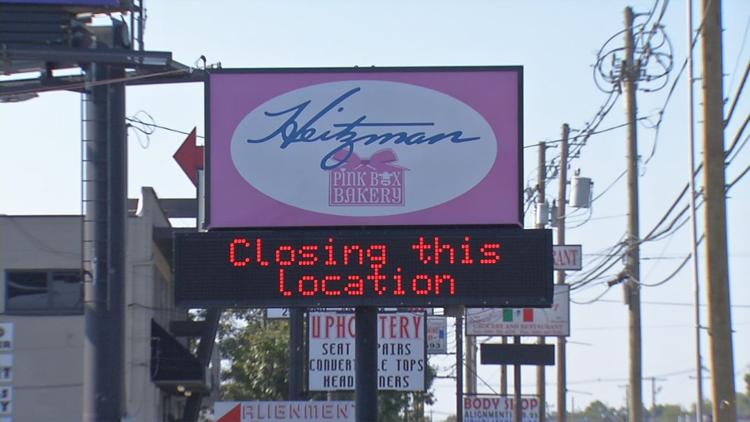 "We're not to the point that we're ready to move yet," Cutrer said. "The Lord hasn't told us that we need to move yet, but he has told us, 'Get ready and let's see what's going to happen.'"
Next door, the Owen Funeral Home also lacks an entrance for southbound drivers. David Owen, the company's president and CEO, said project officials initially told him that because of the new raised median, processions leaving the funeral home would have to turn right rather than left when heading south on Dixie Highway.
That would require all cars in the procession to make a U-turn in a nearby Kroger parking lot, he said.
After he raised concerns, Owen said a 14-foot opening was cut into the median for hearses and cars. While that has helped, he said he is considering buying property on nearby Blanton Lane for a second entrance.
Overall, Owen believes the project will hurt small businesses on Dixie Highway more than help them.
"I think we're going to run away folks," he said. "I don't think they want to come out here now because you can't get to the businesses unless you make a U-turn."
Others expect those concerns will be unfounded once customers get used to the new traffic patterns.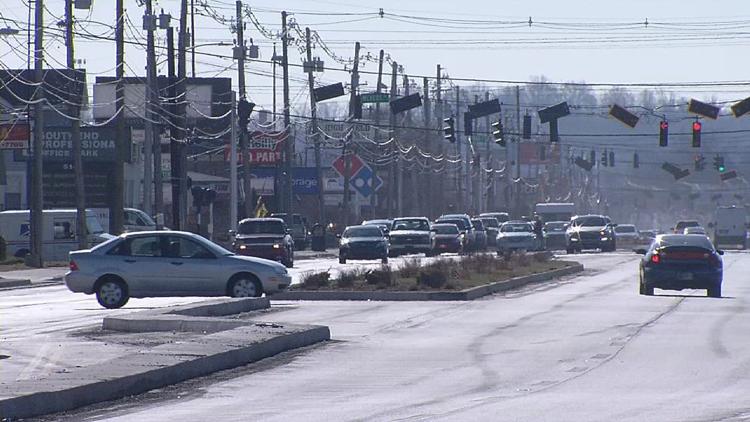 The construction caused some hassles, said Eddie Squires, president of the Dixie Area Business Association. But he predicts that businesses along the corridor will eventually adjust and "they'll find it will be worth the project."
The Southwest Dream Team, a nonprofit economic development group, backed the Dixie makeover. Co-founder and president Vince Jarboe said it's too early for businesses to declare any doom-and-gloom scenarios as the new reality. 
He acknowledges that patrons will have to adjust to new traffic patterns and the permitted U-turns, including yielding in spots.  And he noted that drivers already use side streets to avoid stretches of Dixie.
"I think that we still have to give it time," Jarboe said. "If you have a good business on Dixie Highway and your customers want to get to you, they'll get to you. I just don't think it's a problem."
WDRB asked people who live and work in the area for their thoughts on the project. A sample of the responses:
One man, who recently moved back to Kentucky after living in Georgia for more than 25 years, said the street will be much safer once people get used to it. He said most of the "naysayers" have probably never lived anywhere else.
A woman said she sees cars making illegal U-turns or using breaks in the median to turn despite "DO NOT ENTER" signs.
A man said the left-hand turn lane into Lewiston Drive is so short he almost gets rear-ended  when he slows down to get in it because there's not room to merge safely.
But David Harris, who said he usually drives Dixie Highway several times a day, said the new medians have made the road safer and calmed traffic.  
"Go south of Greenwood Road to the forgotten end of the county where the median stops," he said. "Chaos ensues."
Correction: An earlier version of this story incorrectly identified Hillview Community Church.
Reach reporter Marcus Green at 502-585-0825, mgreen@wdrb.com, on Twitter or on Facebook. Copyright 2020 WDRB Media. All rights reserved.