LOUISVILLE, Ky. (WDRB) – About 120,000 properties in Jefferson County have been given new – likely higher – values for tax purposes as of Friday, increases that reflect the strong residential real estate market in Louisville, Jefferson County Property Valuation Administrator Colleen Younger said.
The increased values, ranging from 10% to 14% on average, will mean higher annual property taxes when the bills come due at the end of 2021, a situation that is compounded by the Jefferson County Board of Education's decision last year to raise the district's property tax rate by 9.5%.
The school board's full increase should go into effect on this year's bills after a partial hike took effect last year amid a court battle over a petition to recall the increase.
The PVA's office has mailed notices of new values to about 120,000 property owners – most of whom own residential parcels – but owners don't need to wait on the mail to find their new assessments. They can accessed by searching an address at the PVA website.
The office did a mass-reassessment of four big areas of Jefferson County, assigning new figures to reflect the "fair cash value" of properties as of Jan. 1, 2021.
Younger said the average increased residential assessment was 10.93% in Area 2, 10.14% in Area 3, 13.26% in Area 5 and 14.1% Area 7.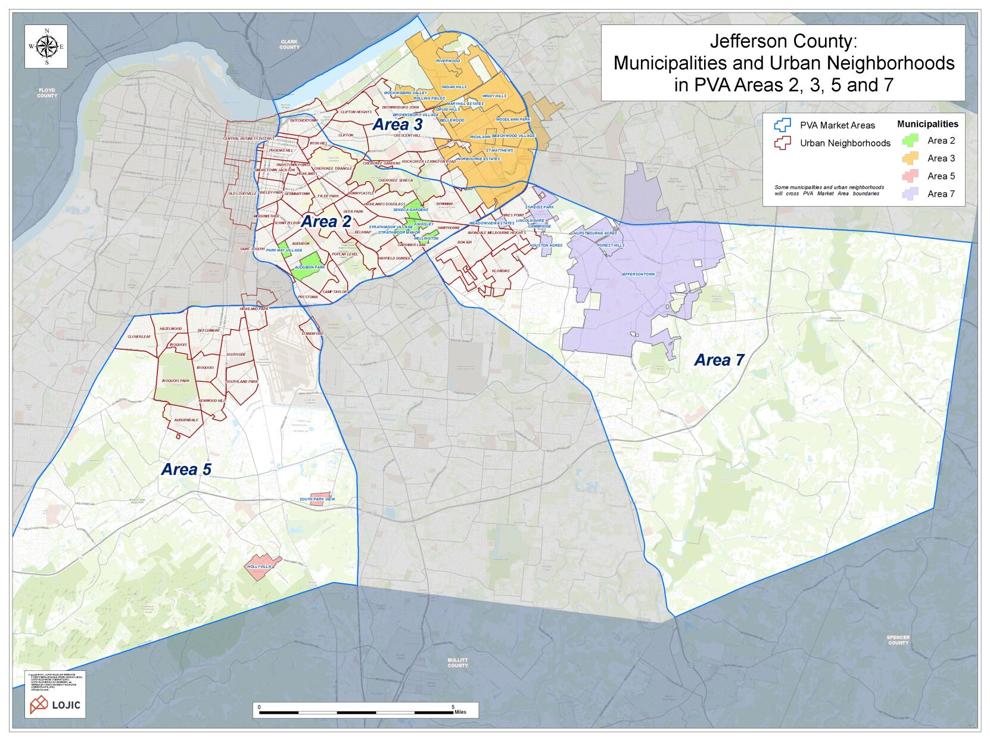 Property owners who think the new value doesn't reflect the real value of their home as of Jan. 1 can appeal starting today and through May 17. The first step is to "start an online conference" with the PVA, which can be done at https://louisvilleconferenceweb.azurewebsites.net/#/homepage
Owners can also request an appeal via teleconference by calling the PVA office at 502-574-6224.
Younger said Friday that the PVA's values are based on neighborhood-level sales trends of similar properties, but homeowners can provide additional information in support of a lower value.
The best way, she said, is to take pictures showing the characteristics of the home that the PVA cannot access, such as the kitchen or a bathroom. Pictures can be uploaded using the online conference tool. (See the document below for more information).
Combined effect of assessment, school tax hike
The combination of a higher base on which taxes are calculated and higher rate for JCPS – which is the biggest component of Jefferson County property taxes – could mean sticker shock for many homeowners.
Barring a court ruling, JCPS' 9.5% tax increase should be fully in effect for the 2021 tax bills, raising district's rate from 73.6 cents per $100 of assessed value in 2019 to 80.6 cents in 2021. In 2020, only part of the district's increase was reflected on tax bills, a rate of 75.5 cents.
For the owner of a $100,000 home in the Urban Services District (the old City of Louisville), the combination of a 10% assessment increase by the PVA and JCPS' rate increase would mean a total tax bill of $1,567 in 2021, up from $1,374 in 2020, according to WDRB's analysis. That's a 14% increase.
This analysis assumes JCPS doesn't raise its rate again this summer, which is possible, and that the rates for other taxing districts (Urban Service District, Jefferson County and the state) also stay the same.
A higher tax assessment doesn't necessarily mean higher costs for those who rent their homes. But landlords generally attempt to pass costs, such as taxes, on to tenants in the form of rental rates, so the increases could lead property owners to demand higher rents down the road.