LOUISVILLE, Ky. (WDRB) – Not long after Louisville failed to make tech giant Amazon's shortlist of cities for a new headquarters, Republican mayoral candidate Angela Leet took to Twitter.
"Louisville is nowhere to be found," she posted on January 18. "We have to do more to make our city attractive for business – high taxes and more bike lanes aren't doing it for us."
Some five months later, during the final passage of the city's annual budget, Democratic council member Barbara Shanklin vented about Metro government's decision to spend $500,000 on bicycle projects but only $200,000 on the Dare to Care food bank.
"We have more money in there for bike lanes than we do for Dare to Care, and I think that's a disgrace," she said. "We've got enough bike lanes."
Even though they are an emphasis of Mayor Greg Fischer's administration, bicycle projects make up a minimal portion of the city's overall spending, amounting to less than one half of one percent of the annual capital budget approved this summer.
But that hasn't stopped bike lanes from becoming a kind of political shorthand in Louisville – representing, to some, waste at the expense of more pressing priorities.
Critics are quick to question the need for the on-street lanes, which they say can be confusing and aren't justified by ridership figures. Even prominent cycling advocate Jackie Green, who is running as an independent for mayor, says the city's approach is wrong.
Indeed, Metro government has created a patchwork of lanes: On Breckinridge Street, for example, bike lanes have replaced portions of the road previously used by vehicles. Elsewhere, the lanes are on the shoulders of roads, while on Kentucky Street some striped lanes haven't been replaced after paving work.
But supporters, including Louisville Mayor Greg Fischer, say bike lanes are part of a larger plan to provide different ways for people to get around the city. And they contend that regardless of the number of cyclists using them, the lanes still slow traffic, making streets safer.
Dave Stills, who commutes by bike from his home near GE Appliance Park to his downtown office nearly every week day, said the bicycle network in Louisville is "improving."
"With the bike lanes it's a lot safer," said Stills, a local principal in architecture firm Gresham Smith and Partners. "So I see a lot more people riding."
For his part, Fischer points out that the overwhelming majority of the Metro Council voted for the budget that included the bike lane spending. Unlike some years in the past, the Democratic-led council did not cut the mayor's original proposal for bike lanes.
Fischer said critics of his bike-friendly policies need a broader perspective.
"I'd encourage those folks to get out around the country and around the world and see how other growing cities integrate bike lanes into a full multi-modal transportation option," Fischer said. He characterized Louisville's investment as "microscopic."
"It's important that you invest in activities that keep people outdoors. And stay fit," he said. "It's better for our air quality as well. So there's all kinds of good things associated with bike lanes."
In 2016, Bicycling magazine named Louisville to its list of top 50 best bike cities in the U.S., citing the Big Four pedestrian bridge that opened in 2013 and on-street bike lanes as two reasons for the city's No. 31 ranking.
Louisville now has 85 miles of bike lanes and 117 miles of shared-used lanes marked by painted "sharrows," while the funds approved by the Metro Council last month would add paths along Southern Parkway and pay for other yet-to-be-identified bike projects, according to the city's public works department.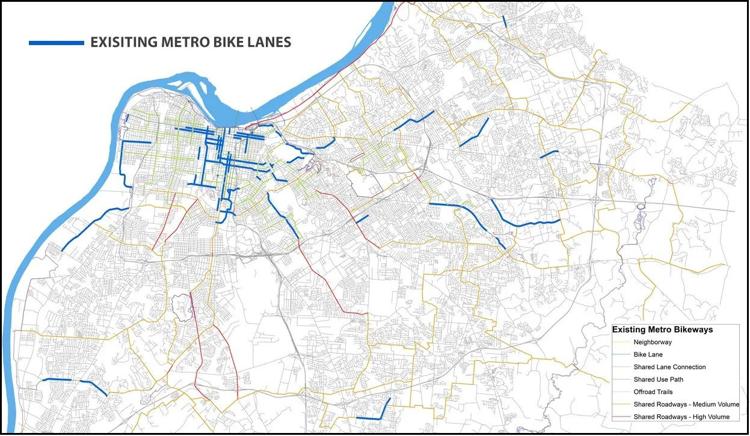 Louisville is hardly alone in adding new lanes. Memphis expects to have about 102 such miles by the end of this year, while Indianapolis has 105 miles of on-street lanes and Nashville in the last decade has grown its bike network from six miles to 140 miles, according to data from those cities.
The Kentucky General Assembly also allocates federal funds for Metro Louisville bike projects, approving more than $36 million in the most recent two-year road plan adopted in April.
That plan provides $11.5 million to widen River Road from two to four lanes from Pope to Zorn avenues and add bike lanes. It set aside more than $3 million to add bike lanes on Hubbards Lane in St. Matthews from Westport Road to Kresge Way as part of a broader road-widening project.
State lawmakers also dedicated $1.3 million for a bike and pedestrian trail in Jeffersontown in eastern Jefferson County. That project is meant to extend a previous trail and ultimately connect the suburban city's parks, said Matt Meunier, Jeffersontown's director of community development.
J-town also has added on-street bike lanes on heavily traveled stretches of Taylorsville Road and Bluegrass Parkway. "We get a lot of the businesses that want these types of facilities," Meunier said.
While formal counts haven't been done yet, he said the lanes are being used and referenced a famous saying from the movie Field of Dreams: "If you build it, they will come."
But much of the fiercest debate has been at the Louisville Metro Council, where Fischer proposes the city's budget and council members tweak it. In 2014, for example, former Republican council member Kelly Downard directed an intern to count bike lane riders and found fewer people using them than the public works department had reported, according to a WDRB News story.
In her bid to unseat Fischer, who was first elected in 2010 and is seeking his third term, Leet is mainly focusing on the city's rate of violent crime and the mayor's transparency record. But she and the Jefferson County Republican Party also have sought to make bike lanes an issue.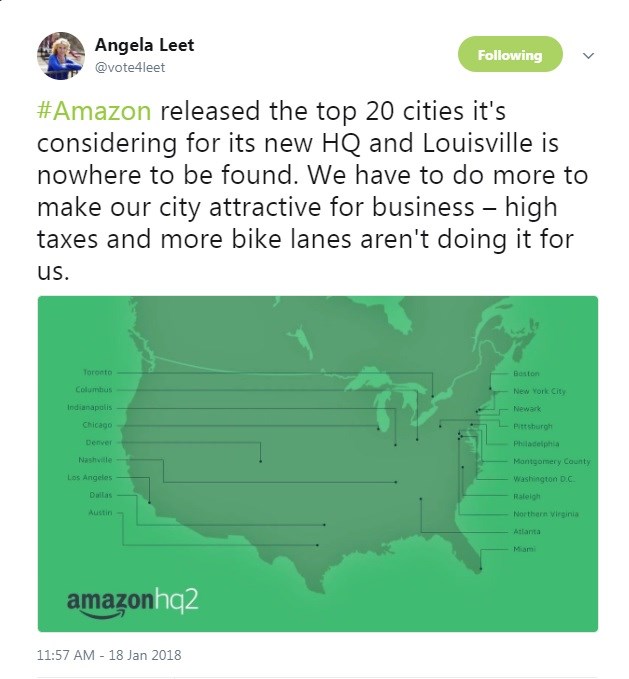 Leet was one of four council members who voted against the capital projects budget, which included the bike lane funding. She said she believes most people are more concerned with the quality of streets rather than dedicated lanes for people commuting to work.
"I have no problem with trying to provide a sense of security, but I think what we've given people is a false sense of security in this community because of the way they're marked, how they're marked," she said.
She also questioned the use of "sharrows" in outlying areas and said the focus should be on bicycle paths for recreational cyclists, such as the Louisville Loop.
Leet and other critics argue that there are other priorities that should be funded before bike lanes.
But to supporters of increased spending on bike projects, the relatively small amount of public investment is paying off.
"You can create some very solid bike infrastructure for pretty cheap," said Chris Glasser, executive director of the Bicycling for Louisville advocacy group.
He also takes issue with arguments that other priorities are being sacrificed at the expense of bike funding. "If this bike money was totally stripped from the budget and put elsewhere that's not a thing that's going to make or break the city budget," he said.
There is no definitive count of how many people are using the city's bike lanes. Asked for data on usage, the public work department provided counts for lanes on two streets – Kentucky and Breckinridge – that show a slight uptick.
In 2016, the Breckinridge and Kentucky lanes averaged 33 bikes per day. In 2017, Breckinridge averaged 34 per day; Kentucky had 39.
Green, the cycling advocate running for mayor, said on-street lanes are susceptible to debris from cars and in some cases too close to parked cars. He believes a better approach is for bikes and vehicles to share the road as equals.
"I am totally opposed to the way Louisville does urban bike lanes," he said. "It's not because I am anti-bike by any stretch of the imagination. It's because I want better for Louisville. I want Louisville to come up with a sane and sustainable transportation system."
At Gresham Smith and Partners, about half of the roughly 24-person office commutes by bike, said Mike Sewell, one of the local principals. Sewell said he drives from his home in Norton Commons and finishes his commute by bike, using on-street lanes when he can.
He acknowledged that while he is comfortable riding in bike lanes, not everyone is. And when he travels, he said, he has seen cities such as Charlotte and Atlanta invest much more in protected lanes that keep riders and cars separated.
"For what we've done with the money – it's impressive," he said. "But at the same time, we're lagging."
Reach reporter Marcus Green at 502-585-0825, mgreen@wdrb.com, on Twitter or on Facebook. Copyright 2018 WDRB Media. All rights reserved.