Warning: This story contains a photo that may be graphic to some. 
LOUISVILLE, Ky. (WDRB) -- A black bear weighing an estimated 350 to 400 pounds was hit by a car and killed Wednesday night in Meade County, according to police. 
The crash was reported around 10 p.m. on Highway 31 W in Muldraugh, Kentucky, Officer Tim Childs with the Muldraugh Police Department told WDRB News.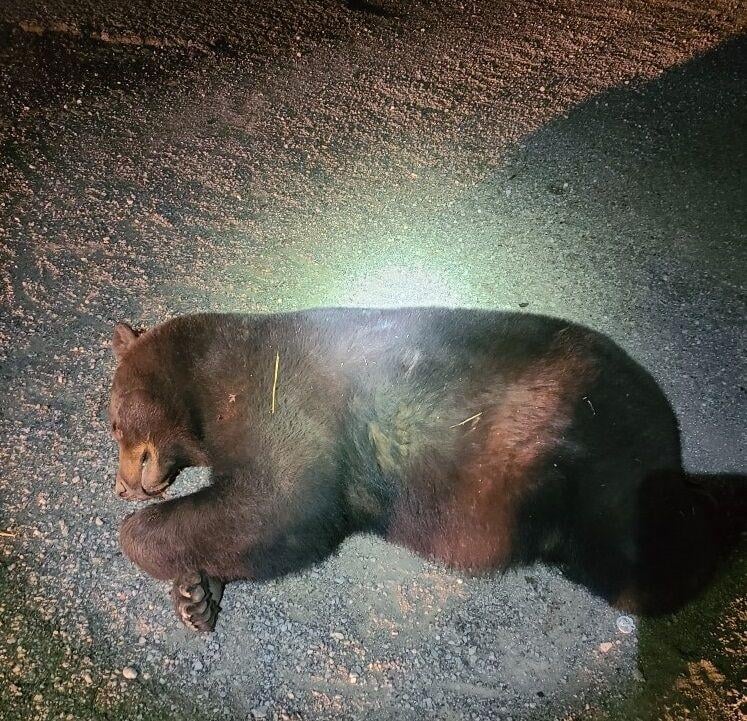 The car sustained front-end damage and was towed away from the scene, but no one in the vehicle was injured, Childs said. 
Childs told WDRB News that police took the bear's body away from the scene of the crash and will hold onto it until members of the Kentucky Department of Fish & Wildlife can properly dispose of it Thursday. 
This is the first time Childs had seen a bear hit by a car in Muldraugh, but he wasn't exactly surprised to hear it was around.
"I knew the bear was around, because a couple days ago, we actually spotted it," Childs said. "We had Fish and Wildlife down with us trying to locate the bear. We found it a few times, but it kept running away from us. We thought it was out of the area until I got that call."
Kentucky is home to a "growing bear population that offers frequent and widespread viewing opportunities in the wild," according to the Department of Fish & Wildlife. Isolated bear sightings are possible in Meade County, a map on the department's website says. 
Childs said he doubts the bear was traveling alone.
"With one bear, there's probably a family of bears around them," he said. "So just be aware with your dogs, your trash. Keep them in bags. Keep them fenced in."
Bears have been known to become "conditioned" to eating human food, which may "alter their home range to include human population centers," the Department of Fish and Wildlife's website says. 
"The sad truth, however, is that food-conditioned and habituated bears live considerably shorter lives as a result of so much time spent near people," the website says. "Those bears often die prematurely as a result of vehicle collision, poaching, or euthanasia due to unacceptable behaviors around people."
Copyright 2021 WDRB Media. All Rights Reserved.