LOUISVILLE, Ky. (WDRB) -- It's been a fixture at Jefferson Square park for several months, but the Breonna Taylor memorial has a new, permanent home.
Signs, flowers and images of Taylor have occupied the park since protests of the 26-year-old Black woman's death at the hands of white Louisville Metro Police officers began in May. On Saturday afternoon, people gathered at what is now known to some as "Injustice Square" to carry many of those items away. 
"There's a lot of mixed emotions," said Taylor's aunt, Bianca Austin. "I know a lot of people is just like sad and down about it, but just want to remind people that, you know, it's just a small piece of history." 
A crowd of a couple hundred people, including demonstrators who have spent many days and nights protesting at the park since May, marched the memorial through downtown streets to the Roots 101 African American Museum.
"It was a funeral procession. In the African tradition, it was a ceremony for those that go on," said Lamont Collins, CEO and founder of the museum. "What Breonna's death did was able to open doors and talk about wounds that we don't talk about in Louisville, and that's what Roots 101 is about. Healing. A healing space."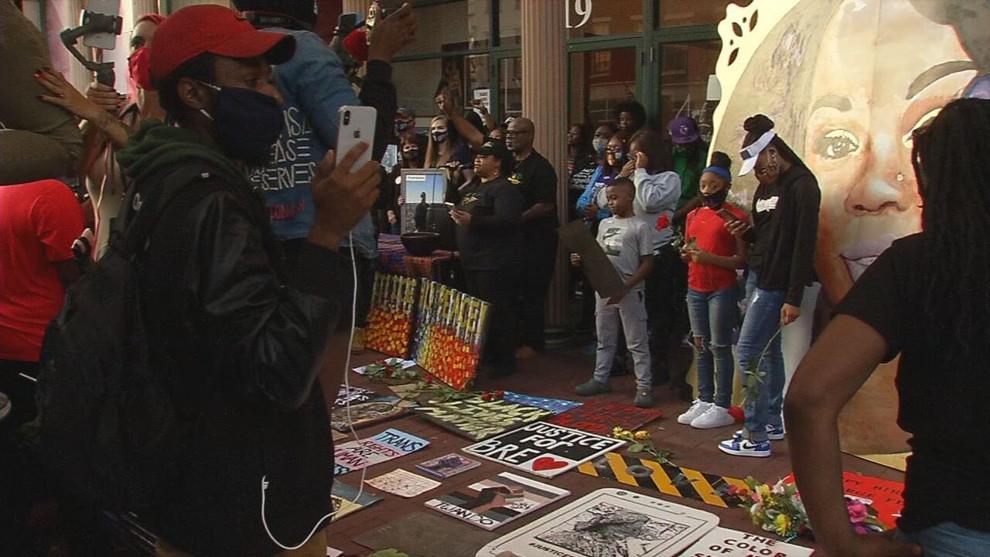 "It'll be somewhere to rest," added Taylor's mother, Tamika Palmer. "You know, the weather is changing, and so it'll be a peaceful place to come and see." 
Taylor was shot and killed March 13 by LMPD officers serving a search warrant at her apartment near Pleasure Ridge Park. Her boyfriend, Kenneth Walker, fired a single shot at officers when they used a battering ram to break down the apartment door shortly before 1 a.m. The officers combined to return 32 shots, and Taylor was hit six times and died in her hallway. 
None of the officers who fired their weapons into Taylor's apartment were charged in connection with her death.
Taylor's family wants people to know that the racial justice moment sparked by her death isn't over — even if the memorial has moved.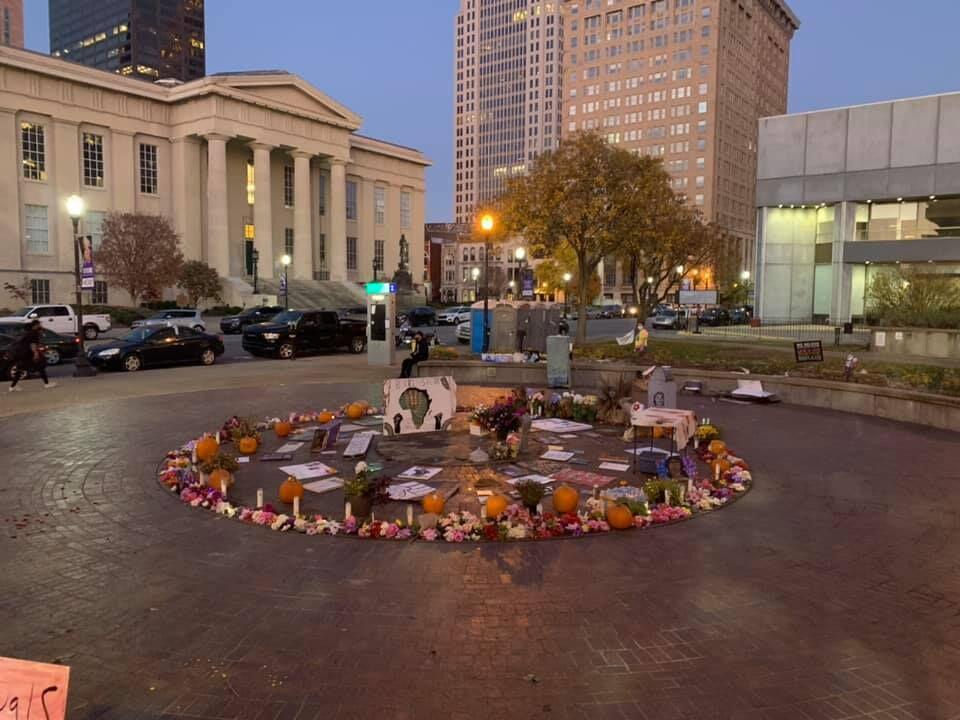 "We're still fighting," Palmer said. "It's not over. We've got a long ways to go." 
"This isn't the end of our fight. This is just a new chapter," Austin added. "So we're still down here. We're going to keep continuing to be down here and we're going to continue to pursue justice for Breonna Taylor." 
As of Saturday night, a few dozen items from the memorial remained at Jefferson Square Park.
The exhibit featuring Taylor's memorial is expected to be open in four weeks at Roots 101, which is located at 819 W. Main St., and will be a permanent installation. 
Related Stories: 
Copyright 2020 WDRB Media. All Rights Reserved.