LOUISVILLE, Ky. (WDRB) -- Kentucky health officials confirmed 477 new positive COVID-19 cases Wednesday. Fifty-three of the new cases were from Jefferson County, Gov. Andy Beshear announced in a news release. 
Wednesday's total brings Kentucky to at least 20,677 coronavirus cases since the pandemic began in March. According to a report from Kentucky Public Health, the state's positivity rate, the percentage of people who test positive over the total number of tests conducted, stands at 4.62%, significantly higher than a month ago.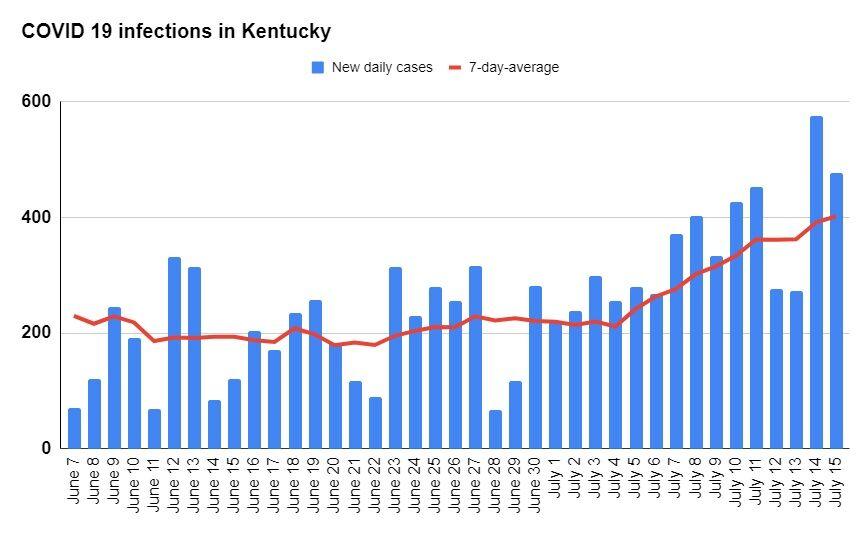 Health officials said 445 COVID-19 patients in Kentucky are hospitalized, and 92 patients are being treated for the respiratory disease in intensive care units.
Ten more Kentuckians have died after testing positive for COVID-19, Beshear said. It was the first time deaths hit double figures since June 23. Wednesday's victims include: 
A 73-year-old man and a 94-year-old woman from Casey County
A 90-year-old woman and a 96-year-old man from Fayette County
A 67-year-old man from Hardin County
Two men, ages 70 and 73, and a 67-year-old woman from Jefferson County
An 88-year-old man from Laurel County
A 71-year-old woman from Logan County
As of Wednesday, Kentucky has lost 645 individuals to COVID-19 complications. 
Health officials have performed at least 498,179 COVID-19 tests as of Wednesday, Beshear said, an increase of 3,836 tests from Tuesday.
At least 5,475 Kentuckians who have contracted the virus have recovered. 
To reduce the risk of spreading the disease, the Centers for Disease Control and Prevention recommends that people:
Wash their hands often
Avoid close contact
Cover their mouth and nose with a cloth cover when around others
Cover coughs and sneezes
Clean and disinfect
Monitor their health
Copyright 2020 WDRB Media. All Rights Reserved.