LOUISVILLE, Ky. (WDRB) -- Louisville saw a "significant" increase in violent crime after restrictions were imposed to curb the spread of COVID-19, according to a report from city officials. 
The number of homicides "increased by 67.7% over the same period in 2019" from the time pandemic restrictions went into effect in March 2020, the Louisville Metro Criminal Justice Commission Jail Policy Committee said in its report. 
The trend led to a record-breaking 173 homicides and more than 580 nonfatal shootings in 2020 and has continued three months into the new year. 
Metro Council President David James has been looking over the report, which also shows a significant increase in assaults and robberies and a decrease in reported sex crimes and property crimes. After emergency restrictions were put in place, there was a 52% decrease in total arrests and jail bookings significantly dropped, according to the report. 
"Louisville Metro Police Department went into COVID protocols, in which they stopped responding to certain calls for service, which limited their access to individuals and certain crimes and so that caused their arrests to go down," James said.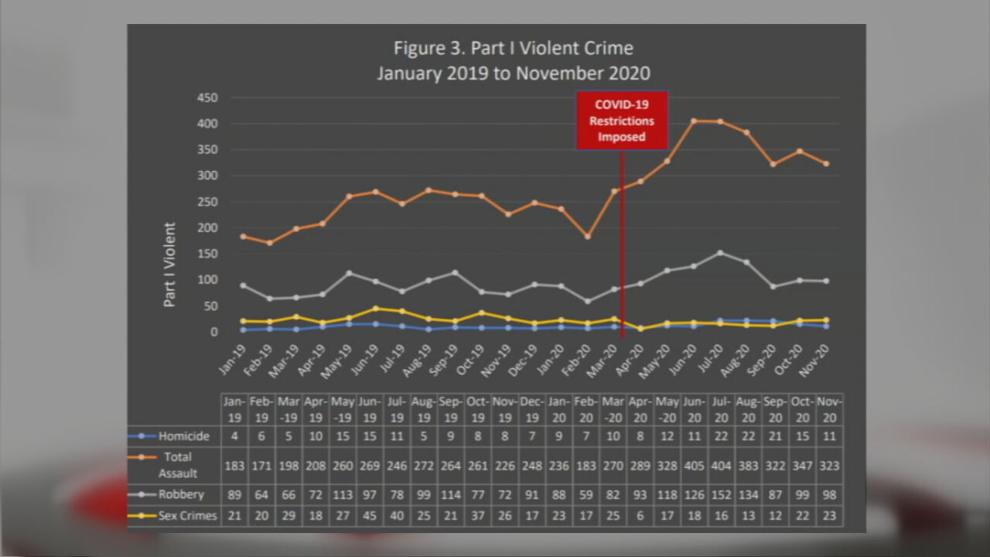 The report notes Louisville saw "similar seasonality trends in both 2019 and 2020" — spikes in violent crime during "warmer months" and falling numbers during the late fall and winter. It does not pinpoint one reason for the uptick in violent crime.
James said it's a cumulation of things.
"I think one of the basic things we can say is that COVID has had an effect on the level of violence we're experiencing in our community," he said. 
So how does the city fix it? 
"That's the question," James said. "I think we have to have some major communications within our city." 
There have been more than 40 homicides and 150 nonfatal shootings in Louisville just three months into 2021. 
Copyright 2021 WDRB Media. All Rights Reserved.