LOUISVILLE, Ky. (WDRB) -- Monet Becker said she and her 5-year old son were eating and relaxing over the weekend in Cherokee Park when they noticed the man looking at them.
"We came here on Saturday to enjoy a picnic lunch and use our new hammock," she said.
While relaxing in the hammock, Becker said she spotted a man standing about 50 feet away on a nearby bridge.
"He walked over to this point on the bridge and just started looking around," she said. "I thought it was kind of strange, you know? Maybe he's just looking at the scenery."
But Becker now believes the man was looking at something else.
"I thought initially, at first, maybe he had to use the restroom or something," she said. "So I made my presence known by talking very loudly with my son."
Despite giving him the benefit of the doubt, the situation quickly got more disturbing.
"It became apparent that he wasn't using the restroom, and he proceeded to loudly and vigorously touch himself," Becker said.
Becker said there is absolutely no doubt about what the man was doing.
"He had his pants completely dropped. He was out of his pants," she said. "I saw what he was doing with his hands, and it was disturbing."
Becker then decided to confront the man.
"I got up out of my hammock, grabbed my phone from my purse and I said, 'Hey! Hey! Stop that! What are you doing?'" she said. "He quickly pulled his pants up, turned around and b-lined it toward this skinny path over here, which led to a quick exit."
The man got away, but Becker got his picture and called 911.
"I called and made a report with LMPD, literally, like two minutes after it happened," she said.
She shared the picture of him running away on Facebook, and since then, there's been a lot of comments and feedback.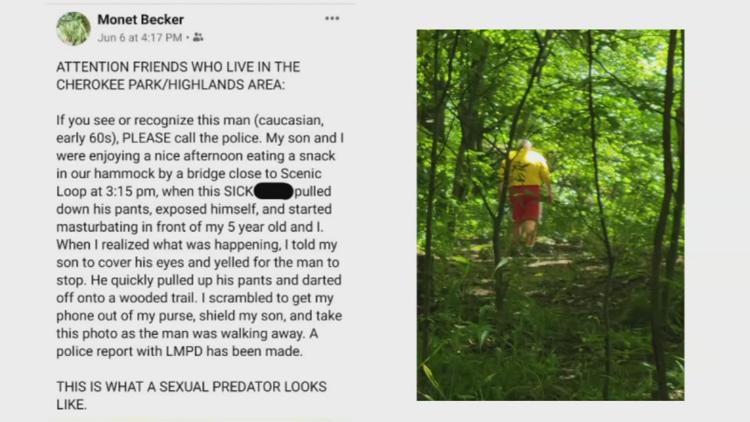 "They're saying that this happens pretty frequently in this park, and there are people that match the description," Becker said.
Becker said the man is a heavy-set, white male in his 60s. He was wearing glasses and has gray hair.
A Louisville Metro Police detective is on the case and already has a few leads. If you have any information, you can call the department's anonymous tip line at 574-LMPD.
Copyright 2020 WDRB Media. All Rights Reserved.