LOUISVILLE, Ky. (WDRB) – Louisville Water Co. is launching a new customer assistance program, called Drops of Kindness, to help customers struggling to pay their water bills due to the coronavirus pandemic.
Around 2,000 customers are late paying their bills each month and fall into the disconnect category. However, with tighter budgets during the pandemic, that number has skyrocketed. Since March, at least 12,000 residential and business customers are now in that disconnect category.
Of those customers, 7,000 have never been late on a payment — or only once. Customers are falling behind all over Jefferson, Bullitt and Oldham counties.
"That's just really painful to see," said Kelley Dearing Smith, the company's vice president of communications. "It's certainly a sign of what we're living through right now. So these are customers who truly never perhaps thought they'd find themselves in this situation."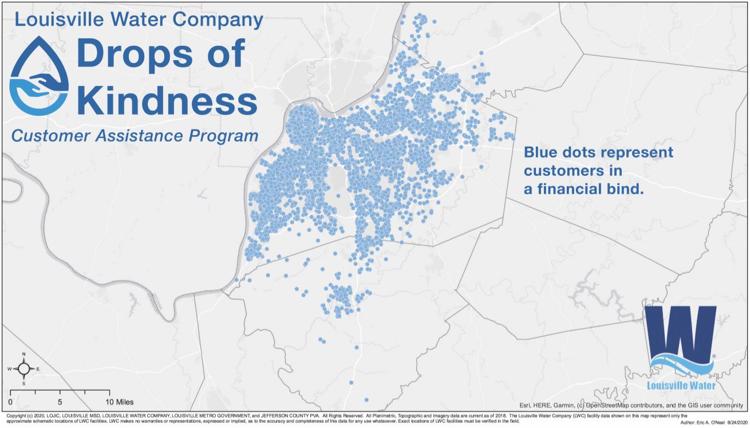 Louisville Water Co. suspended all water shut-offs in mid-March and plans to continue doing so "until the pandemic is lifted," Dearing Smith said. However, the company wanted to do something to help alleviate some of the financial strain that continues to build.
"Bottom line is that an outstanding water bill, it doesn't need to leave you in a bind. It should not be something that keeps you up at night. We are all responsible for the water we use. So we can't just erase that debt, but we can help you right now," said Dearing Smith.
The water company mailed letters to those 7,000 customers to let them know about Drops of Kindness. The letters are not a disconnection notice but an offer for help, so the mailings were designed to catch people's attention and encourage them to respond.
"With your outstanding balance, for the first time, Louisville Water can actually set you up on a payment plan," Dearing Smith said. "So we're going to spread that out over several months. And if you qualify, we actually have agencies here in Louisville who get money from the Louisville Water Foundation. And they can give you direct bill relief. They can pay that outstanding balance for you."
The water company already provides assistance for customers with mailed bill reminders, disconnection warning phone calls and the option for payment extensions. Those programs are continuing.
Copyright 2020 WDRB Media. All Rights Reserved.