LOUISVILLE, Ky. (WDRB) -- Six people were charged in what officials are calling the takedown of a "major organization" involved in the theft of hundreds of catalytic converters throughout Jefferson County, worth more than $100,000.
"This is a major organization," Jeffersontown Police Chief Richard Sanders told reporters during a Thursday afternoon news conference. "And just as important, it's a major pain to the citizens of Jeffersontown." 
Police said they arrested five suspects: 38-year-old Redzep Beganovic, 36-year-old Tahira Osmanovic, 18-year-old Elvis Osmanovic, 18-year-old Elvir Osmanovic and 44-year-old Zilhad Colic. The suspects are charged with several counts of trafficking in stolen auto parts, engaging in organized crime and receipt of stolen property over $10,000.
A sixth suspect, Brankica Osmanovic, was cited but not arrested, according to police. 
"This case started about almost a year ago by our detectives," Sanders said. "We were being hit hard by people stealing catalytic converters from vehicles throughout J-Town. So our detectives mounted an investigation that involved a lot of surveillance, a lot of man hours. And there was a lot that they put into this investigation."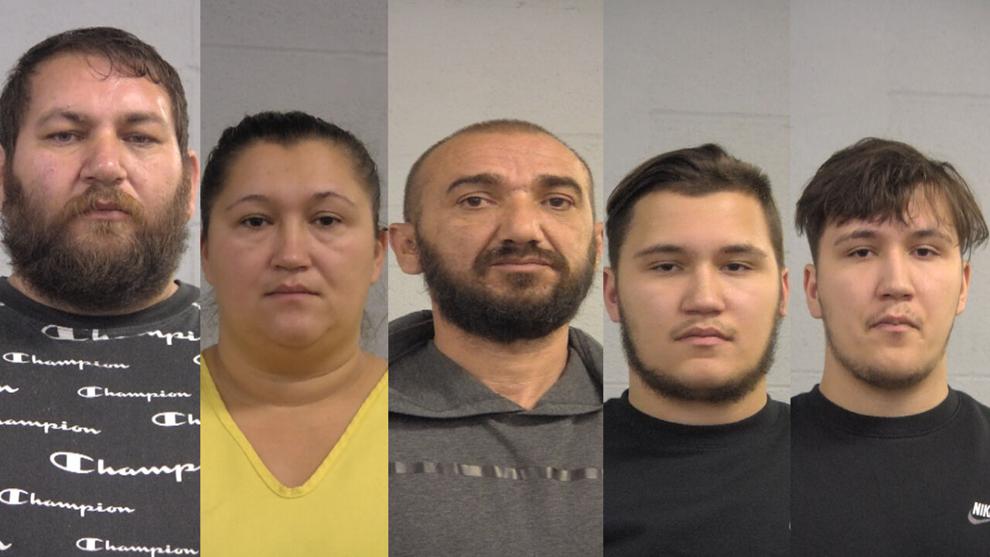 Sanders said all of that came to a head at 4 a.m. Thursday when detectives served search warrants on various locations in the Louisville area, including a home on Downes Lane, off Strawberry Lane; a home on Southside Drive, near Freeman Avenue; and a storage facility on Dixie Highway near Alanadale Drive, where the suspects had three storage units.
According to Sanders, investigators seized a Mercedes, about $10,000 cash and gold jewelry from the storage units. He said they also confiscated close to $100,000 from a bank. But perhaps the most telling seizure of all was a van they seized at the Southside Drive location: a van containing an estimated 170-200 stolen catalytic converters.
"I was shocked to see the amount of catalytic converters that they had," Sanders said. "We often hear about, 'Well, you got the low-handing fruit.' Well, we consider these to be high-level violators that were responsible for hundreds of catalytic converters that had been stolen in Jefferson County and sold outside of Jefferson County. So this is a significant event."
Investigators believe thieves would use tools like saws to cut out catalytic converters from victims' vehicles. They would then sell the converters to Redzep Beganovic, the suspected ringleader of the group. Police say the suspects would then re-sell the catalytic converters to buyers outside of Jefferson County.
Additionally, Sanders said investigators seized a number of handwritten documents kept by the suspects to record the prices of the stolen catalytic converters they sold. He said the documents record about $180,000 of receipts for one 3-4-month period.
"They kept really good, meticulous bank records, actually," Sanders said. "They're crude, but they kept good records. Some of those catalytic converters were sold for anywhere from $830 to $1,000 to $281."
Sanders said investigators are now working to identify the individuals who were buying the converters, as well as the victims of the thefts. He added that police expect to make more arrests.
"Our business park — they've been hit real hard," Sanders said. "And it's typically from commercial vehicles that have been left overnight, and they just discover the next morning that these catalytic converters have been stolen."
He says state lawmakers need to draft legislation that will make it more difficult to sell stolen converters.
"It's pretty easy for somebody to walk in and sell one of these things no questions asked," he said. "I mean, to me, it's pretty much common sense. If somebody comes in with 20 catalytic converters, if I'm the buyer, I'm gonna question them where they came from and make certain that this is legitimate. But there are a lot of people who aren't doing that, so hopefully we'll get some legislation passed that will require that."
For now, he's asking residents to take their own steps to prevent theft. Those actions include parking your car in a garage (if available) and locking your doors.
"It's like a drug cartel," he said. "Just because we take off a cartel, drugs don't stop being sold. But it certainly has an effect on it. I think that this is a major organization. I mean, you can just see from – I mean, I've never seen that many catalytic converters in one location ...
"I think these people were in it for the profit -- and the amount of money they made is evidence of that."
Copyright 2021 WDRB Media. All Rights Reserved.