BARDSTOWN, Ky. (WDRB) -- Fallen Bardstown Police Officer Jason Ellis will be honored Saturday morning, six years after he was shot and killed.
Sgt. Tom Blair with the Bardstown Police Department will serve as emcee of Saturday morning's memorial service in front of the memorial to honor fallen Nelson County Police Officers.
"Jason was a big part of this department," Blair said. "His family was a big part of this department."
Blair was Jason Ellis' field training officer and considered the fallen officer a friend.
"Jason and I got to know each other through that process," Blair said. "We are here to remember him and what he stood for in the community."
On May 25 2013, Ellis was shot and killed after getting out of his car to remove debris from an exit ramp on the Bluegrass Parkway. Since then, there have been no arrests, but Kentucky State Police is investigating, and there's also a $217,000 reward.
"We want people, if they have any type of tips or whatever, to contact the Kentucky State Police," Blair said.
Inside Ellis' old department, a hallway is painted with a thin blue line. The wall is covered with pictures and momentos to honor the department's fallen hero.
"It reminds me, and I remember that I have a job that is not done yet," Blair said.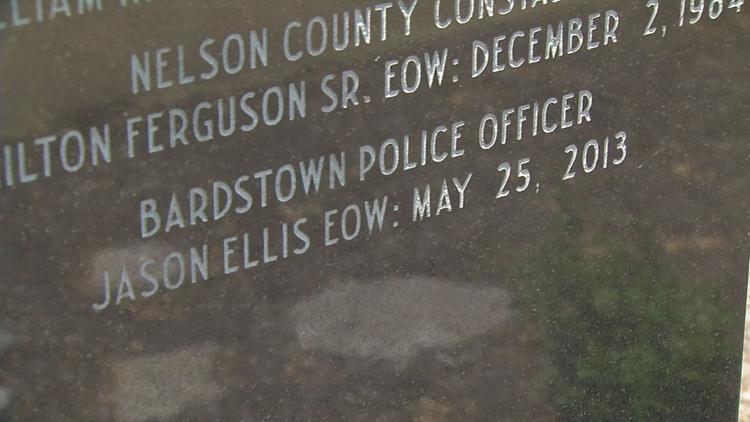 Blair said Saturday's memorial is open to the public and will include city officials and family members.
Former Bardstown Police Chief Rick McCubbin heads another department now, but last week, McCubbin attended National Police Week in the nations capital in honor of Ellis.
"No matter where I am chief at, I will always be there, every year to honor him, first and foremost, because he was my guy, but all the other names that are on the wall," McCubbin said.
Copyright 2019 WDRB Media. All Rights Reserved.