SEYMOUR, Ind. (WDRB) -- Most small towns can't boast of being the birthplace of an international star.
Seymour can, and it's recognizing hometown legend and Rock & Roll Hall of Famer John Mellencamp with a huge mural. But it's actually Mellencamp's artwork that's drawing visitors to town right now.
The small town that was put on the map by Mellencamp has placed the mural on the side of the This Old Guitar Music Store.
Owner Larry McDonald is proud of the new mural.
"It's a good response," he said. "I think what it will do — it will bring more awareness to everything he's accomplished in the music business."
But this month in Seymour, it's Mellencamp's other form of expression getting all the attention. Mellencamp is an artist, and some of his paintings have sold for more than $20,000. They're on display at the Southern Indiana Center For the Arts in an old home Mellencamp bought and leases to the center for $1 every two years.
It's the art that has Mellencamp's fans coming from far and wide.
"I think a couple are coming from Canada," said Eric DiBlasi Jr., a spokesman for the center. "I know there's a lot coming from Ohio, kind of all over the Midwest. There's fans in California that are engaged with the Facebook page."
Before Mellencamp ever picked up a paintbrush, his mother was creating art, including a self-portrait on display in Seymour. Every time his mom was sketching when John was a young child, he would stop by and watch intently. So he actually had an interest in art long before he became a rock and roll star.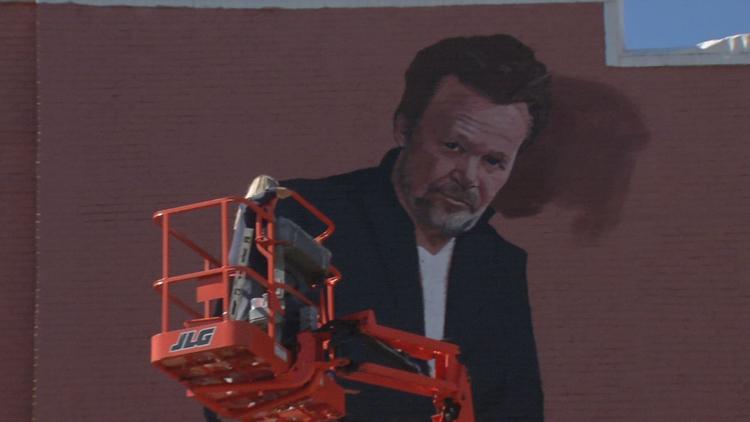 Along with his mother's art, you'll also find the work of Mellencamp's son, Speck, at the center.
But it is John's work — a passion that blossomed about 30 years ago — that takes center stage.
"Some of it's dark," DiBlasi said. "Some of it is mixed media, different pictures of things. And then there's pictures of his family members. He has one of his granddaughter he did."
"I've been surprised by how many people told me, 'I had no idea he painted!'" Diblasi said. "I guess because we're the Center for the Arts, we know he painted, but there's been a lot of people that did not realize he was an artist outside of being a musical artist."
Mellencamp is not expected to show up for the month-long exhibit, but maybe his mural will bring him back to his roots.
Laura Hackman, Mellencamp's sister, said it's always a possibility. 
"I know a lot of people would like to see him down here more, being his hometown," she said. "So maybe one of these days he'll be down here more."
And she said he likes his mural.
"I sent him a picture of it today," she said. "So he was happy to see that."
Pamela Bliss, the Indianapolis artist creating the mural, said she would be happy for such a visit but admitted it would make her a little bit nervous.
"That might put a little pressure on me, because if it doesn't look quite like him, then I'd probably start stressing," she said.
She said she's working hard to make sure it looks just right.
"Right now, he's a little too kempt," she said. "His hair is a little bit too laid down. So I've got to do a little bit more depth and highlights in his hair. But he's getting close. He's not quite John yet."
Some of Mellencamp's work can be purchased at the exhibit, ranging from $20 posters to $8,000 originals. It's on display through Nov. 2.
Copyright 2019 WDRB Media. All Rights Reserved.