LOUISVILLE, Ky (WDRB) -- Kroger plans to reopen its store at 28th and Broadway, after it was looted by dozens of people early Tuesday morning.
In a release, the company said it will reopen the location on Wednesday with limited hours. "We are saddened by the events of last night, but are thankful that none of our associates or customers were injured during the incident."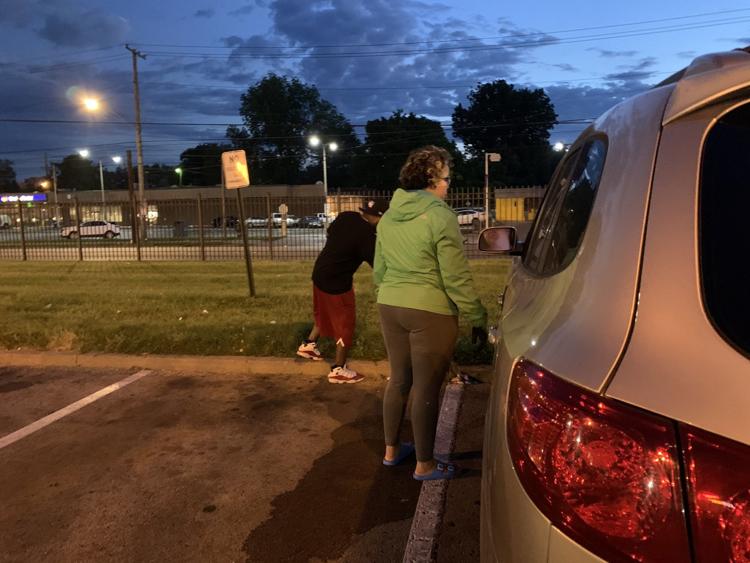 Kroger also thanked people in the Russell Neighborhood that came out early Tuesday to help clean up the mess left by looters. Several people showed up with garbage bags to pick up trash and prescription bottles that littered area around the boarded-up store. 
Facebook Live video obtained by WDRB shows people running out the back door of the Kroger. Some people can be seen with arms full of merchandise. Others were seen pushing carts full of groceries.
In another part of the video, people can be seen trying to break into an ATM at the Chase bank. It's unknown if they were able to get any money from the machine.
Check out these ATMs. I've never seen anything like this. Looters destroyed them. Just across the street is where David McAtee was shot and killed yesterday. Just steps from these ATMs is where his mother and family sat all morning until they could finally see him. @WDRBNews pic.twitter.com/yvQkbv6KOl

— Lexie Ratterman (@LRatterman_WDRB) June 2, 2020
In a statement, Kroger said it is committed to supporting the neighborhood and its neighbors. 
"We all have a responsibility to speak out against racism and injustice when and where we see it. But what's more, we have a responsibility to more fully examine ourselves and to engage one another with greater compassion and deeper listening.
Our collective energy is necessary to achieve true equality and inclusion for our country. We will do our part to bring our community together, as an employer, grocery provider and community partner. We hope that the protests unfolding in Louisville and across the nation will peacefully shine a light on injustice."
The Kroger is just one of many business that have been looted or damaged since protests began several days ago. 
Several stores on the Outer Loop were also damaged overnight, including Verizon, Hibbits, GameStop and Walgreens. People upset about the damage at the west Louisville Kroger Tuesday there to talk about what happened and also to ask for it to be reopened. A sign on the store says it will be closed until further notice. 
"People in this community need this Kroger," said Milton Seymore, pastor at Energize Baptist Church. "They need this pharmacy. People able to walk to this store and push their carts and able to catch rides at this store to go home. And for this store to be closed down is not acceptable."
Milisa Greene-Jones, who lives in the Russell neighborhood, echoed that statement. 
"I was angry," she said. "Not only because of what we're going through as a whole, you know our black community ... I was angry because they was tearing up something that was in our neighborhood. You have to think about the children, the elderly. People get their prescriptions here. This is the closest place they have to get food." 
Greene-Jones spent part of Tuesday morning helping clean up the parking lot.
"I am totally with protesting but I am not with tearing up our community," she said. "This is our community. People do not have a lot of money to travel to go get food in the East End or travel out to Middletown.They don't have it. This is not OK."
While Tuesday morning's looting left behind destruction, the majority of Monday's protests in Louisville over Breonna Taylor's death as well as the shooting of David McAtee were peaceful. McAtee was killed early Monday after gunfire erupted in a crowd outside the barbecue stand he ran at Dino's Food Mart on 26th and Broadway. 
Copyright 2020 WDRB Media. All Rights Reserved.