JEFFERSONVILLE, Ind. (WDRB) -- A game of cards exploded into a wild night of violence at a public housing complex in Jeffersonville.
The man shot and killed Monday night has been identified as 35-year-old Elite Elliot.
Oscar Elliott said his brother was playing cards outside and socializing Monday. The shots fired around 11 p.m. Police said two others were rushed to the hospital.
"I don't care what somebody done," Elliott said. "They don't deserve to get shot eight times — eight times in the back. You don't deserve that. You don't deserve that."
Elite's loved ones returned to the scene of the crime at the Greenwood Apartments on Tuesday, trying to piece together what happened. 
"He didn't mess with nobody," Elliott said. "He stayed to himself, and it's probably the guys he was running with."
Pictures tell the tale of bullets flying in several different directions. Jeffersonville Police Lt. Issac Parker said the department sought extra help from Indiana State Police troopers due to the size of the crime scene in the public housing complex.
You could see blood stains and an oxygen mask on the cement in front of one apartment and a stained door riddled with holes about 50 yards away. A shell casing was even found in the grass a day after the shooting. Detectives collected it for evidence.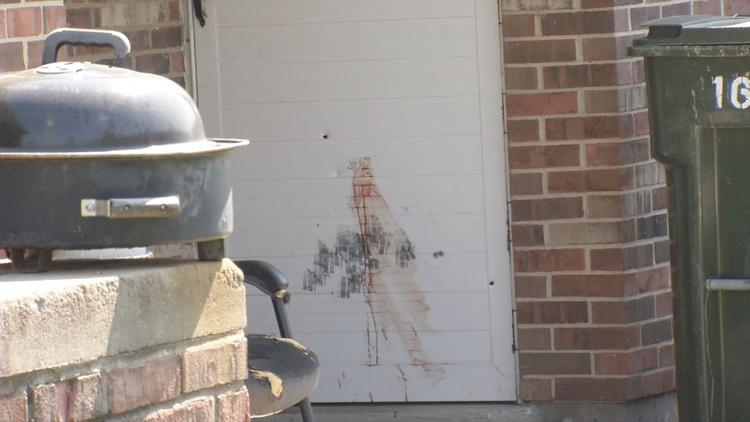 "I thought it was kids firing fireworks," said Alex Bennet, who lived in the apartment complex.
Bennett woke up to a loud "boom" from where police kicked in his neighbor's door, and when Bennett came outside, he saw the gunfire hit much closer to home than expected. There was a bullet hole in one of the chairs on his porch. 
"Put the guns down," said Rhonda McGhee, Elite's sister. "Please stop the killing. It's not that serious ... It's ruining families."
Police have not released a motive or what turned the card game into violence. There's been no arrests, even though Parker indicated the department had leads.
"The investigation is active and ongoing, and we are moving in a direction," he said.
Monday's shooting marked Jeffersonville's first murder of the year .
Copyright 2019 WDRB Media. All Rights Reserved.