LOUISVILLE, Ky. (WDRB) -- The NCAA Tournament is three weeks of epic theater. It's incredible, phenomenal, astounding stuff. It rarely fails to deliver.
But the growth of March Madness has carried a price: It has diminished the value of the game's regular season.
That is why it was refreshing to hear Chris Mack's answer Tuesday when he was asked if he is concerned about his team's potential seed for the NCAA Tournament, especially considering the Tournament Selection Committee will share its ranking of the top 16 seeds Saturday.
"We don't worry about that," Mack said. "We certainly look at the conference standings. But we looked at them after one game."
Louisville, for the record, has a 1 1/2-game lead on Duke and Florida State Atlantic Coast Conference regular season race. The Cards are 10-1, winners of eight straight, unbeaten since their Jan. 4 home-court stumble against Florida State.
"I think (losing to FSU) — it kind of woke us up a little bit," U of L guard Ryan McMahon said. "Getting punched in the mouth like that can kind of wake you up and make you realize you've got to take everybody as an elite opponent that can knock you on your a** any day. Sorry. Excuse my language."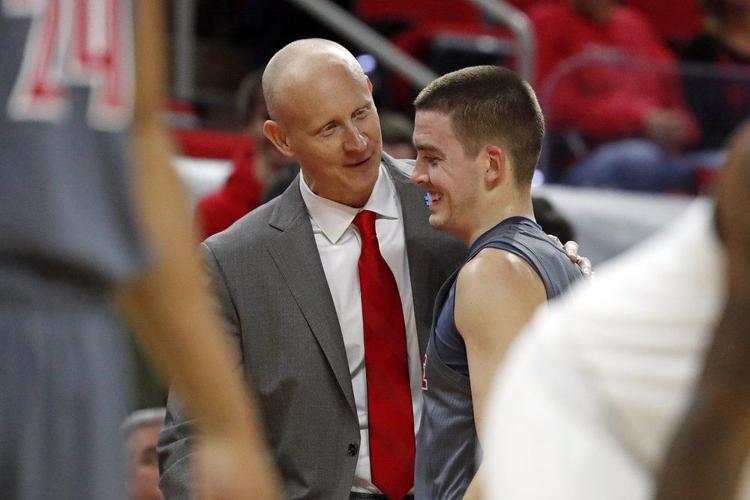 Wake Forest is not Florida State.
Wake Forest is tied for last with Miami. The Demon Deacons have won three of 11 ACC games.
Guess who the Cardinals play at 9 p.m. Wednesday in the KFC Yum! Center?
Wake.
"Every game counts the same," Mack said. "They don't say you get more points because you beat a better team or it doesn't count as much.
"It gives you an opportunity to win a conference championship. As far as the seeding for the big tournament, we don't care about that."
At the halfway point, the race to win the ACC has narrowed to three teams: Louisville, Florida State and Duke.
The Cardinals lost a home game to the Seminoles and beat Duke in Cameron Indoor Stadium.
Duke and Florida State will play once: in Durham Monday night.
Louisville gets a rematch with Florida State in Tallahassee on Feb. 24.
Florida State (Pittsburgh, Virginia) and Duke (Clemson) have lost games they should not have lost. That put Mack's team in prime position to win the ACC for the first time in program history.
Mack is obviously enough of an old school basketball guy to appreciate what a significant achievement an ACC regular season title would be. He also knows that even in a down season, an ACC regular season title would give the Cards a formidable NCAA Tournament seed.
Wake (10-11) is not a team that should beat Louisville in the KFC Yum! Center. The Cardinals have handled the Demon Deacons four of the five times the programs have played as ACC members.
Ken Pomeroy's analytics website likes U of L by 15 points, with a win probability of 92%.
I mention Pomeroy because McMahon mentioned Pomeroy on Tuesday. He said the Cardinals set a goal of finishing the season ranked in the Top 20 in defensive efficiency.
Louisville is currently ranked No. 13 in that category. Wake Forest is No. 143. Louisville allows 90.2 points per 100 defensive possessions. Wake allows 100.9.
Wake is ranked 86th in offensive efficiency. Louisville is 17th. Wake scores 107.3 points per 100 offensive possessions. Louisville averaged 114.1.
"We go by (Pomeroy)," McMahon said. "It's pretty reliable, I think."
Some college basketball observers insist that a team must rank in the Top 20 in both Pomeroy categories to be a legitimate national title contender.
Louisville, Kansas, Duke, San Diego State and Michigan State are the five current dual qualifiers.
"Coach Mack likes to make our identity toughness and defense," McMahon said. "The thing about defense is you can always control it. You can be consistent with it.
"Sometimes you just can't control when the ball is going in the hole. But if you stick to your defensive principles — intensity energy, effort, all that kind of stuff — all you have to do is put the ball in the hole a little bit more than the other team, and you can still win games."
Copyright 2020 WDRB Media. All Rights Reserved.