LOUISVILLE, Ky. (WDRB) -- D.J. Wagner led the New Jersey Scholars to 11 wins in 13 games during three Nike EYBL tournaments this spring.
One team — Mokan Elite — has a better record on the EYBL circuit.
Wagner has averaged 20.3 points per game, one of three guys averaging better than 20 in EYBL competition.
This came after Wagner led Camden (N.J.) High School to 25 straight victories as well as the program's first state title in 22 years. The Panthers outscored their opponents by more than 32 points per games. Seems significant.
I watched Wagner play in Indianapolis and Louisville in AAU action. He can shoot the ball like his grandfather, Milt, who won a national title at Louisville. He can drive the ball like his father, Dajuan, a one-and-done first-round NBA Draft selection at Memphis.
From my seat, D.J. is better with his left-hand than his father or grandfather, especially around the rim. Hype can be a risky thing with 17-year-olds, but the chatter around Wagner looked justified.
Wagner wins. Wagner scores. Wagner defends. He makes his teammates better.
There's a reason he's atop the wish list for Louisville, Kentucky, Michigan, Villanova, Syracuse and many other college programs. Sorry, but there is no additional information on his recruitment.
But this is how the media game works today: There's always somebody looking for a different way.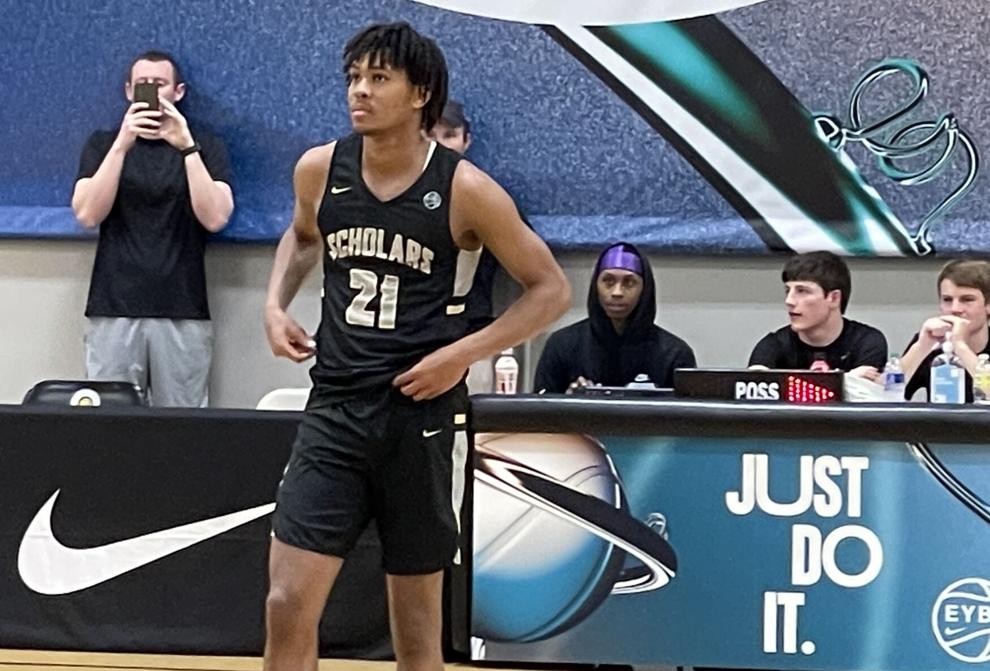 Or as one Division I head coach put it Wednesday afternoon: "Everybody wants to be the person who can say they discovered the next unbelievable player."
Wagner has been the consensus choice atop the recruiting rankings for the Class of 2023 for several years.
Over the last few months, at least three recruiting services have changed the narrative about the top player in that class.
A check of four sites showed that 247Sports.con, On3.com and rivals.com have all supplanted Wagner with G.G. Jackson, a 6-foot-8-inch wing from Columbia. South Carolina, who committed to North Carolina last month.
Rivals took it another step this week. It moved Wagner to No. 3 in the class, behind Jackson as well as Xavier Booker, a 6-foot-11-inch, 215-pound frontcourt player from Cathedral High School in Indianapolis. Booker jumped 35 spots in the Rivals rankings after several dazzling appearances at national workouts this spring.
"Maybe in a few years, he'll be better than Wagner," one Division I coach told me. "I can see that. You can definitely see the potential, because, for a big guy, he can really run the floor and shoot the ball. He's very skilled.
"But he's not there yet. He needs to get stronger. I think he's more of a top-10 or top-15 player right now."
Make a note this is all just fun conversation as the serious summer basketball approaches. After stops in Orlando, Florida; Indianapolis and Louisville, the EYBL circuit goes to Kansas City from July 7-10.
Unlike the tournament in Louisville on Memorial Day weekend, the Kansas City event will be open to college coaches as an official evaluation period.
So will the final EYBL event: the prestigious Peach Jam in North Augusta, South Carolina July 17-24. That is where the AAU national championship will be decided.
With the top national prospects going sneaker-to-sneaker there, that's where the next batch of recruiting rankings will crystalize.
Wagner, of course, remains first in the rankings at ESPN, second at 247 and On3 and third at Rivals. No college coach has scratched him off recruiting list because of these rankings.
In addition to his three No. 1 rankings, Jackson is ranked No. 6 at ESPN.
Booker's numbers reinforce the insane subjectivity of the recruiting world. He is second at Rivals, fourth at 247, No. 21 by On3 and not ranked among the top 100 in the class by ESPN.
Let me repeat that: One recruiting service has Booker the second-best prospect in the upcoming senior class while another service does not rank him among the top 100.
Carry on. The summer camp recruiting season is just starting to percolate.
Copyright 2022 WDRB Media. All Rights Reserved.