BOZICH | Kentucky vs. Louisville: Ball of confusion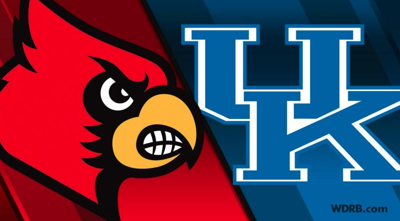 LOUISVILLE, Ky. (WDRB) -- Kentucky is the pick over Louisville on Saturday by the people who matter, as long as you believe the people who matter are the voters in the USA Today coaches and AP writers Top-25 polls.
Those wonderful folks don't care if the Wildcats lost to Duke by 34 or 3,440 points. The voters in the human polls have tilted toward Lexington since the season's first dribble.
RIVALRY ALERT: There is plenty of love out there for Louisville, too, especially from the computer formulas that value qualities like strength of schedule, common opponents and home-court advantage.
Outrageous stuff, like Louisville winning by five on Seton Hall's home court a week before the Wildcats lost to the Pirates in overtime on a neutral court one week later, suggest this will be no Wildcat Walkover like last season in Rupp Arena.
(Louisville by 6? Just kidding. At 4:30 p.m. Thursday the line was still not posted in Las Vegas.)
In the world of basketball analytics, there is as much love for Chris Mack's team as there is for John Calipari's 9-2 squad. Actually, there is more.
The voters in the AP writers' poll have the Wildcats ranked as high as No. 9. Only one guy, Graham Couch of the State Journal in Lansing, Mich., did not rank UK in the Top 25. He punished the Wildcats that way because they have yet to play a true road game.
Either way, Kentucky drew the most votes at No. 13 (including one from me), and the Wildcats were ranked 16th overall.
Two voters acknowledged Louisville's 9-3 start, which featured four games against Top-30 opponents and two more against Top-60 teams. One was Seth Davis of CBS Sports and The Athletic. The other was the person writing this column. We ranked Louisville No. 24.
We are affected by an eggnog-induced fog. Our defense is the world of basketball analytics. Four of the seven computer power rankings that I follow have Louisville ranked ahead of Kentucky, and three rank the Cardinals in the Top 25.
Get this: Even the three formulas that rank Kentucky ahead of Louisville say there is a ton to debate between the teams.
Ken Pomeroy likes Kentucky over U of L, 74-73, giving the Cards' a 48 percent win probability. One shot, one turnover, one whistle will make the difference.
Bart Torvik, who is based in the Midwest not the Southeastern Conference, scores it Kentucky 76, Louisville 72, with a 64 percent win probability for the Wildcats.
Jeff Sagarin, an MIT guy who moved to the front of the line in analytics more than 40 years ago, has Kentucky No. 23 in his preferred Predictor formula with Louisville No. 27.
Don't turn off your calculator. If you utilize all of Sagarin's data, which means factoring in a 3.20 home-court advantage), his Predictor numbers actually forecast a two-point U of L win.
(Time to burn a timeout. Is it fair to wonder about a standard home-court advantage of 3.20 points? I think so. The home-court edge at Louisville is different from the home-court edge at Pittsburgh which is different from the home-court edge at Duke. Considering this game is not a sellout, according to the information at ticketmaster.com on Thursday afternoon, isn't it also fair to wonder what the composition of the crowd will be at the KFC Yum! Center? I've yet to find a crowd analytics site, but I'll put the over/under of UK fans in the building Saturday at 21 percent? Who's taking the over?)
The arguments for Kentucky are talent, length, quickness and the fresh memory of the way the Wildcats rolled over North Carolina in Chicago on Saturday.
According to Pomeroy, Kentucky is about an inch taller than Louisville across its entire roster. Erik Haslam said Kentucky is the second best team in the nation in scoring on second-chance opportunities.
Better block out. Kentucky ranks third in the nation in offensive rebounding percentage, grabbing better than 41 percent of its misses. Louisville will need Steven Enoch and Malik Williams on the court as much as possible.
The strength of this Louisville team is no secret. Mack's guys average more than an extra year of experience than Calipari's guys. Louisville is solid in all the defensive metrics except defending the three-point shot.
Whistles will matter -- a lot. Iowa is the only team in America that earns more free throws per field goal attempt than Louisville.
Louisville is 8-0 when the Cardinals have attempted more free throws than their opponents. Louisville attempted 136 more free throws in those wins.
The Cards are 1-3 in games when their opponents have taken more free throws. (The exception was Seton Hall.) Louisville attempted 15 fewer free throws in its losses to Tennessee, Marquette and Indiana.
Confused? Get in line. Picking a winner in this Kentucky-Louisville game has rarely been more confusing.
Copyright 2018 WDRB Media. All Rights Reserved.