LOUISVILLE, Ky. (WDRB) — This was the game likely to decide the arc of the 2020 University of Kentucky football season.
By defeating Mississippi State, the Wildcats would improve to 1-2 and stop the groaning about a losing season.
Lose to the Bulldogs? Forget a winning or even .500 season. The Wildcats would be looking at 3-7 and something worse than groans.
Season on. Story memorable.
"We took this like this was our last game," linebacker Jordan Wright said.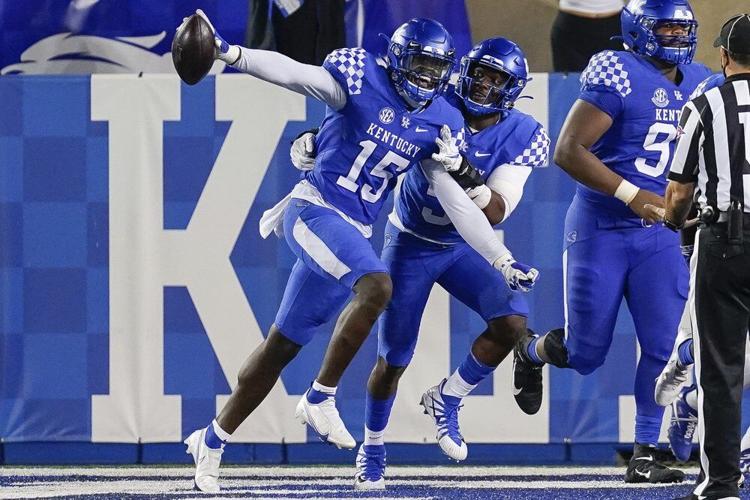 Credit an overwhelming effort by the Kentucky defense, which delivered six interceptions as well as a touchdown. In fact, credit the Wildcats with limiting an opponent from the Southeastern Conference without a touchdown for the first time since 1996.
The overall performance was neither pretty nor perfect because of spotty results by the UK offense, but for Kentucky and coach Mark Stoops, beating Mississippi State 24-2 on Saturday night at Kroger Field was perfectly essential.
"What a difference a week makes," Stoops said.
The Wildcats did what they were supposed to do — and what they needed to do — handling Mississippi State, its $5 million coach, Mike Leach, and all of the Bulldogs' alleged offensive wizardry.
This was the 232nd game of Leach's head coaching career, which includes stints at Texas Tech, Washington State and MSU. Mark it down as the fewest points scored by a Leach team.
Kentucky's determined defense, which had allowed seven TD passes without an interception in its first two games, grounded Leach's air raid offense. Against State, Jamin Davis, Kelvin Joseph, Boogie Watson, Josh Paschal, D'Eryk Jackson and Wright all contributed interceptions — with Wright taking his 8 yards for a touchdown that assured with victory with 6:25 to play.
"We were obviously in good position," Stoops said. "We had the opportunity to make plays and today we did. We dropped two (interceptions). At least two."
"We didn't expect that many turnovers," added Davis, a UK linebacker. "We were just trying to earn a little bit of respect tonight, that's all."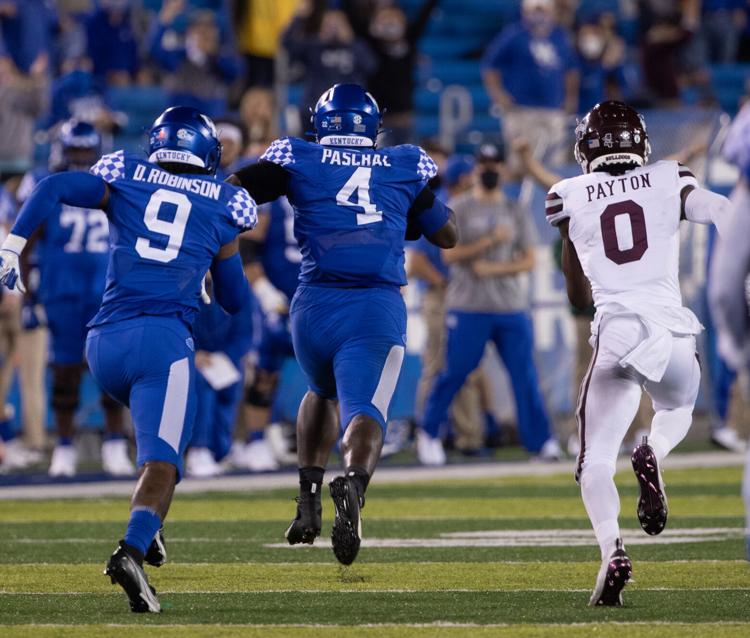 Stoops said that Kentucky concluded the postgame celebration by deciding to give the game ball to linebacker Chris Oats, who returned to his home in Cincinnati on Saturday after a stint at a physical rehabilitation center with an undisclosed medical emergency. Stoops said that he planned to drive the ball to Oats on Sunday.
"It was emotional for me all day just thinking about him and seeing that he just got to go home," said Davis, who wore Oats' No. 22 jersey during the win. "I just wanted to do whatever I could to play really well for him and his family, my brothers beside me as well."
State finished with 296 yards, well below its two-game average of 516, while throwing the ball 70 times. Kentucky won with only 157 offensive yards — 73 passing, 84 rushing.
Two weeks ago, State quarterback K.J. Costello was the national player of the week after throwing for more than 600 yards in a win against defending national champion Louisiana State. Saturday night, the Wildcats made life so miserable for Costello that he was benched for true freshman Will Rogers. 
A week ago, Mississippi State was ranked No. 16 and soaring after its victory over LSU. On Saturday, Kentucky made the Bulldogs look like they had not practiced since February.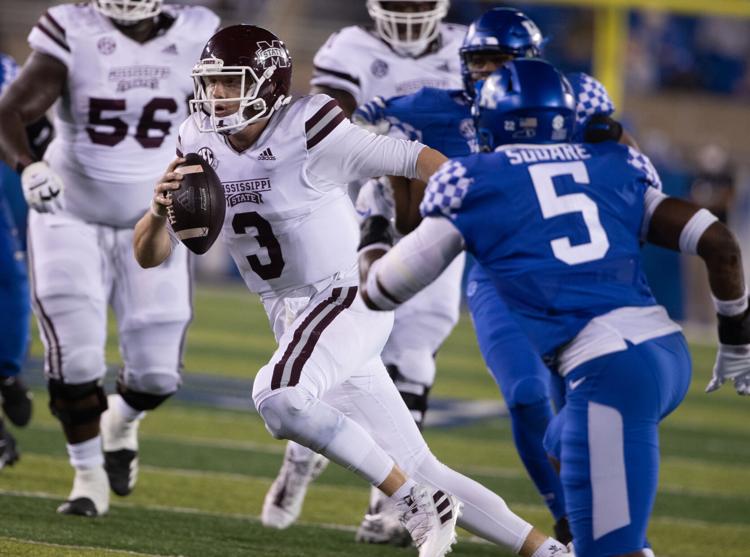 Know this: State failed to score in the first half. Until Saturday night, teams coached by Leach had scored in the first half of 29 straight games (the first 27 at Washington State).
State did not score in the first half at Kroger Field because the Wildcats intercepted two passes by Costello.
The first was a dandy swipe-and-run by defensive lineman Josh Paschal, who flashed into the right flat near the UK bench, snatched his prize and rolled 76 yards before he was caught at the Mississippi State 2.
Chris Rodriguez scored on the next snap, pushing the Wildcats ahead 14-0. (UK quarterback Terry Wilson threw a 12-yard TD pass to Keaton Upshaw for the Wildcats' first score early in the second quarter.)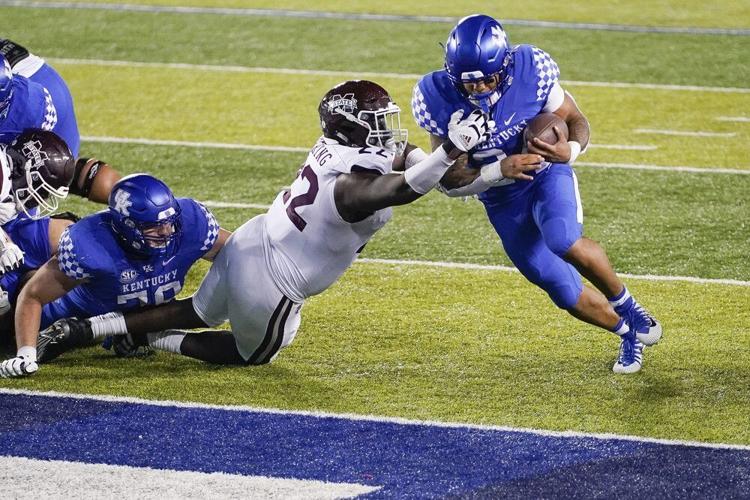 Kentucky's second interception was just as essential. Linebacker Jamin Davis earned his pick in the end zone after Costello's pass sailed through the hands of State's Jaden Walley on the final play the half.
The only challenging note for the Wildcats was that Paschal did not play in the second half after apparently suffering a sprained knee. Stoops said he saw Paschal in the locker room after the game and Paschal told him the injury was not serious.
"I hope this is nothing that will keep him out," Stoops said.
The Wildcats return to the road next Saturday. They play Tennessee at noon at Neyland Stadium in Knoxville, Tennessee.
The Vols, ranked 14th in the latest Associated Press poll, slipped to 2-1 on Saturday with a 44-21 loss at Georgia. Considering Tennessee went to Athens, Georgia, convinced a victory was likely and that the Vols lead at halftime, Jeremy Pruitt will be challenged to motivate his guys for Kentucky.
Related Stories: 
Copyright 2020 WDRB Media. All rights reserved.