LOUISVILLE, Ky. (WDRB) — Josh Heird has heard all the conference realignment stories, whispers and top secret scoops.
You know the ones — about which Atlantic Coast Conference schools are rushing toward the Southeastern Conference, or maybe the Big Ten. The stories about which schools are motivated to form an alignment with either Pac-12 or Big 12 schools.
Even the "big splash" stories broken by guys on the swimming beat about Virginia, North Carolina, Clemson and Florida State being going, going, gone to the SEC.
"My reaction, when people ask me about that is I always go back the State Farm commercial, where they say, 'It's on the Internet, so it must be true,' " Heird said during a 30-minute conversation with Eric Crawford and me Thursday afternoon.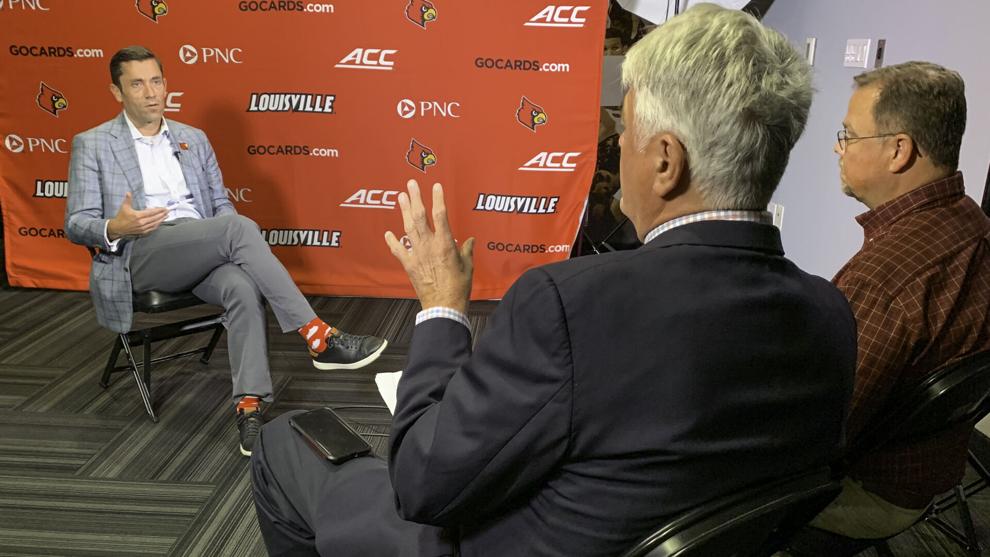 "And there is an element of that, you know, like, 'Oh, it's on Twitter. All of a sudden there's a buzz that, you know, these schools are looking to go to another conference. What I would tell our fans to do there is just dissect and analyze the situation for a little bit. Because there's not a conference out there that is going to take an institution that doesn't provide more value than each of those institutions is already getting.
"So spend a little time, 'Hey would this institution add X amount or dollars? And I understand you can answer the question. But I think if you have some common sense, you can take a step back and say, 'Hey, that one didn't really pass the smell test to me."
Here is what Heird wants to Louisville fans to know. That he and U of L president Dr. Lori Stewart Gonzalez have spoken with ACC commissioner Jim Phillips. That Heird has been on multiple conference calls with other ACC athletic directors.
That, although the league generates less revenue than the SEC or Big Ten from its television contract, the ACC won more national championships than either of those league last season.
That the grant of (media) rights contract that binds ACC league members through 2036 is a strong document.
And he wants them to remain confident that Louisville has plenty to offer in the cutthroat world of college sports.
"I think it's just the simple fact that we're really a strong athletic department," Heird said. "A very attractive athletic department.  And no matter what chairs get shifted or how they get shifted, the University of Louisville is going to be in a really good position, no matter what happens. I really believe that. I'm confident in that." 
Of course, Heird is not naïve. Stanford is a strong athletic department. Ditto for Oregon. And Washington.
And two weeks ago those programs were three of the 10 Pac-12 programs that absorbed the unexpected cross body block of the learning that USC and UCLA were departing for the Big Ten and taking the Los Angeles TV market with them.
"I think when something like that happens — Texas, Oklahoma, USC, UCLA — that's fairly unexpected," Heird said. "There's that initial gut reaction that kind of throws everybody into a little bit of a tailspin, and, oh my gosh, it's just upheaval that is going to take place. I think you saw that during OU and Texas (when they announced plans to leave the Big 12 for the SEC a year ago) and you're seeing it now (with UCLA and USC). Then, cooler heads prevail and say, 'All right, where are we? What can we do? Can we do anything?"
Heird said he did have a practical reaction when those events went down. Like any quarterback of any large organization, he went through his progressions. He made this reads, and he continues to do that.
"At least for me, personally, we're going through that process," he said. "I think other agencies around the country are going through that process and ultimately asking the question, 'Is there anything we can do that adds value, really, at the end of the day to our TV contracts?' Because that's where a large majority of the money is coming from. Now, it's just a matter or talking to experts and consultants. And does this make sense? Does that make sense? Could we make that move? … All of those conversations are being had right now to see if there's any other changes or adjustments that are going to take place here in the conference landscape."
At the conference level, Heird said he thinks ACC commissioner Jim Phillips is staying ahead of the situation and expressed confidence in his leadership.
"Obviously, he's extremely engaged," Heird said. "He's engaged with the presidents. He's engaged with the ADs. And I can tell you, there has not been a lack of communication. There's been conference calls, there's been individual phone calls. Obviously, Lori and I stay very, very connected on it. And so no, I don't think there's any lack of information or transparency there at this time. I think it's a matter of just getting as much information as possible, so that the presidents really, at the end of the day, it's their decision as far as what the path forward is. The commissioner has done an excellent job in making sure that ADs and presidents have as much information as possible."
For Heird, earth-shaking predictions (and developments) in college sports are no reason for panic. He insists Louisville's athletics department is in a strong position. And says he intends to keep it there.
"I think we're continuing to build and grow on the culture that was created (under Vince Tyra)," Heird said. "And that's just one of transparency and honesty and continually and constantly reminding each other that we are going to unequivocally do the right thing that no questions asked. We're going to do the right thing. . . . We can move forward in a positive light. And that's what we're doing here."
Copyright 2022 WDRB Media. All Rights Reserved.