LOUISVILLE, Ky. (WDRB) -- Matt Cross made four three-point field goals in two games for the Miami Hurricanes last season. In fact, Cross went off from distance against Louisville.
Cross is a 6-foot-7-inch, 225-pound forward whose calling card is his jump shot. He also transferred from Miami to Louisville.
This is how many Louisville front-court players made four three-point field goals in a game for the Cards last season:
None.
David Johnson was the only U of L player who had a game with more than three shots from distance last season. Johnson made six, but he's gone, pursuing a career in professional basketball.
As Louisville works to overhaul a plodding offense that ranked 298th in the nation and next-to-last in the Atlantic Coast Conference in three-point shooting last season, Cross looks like the perfect guy at the perfect time. He made 20-50 (40%) as a Miami freshman.
"That was one of their main focuses on trying to get better for next year," Cross said. "Just the fact of needing a shooter, along with the way they were describing it."
The next question was a natural:
Did Cross excite the Louisville coaching staff because he made four three-pointers when the Hurricanes beat U of L, 78-72?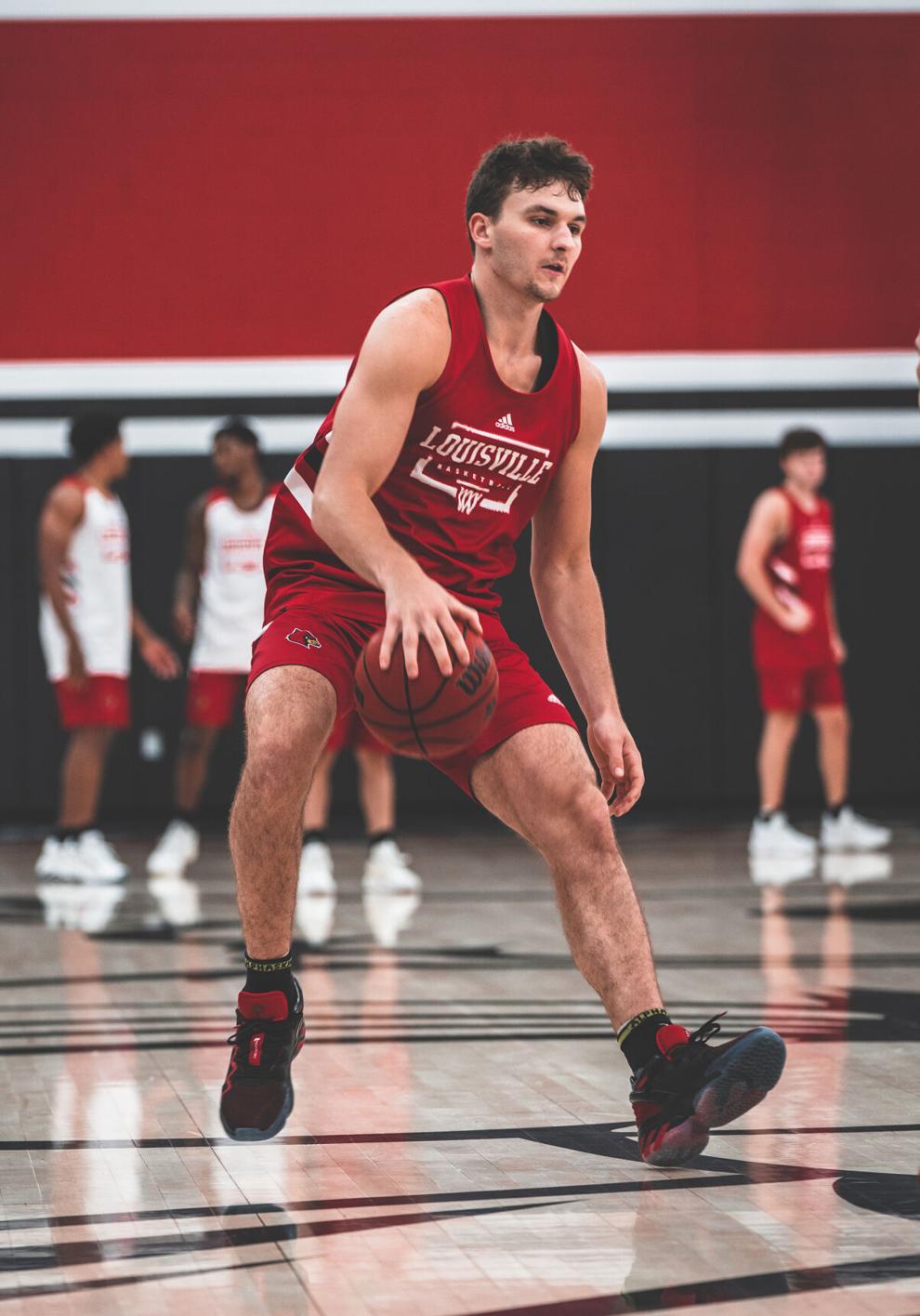 "Maybe for them," he said. "They haven't told me — like really anything specific — if that game helped them or made a decision on recruiting me.
"In my eyes, I don't know anything about that. We didn't talk or anything at that time or right after the game. I didn't talk to them until I put my name in the portal. For me, it was more of a coincidence, I guess."
Cross said Louisville did not recruit him when he was a senior at Brewster Academy in New Hampshire, the No. 95 prospect in the Class of 2020. He picked Miami over Butler, Florida, South Carolina and Texas A&M.
Cross started nine of 14 games for Jim Larranaga's program, including the first four. He made four three-pointers and scored 16 points against Virginia Tech on Dec. 29 and delivered the same line against Louisville on Jan. 16.
The points against Louisville were the final points Cross scored for Miami. He went scoreless in 19 minutes against Syracuse and in 28 against Notre Dame. Larranaga did not play him in Miami's next game against Florida State.
On Jan. 28, the school and Cross announced he was leaving the program.
"It was mainly, it wasn't the best fit for me," Cross said.
"I probably didn't see that coming out of high school that I probably should have. So I think it ended up being not the best fit.
"Now, going a second time around, I wasn't focused on the gym, the weight room," Cross said. "Everybody's got that. The second time around I realized that it's about the fit and about where I can help at the end of the day. So I think it ended up not being a great fit."
On the court, Cross appears to fit precisely what Louisville needs: a shooter who can draw defenders out of the lane as well as a guy who understands how to take advantage of double teams.
Assistant coach Ross McMains was recruited to install tempo and versatility to the Louisville offense. Although Cross has only been in town several weeks, he said he has been impressed by the team's new backcourt: El Ellis, Jarrod West and, his roommate, Noah Locke.
"It's really good to see an NBA style offense, I think, not robotic," Cross said. "It's really personally helped me along with the team ...
"... I think, we're going to be a pretty good shooting team. Especially after everyone got adjusted to what is going on and not thinking as much.
"A lot of guys are making a lot of shots. I think we could end up being a really good shooting team overall — field goal percentage and three-point percentage. So I think that it will be a big change from what they said they had last year."
Copyright 2021 WDRB Media. All Rights Reserved.