BOZICH | Monday Muse: NFL's incredible entertainment (and failure)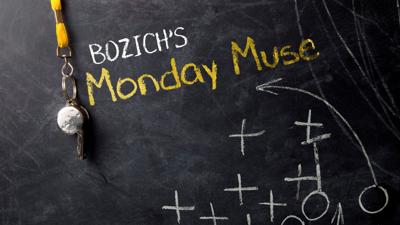 LOUISVILLE, Ky. (WDRB) -- Do not follow Tom Brady on Instagram. Don't do it. Do listen to everything Tony Romo says. Everything. Do not worry about Zion Williams taking early check out (sorry).
Do proceed directly into an NFL, college basketball, MLB edition of the Monday Muse.
Let's proceed -- without flags or instant replay.
1. Incompetence, Integrity, Unfairness?
Sunday was a glorious day for the National Football League. Wall-to-wall football where every play mattered.
The Hall of Famer (Tom Brady) against the Next Great Star (Pat Mahomes). The starving football market (Los Angeles) against the market that loves its team as if it's the local high school squad (New Orleans).
Overtime.
Followed by more overtime.
Did the controversial endings diminish your enjoyment of the two NFL conference championship games?
It was a football feast that will feed directly into the annual football holiday known as the Super Bowl.
It was great entertainment -- and great embarrassment because something smelled about the results of both games. I won't call them "fraudulent," the way Michael Wilbon of ESPN did on Tony Kornheiser's podcast. But something smelled.
I have questions. You should have questions:
How much of a hit should the NFL take because the endings of both games left the losing fan bases raging, questioning the fairness of the outcomes for different reasons?
Do fans view the blown pass interference call from the Saints-Rams' game as incompetence by the officiating crew or is it fair to question the integrity of a crew that clearly missed a blatant penalty that likely would have enabled the Saints to win?
Was it the worst call in NFL history? Or was it more than that?
What about the NFL's overtime rule, the one that led to the Patriots marching down the field for the winning touchdown without the Chiefs having a chance to counter simply because New England won the coin flip?
And, after listening to Wilbon, does anybody else believe there was one set of rules for touching Brady and another for touching any other quarterback?
My takes: With the incessant amount of replays and challenges in both games, the league needs to incorporate a system to correct a missed call as dreadful as the one the officials blew against the Saints.
The NFL is the most beloved and wealthy league in America -- and that's the best it can do?
Embarrassing. Imagine if that happened in the NBA or MLB.
Overtime also needs a tweak. Both teams deserve at least one opportunity with the football, at least in playoff games. Yes, the Chiefs could have saved themselves with a third-down stop.
But my prediction is the Patriots would have been howling the equal intensity if Kansas City had won the toss and marched to the first touchdown in overtime.
Incompetence, integrity or unfairness?
2. Super Bowl Advisory
Are you suffering from Patriots fatigue? You'd prefer to see the Patriots stumble rather than watch the Rams get rewarded for thumbing their noses at the good folks in St. Louis?
I don't have a rooting interest in this Super Bowl. Watching the Chiefs deliver would have satisfied me considering K.C. fans have not celebrated since former St. Xavier star Mo Moorman powered the Chiefs offensive line against the Vikings nearly 50 years ago.
But I will share this interesting tidbit from Joe Osborne, the content manager for Oddshark.
Underdogs are a ridiculous 13-4 ATS in the last 17 Super Bowls, including outright wins in 6 of the last 7. https://t.co/6VEvpbuluB

— Joe Osborne (@JTFOz) January 21, 2019
There is still hope to stop Brady -- and his Instragram account.
3. New Orleans Squawks
How did folks in the Big Easy handle a larger theft than French Quarter room rates during Mardi Gras?
How do you think they handled it?
They raged about it on post-game radio shows. They squawked about it in the post-game press conference. Then even shared their outlook with local motorists.
Everything is just fine in New Orleans after the Rams beat the Saints. https://t.co/SB5UxMZiwJ

— Nathan Fenno (@nathanfenno) January 21, 2019
4. Los Angeles Trolls
I believe this response was filed by the official Twitter account of the Los Angeles police department. I checked the page for the blue check mark.
But even with the tiny possibility the LAPD got hacked, this response was too delightful to be overlooked.
Sounds like our friends at @NOPDNews might be dealing with some robbery complaints after the #LARams⁠ ⁠defeated the @Saints. We would help investigate but A) it's outside our jurisdiction, and B) we just don't see enough evidence of a crime https://t.co/PkwOALV6pZ

— LAPD HQ (@LAPDHQ) January 21, 2019
5. Paging Tony Romo
Al McGuire, John Madden, Johnny Miller and Hubie Brown have always been at the top of my list of the top sports analysts, guys who enhanced the broadcast every time they clipped on their microphones.
There's a new leader in the clubhouse -- and his name is Tony Romo.
The Twitter mob rarely agrees on anything but the reviews were nearly unanimously Five Stars for the work Romo did next to Jim Nantz during the Patriots-Chiefs game Sunday.
He captured the excitement and fiercely competitive nature of the game. He told you why things happened -- and then Romo topped that by forecasting what was going to happen.
I've never watched a broadcaster predict strategy and play calls as successfully and consistently as Romo.
I was not the only one impressed.
Confirmed: Just called Tony Romo to see where I'm going to play next year. #YoureAWizardTony

— Bryce Harper (@Bharper3407) January 21, 2019
6. Tom Brady in Perspective
Where were you for Super Bowl XXXVI?
I was in New Orleans, searching for local angles in a game that matched the New England Patriots and the St. Louis Rams. Some former Michigan backup quarterback named Tom Brady was trying to stop Kurt Warner, Marshall Faulk, Isaac Bruce and the rest of the Greatest Show on Turf built by Mike Martz.
Pat Summerall called it. Madden analyzed it. And Adam Viniatieri won it, delivering a 48-yard field goal on the game's final play after Brady gave the first evidence that he was on the fast track to Canton, Ohio.
How much has changed in 17 years?
You be the judge.
Things that didn't exist when Tom Brady played in his first Super Bowl:iPhoneAndroidFacebook YouTubeMySpaceInstagramTeslaSpotifySkypeTwitterLinkedInGmailUberAirbnbGoogle MapsiTunes StoreSoundCloudNintendo WiiDropboxHashtagsSpaceXRedditFitbitGoProiPad

— Jon Erlichman (@JonErlichman) January 21, 2019
7. NFL Scale Tippers
This is a question I have asked (quietly) for years:
What happens to the bodies of former NFL (and major college) offensive and defensive linemen after their careers end?
Not concussions. Not ACL surgeries. Not shoulder repair. None of that stuff.
What happens to bodies that are artificially pumped to 300, 325, 350, 400 pounds?
Guys leave high school weighing 230-250. The next thing you know they have added 20-to-30 percent to their body mass. Compare the size of the offensive and defensive linemen today to the guys who played several decades ago.
Body mass has changed. Hearts, livers, kidneys, lung and other essentials have not.
Ken Belson of the New York Times had a similar question. So he talked to several former players and filed this interesting piece, headlined, "The NFL's Obesity Scourge."
As you watch the NFL today, know that many players struggle years later to shed the pounds they gained to do their jobs https://t.co/cFnmDWEwAf @nytsports

— Ken Belson (@el_belson) January 20, 2019
8. Zion Waves Off the Sidelines
Sitting out the college bowl season has become a thing for more football players. Benny Snell and Josh Allen waved off the trend for Kentucky, just as Lamar Jackson did for Louisville last season.
Other programs were not as fortunate. It was inevitable that somebody would suggest that a college basketball player who gets promoted on ESPN during every third commercial break would be asked if he was considering shutting it down.
Zion Williamson will be the first pick in the 2019 NBA Draft if he averages 30 points or 3 points the rest of the season for Duke. Why not cruise into the next exit ramp and wait for June?
Not happening.
And Williams told my pal, Pat Forde, why.
Column: Shut it down? Throw it down, Zion Williamson. Keep playing college basketball and having a blast. https://t.co/cpDNuxrCCH

— Pat Forde (@YahooForde) January 20, 2019
9. The Next Baseball Hall of Famer
I do not have a vote for the Baseball Hall of Fame -- and will never have one. I bear no responsibility for the controversial election of former White Sox outfielder Harold Baines last month.
But I would like to second this Hall of Fame recommendation made by Jamie Malinowski in the New York Times:
Put Bill James in Cooperstown.
He didn't have any many hits as Ty Cobb or even Baines. He didn't have as many strikeouts as Bob Gibson or manage as many World Series winners as Sparky Anderson.
But few people changed baseball as much as James has changed baseball (and other sports) by pushing the game into more sophisticated statistical analytics that stretch beyond batting average, home runs and RBIs.
Score one for the Nerds. Put Bill James in the Hall. Here is your link.
10. Rick Pitino Tweet of the Week
Virginia will make the final four. Good chance they will play Duke four times this year.

— Rick Pitino (@RealPitino) January 20, 2019
Copyright 2019 WDRB Media. All Rights Reserved.