LOUISVILLE, Ky. (WDRB) -- Some people call Tom Abernethy the forgotten starter from Indiana's unbeaten 1976 NCAA men's basketball championship team. Never forget this:
Abernethy, with teammates Scott May and Kent Benson, made the Final Four all-tournament team that year in Philadelphia.
Like the other IU starters, Abernethy enjoyed an NBA career. At 67, he's partially retired with the partial part reflected in the four months he and his wife, Susie, live in southwest Florida from January through April.
As Abernethy scrolled through the channels at his condominium Tuesday night, he paused at the Southern California-Stanford game. There were maybe 10 minutes to play. Stanford had a small lead. USC was one of two remaining unbeatens in the men's game. Abernethy stayed with the game. Stanford stayed with the lead. USC lost, 75-69.
Guess what game followed on the same ESPN channel? Texas Tech at top-ranked and unbeaten Baylor, the defending national champs.
Abernethy watched Baylor surge to a 9-0.
"Baylor hit a three to go ahead by nine, and I told Susie, 'I'm not going to waste time watching this,'" Abernethy said. "Because Baylor looked so good."
He turned off the Baylor-Texas Tech game.
Hat tip to the world of sports apps. About an hour later, Abernethy looked at his ESPN app and recognized that Baylor was no longer on its way to an 99-0 victory.
"It was like a two- or four-point game," he said.
Less than two minutes into the second half, Texas Tech tied the game. Abernethy audibled his plans and watched the second half.
Texas Tech won, 65-62.
For the 46th consecutive season, nobody will match the perfection delivered by Abernethy, May, Benson, Quinn Buckner, Bobby Wilkerson, Wayne Radford, Jim Crews and the rest of Bob Knight's first national championship team.
Abernethy's reaction?
"It was unbelievable how good Texas Tech and those players were," he said. "I'm blown away when I watch some of these teams and how talented so many teams are. It's incredible."
Anything else?
"Baylor was also outstanding," he said. "I thought they had a chance to stay unbeaten for a long, long time. That's my reason for why we're still standing as the last unbeaten team.
"There are just so many good teams in college basketball that it's hard to run the table and win the national title. Not because someone's not good enough. There are just so many other teams that have that ability to beat you."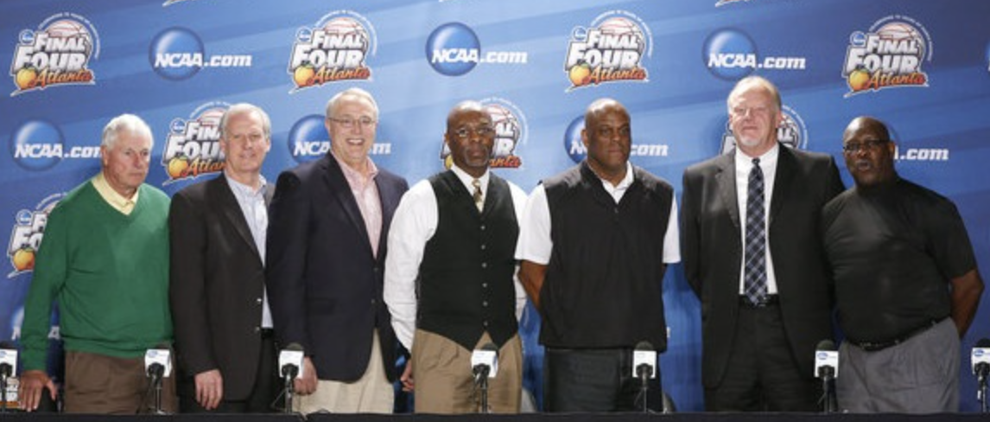 More today than there were in 1976?
"I think so," Abernethy said. "I really do. The talent level of players is just so strong everywhere. ... you get one or two really good guys on maybe an average team that get crazy hot against a superstar team, and anything can happen."
That is the way it has been and always will be with the 1976 Hoosiers, especially Abernethy. He is a devout Christian who said he is committed to living a life with purpose. That includes a purpose beyond celebrating achievements that happened nearly five decades ago.
But, for the record, that is the way the players on the 1976 Indiana team have always carried themselves.
No additional victory cigars.
No late-night runs for champagne.
No social media trash talking.
Abernethy said there was not a postgame text message thread among the players. Never has been. He said that he received messages from friends and family members but nothing from Buckner or May.
As expected. I've spoken with Buckner, chairman of the IU Board of Trustees, about the topic dozens of times. He does not consider it particularly fascinating. We exchanged texts and voice mails on the topic Wednesday.
Bob Hammel, the Hall of Fame columnist based in Bloomington, covered all of Knight's best teams. Hammel said that he was aware the players have always chosen not to celebrate the annual extension of the streak.
But Hammel said that does not mean the players and coaches do not carry considerable pride about their achievement. Hammel said during the 1975-76 season, Marquette coach Al McGuire tried to convince Knight that the Hoosiers would be better served taking a loss during the regular season to scuttle the talk about an undefeated season.
Knight waved McGuire off, and IU beat a formidable Marquette team in the regional final on the road to going 32-0.
"Knowing how much Bob and Quinn hated to lose, I think there's a little bit more to it than they let on," Hammel said.
As there should be. Hammel is one of Knight's closest friends. For 46 years, Hammel has maintained a chart, outlining how deep into the season the final unbeaten team survived until it took its first loss.
Last season, it was April 5 when Gonzaga lost to Baylor in the NCAA championship game.
In 2015, it was April 4 when Kentucky saw its 38-0 run disappear against Wisconsin in the national semifinals.
This season, it was Jan. 11 as both USC and Baylor tumbled.
Hammel said that over the last 46 years, this was the third-earliest point every team had taken at least one defeat. Hammel said the numbers from his chart show that the average date has been Feb. 5.
"Well, I know records are meant to be broken, but that's one record I would never want to see broken," said Indiana head coach Mike Woodson, whose IU playing career began in the fall of 1976 after Buckner, May, Wilkerson, Abernethy and Crews left.
"Scott May and I talk about it all the time. Every year that we get ready for college basketball and teams start their season and they are 10-0, 13-0, I always call and say, 'We're going to be just fine. The record is going to be intact.'
"Just for selfish reasons alone, I hope that record never gets broken."
Hammel remains an amazing basketball historian with dazzling knowledge about Indiana and Big Ten basketball. In addition to the perfect season, Hammel said that Indiana team should be applauded for two other reasons.
*The 1976 IU team was the last team to post an unbeaten (18-0) Big Ten record. In fact, the 1975 and 1976 Hoosiers remain the only teams to go 18-0 in league play.
*That group separated itself as Knight's best passing team.
"They were the best team I have seen as not taking a good shot because there was a chance to get a great shot," Hammel said.
"That was one of the things that Coach Knight taught us that I believe we have taken away and applied to the rest of our lives," Abernethy said. "You have a chance to be a part of something that is bigger than just yourself. We learned to put aside some of the personal goals that we all had to achieve something even bigger."
Something that has not been equaled in 46 years.
Copyright 2022 WDRB Media. All Rights Reserved.