LOUISVILLE, Ky. (WDRB) -- John Calipari has posted many dazzling numbers during his 11-season run at Kentucky.
Final Fours. Sweet Sixteens. Recruiting scores. Weeks ranked in the AP poll, including extended time at No. 1. The 2012 NCAA title.
Here is another streak, one that will be a prime storyline Wednesday when the 2020 NBA Draft finally unfolds in a virtual, socially distanced format:
Starting in 2010 with John Wall, DeMarcus Cousins and Patrick Patterson, Kentucky has had at least one player selected in the NBA Draft lottery (top 14 picks) for 10 consecutive seasons, a group that includes 20 players.
A check of 2020 mock drafts showed that Kentucky could have three or four players selected, but the Wildcats' lottery streak depends upon where guard Tyrese Maxey falls. On Tuesday afternoon, most projections had Maxey falling just outside the lottery, from pick 15 to 18.
The answer will arrive at 7 p.m. Wednesday, when the NBA Draft airs on ESPN.
I talked with a pair of NBA scouts. Here are their thoughts on the four UK prospects, Jordan Nwora of Louisville and former Trinity High School star Jay Scrubb, who signed with U of L but chose to enter the draft:
*Tyrese Maxey, Kentucky guard
NBA Scouts: "He's talented. I'd be shocked if he doesn't go somewhere in the top 15. It will be interesting to see how he transitions to the NBA game and how he will look outside a system like Cal's that is pretty structured.
"It seems like there is somewhat of a tendency of Kentucky guys that once they get outside of Cal and get to the NBA level and a little more freedom, then all of a sudden their talents begin to show.
"Is he as talented as a John Wall or some of the other Kentucky point guards who have come out? Probably not. But he's skilled, and he's got some stuff to him.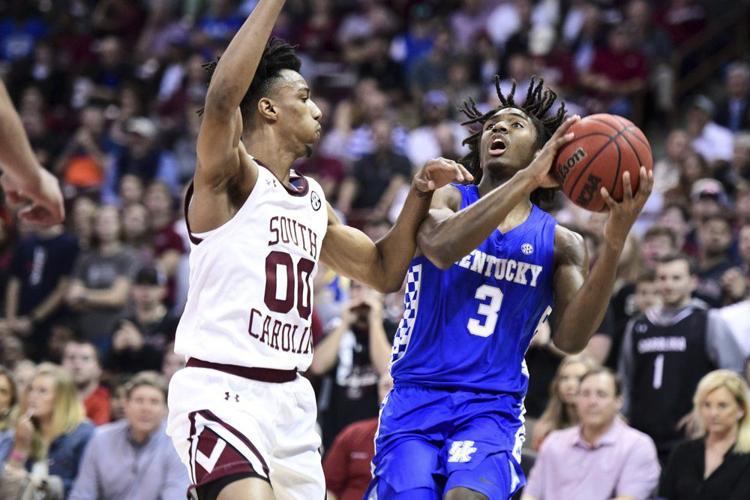 "One thing is taking a look at his shot. You would think he would have shot a better shooting percentage than he did this year. Going forward and translating it to the next level, I think it's going to be fine. His form passes the eye test.
"Defensively, he doesn't move the needle good or bad for me."
Draft Forecast:
*Jordan Nwora, Louisville forward
NBA Scouts: "He's an interesting one. He's got the premium skill of being able to shoot the ball.
"The biggest questions are going to be: Will he continue to make strides with his body? And defensively, he's not great. Will he be able to survive defensively? You're going to have to hide him.
"Probably a combination of his not being quick enough laterally and not working hard enough at it. I think he's just much more offensive-oriented. I struggle seeing him guarding legit NBA wings on the perimeter laterally. He just doesn't move that well. He'll get blown by.
"The question is going to be: Is he going to be that much of a factor on the offensive end to make up and negate for what he lacks on the defensive end?
"For me, I think he's a very good shooter. A little bit streaky. But I don't know if he's an elite shooter. And I think a guy like him needs to take another jump with his shooting ability to stay on the floor.
"He's never going to be a movement, coming-off-of-screens type of guy.. Not for long distances because his athleticism won't allow him to do that.
"He's going to have to be a 40% NBA 3-point shooter in order to survive. Because that is going to be his role.
"He'll go between 35 and 45."
Draft Forecast:
*Immanuel Quickley, Kentucky
NBA Scouts: "I'd say more likely second round. There is so much of a premium on being able to shoot and he kind of developed into that role.
"Coming out of high school, he was more looked at as a point guard or combo guard that could really play with the ball in his hands. But the role that he was in last year at Kentucky, it was a lot off screens or spot-up situation stuff.
"That's the role he's going to have to play at the next level, because he's not dynamic enough to warrant putting the ball in his hands and asking him to generate and create offense for you.
"He's OK in a pick-and-roll. There just wasn't a ton of advanced level pick-and-roll creation by him or isolation shot creation. He's going to be a complimentary piece."
Draft Forecast:
*Jay Scrubb, Trinity High School, John Logan College, wing
NBA Scouts: "He's the complete wild card. He's got some tools to work with: positional size, athleticism, seems like he has the natural knack of scoring. It's all just very unrefined.
"Given all of the other unknowns about a junior college player, it would just be hard for me to swing with a draft pick. He's one of those high, high risk/high, high reward guys.
"And I'm pretty sure the risk is higher than the reward. It's hard for me to tell how good he is after watching him play at that JuCo level against that level of competition, exactly how he would fare night in and night out against ACC competition.
"He wasn't a guy that I was blown away by as soon as I walked in the gym, especially against the level of competition he was going against. And that's what it has to be if you're watching kids in those types of settings. They should blow you away.
"He was definitely the most talented kid on the court. But was it just far and away a no-brainer? Questionable. There are some concerns."
Draft Forecast:
*Nick Richards, Kentucky center
NBA Scouts: "Nick has been an interesting case, just the development we saw this year in his confidence level and Cal's confidence level in him.
"He's got true, legitimate NBA positional size: 6 feet 11 with a 7-5 wingspan. He's a pretty good athlete. He just needs to continue to play just so the game continues to become more instinctive for him.
"He improved that way this year, but he's still got a way to go when you are talking about the next level.
"He'll go anywhere from No. 45 to undrafted. He can't stretch the floor as a five. But he's agile and he can protect the rim, which is something a lot of teams covet.
"I think defensively, he fits. Maybe offensively his role will just have to be limited, more or less what his role was at Kentucky, and he just thrived in it.
"He's going to be a guy who will need to get some extended minutes in the G League. But once you get past the first 10 to 12 guys, everybody is in that boat."
Draft Forecast:
*Ashton Hagans, Kentucky guard
NBA Scouts: "It's all a matter of: Can his outside shooting become viable enough to survive? That is the biggest question mark with him.
"Defensively, he is as good as anybody in the country on the ball. I wouldn't have any concerns with him defensively. A lot of people talk about Tre Jones (of Duke) as a defensive stopper. I think Hagans is right up there. In terms of moving laterally, I actually think Ashton does it better than Tre.
"I don't know what happened down the stretch at Kentucky with him (when he missed UK's final game at Florida). But hopefully, his head and his confidence level stays at a level where he will have a chance.
"But it will be hard. If you can't shoot the ball in today's environment, and if you're not elite, elite at some other skill, it's really, really tough to make it.
"He'll be late second-round or undrafted."
Draft Forecast:
Copyright 2020 WDRB Media. All Rights Reserved.