LOUISVILLE, Ky. (WDRB) – It didn't take a Freedom of Information Act request to learn that University of Louisville football attendance was down this season. All you had to do was look around the stadium.
Perhaps the bigger surprise at Louisville is just how many tickets were sold for football games during the dismal 2-10 season that began with torrential rain for the first home game and continued under a dark cloud from there.
An average of 53,800 tickets were sold for Louisville's seven home football games in 2018 according to records from the university, a testament to how much the fanbase wants to support the program.
But Louisville athletics director Vince Tyra will tell you, after a season like the one that just ended, there's work to do to retain ticketholders, and even more to do to get them into the actual stadium – a problem being addressed in all sports at all levels in the U.S., where attendance at live events is dwindling.
2018 LOUISVILLE FOOTBALL ATTENDANCE
| Game | Sold | Announced | Scanned |
| --- | --- | --- | --- |
| Indiana State | 52,706 | 44,520 | 22,615 |
| WKU | 56,372 | 54,923 | 42,976 |
| Florida State | 53,851 | 52,798 | 38,496 |
| Georgia Tech | 52,734 | 51,658 | 35,785 |
| Wake Forest | 50,590 | 49,603 | 25,320 |
| N.C. State | 59,355 | 48,265 | 23,483 |
| Kentucky | 50,989 | 49,988 | 37,253 |
| AVERAGE | 53,800 | 50,251 | 32,235 |
"You can drive sales, but what you really have to drive is attendance," Tyra said in an interview with WDRB on Tuesday. ". . . Having fans there is good, for the support yes, but you lose in other ways if they aren't, with concessions and things like that."
And last season for Louisville football, they weren't there. The actual number of scanned tickets for Louisville games this season was 32,235 per game – though that number isn't entirely reliable, because of fans who get in without being scanned, or scanner malfunction.
Louisville announced an average of 50,251 at home games this season – with a high of 54,923 for a win over Western Kentucky in the second game of the season. Few would accept that average as completely accurate, either. The truth is probably somewhere between the scanned total and the announced figure, but the challenge for Tyra lies in getting people into the seats, and engaged with the programs – and not just football.
The Louisville men's basketball team – a fixture in the national Top 5 in attendance for most of 40 years – is averaging 15,140 through seven home games this season. That's a drop of more than 3,000 per game from the 18,213 the Cards drew through the first seven games just one year ago, which itself was a drop from the 19,197 that attended the first seven games in 2016.
So it's a problem Tyra is wrestling with, and he has plenty of company.
"It's changed," he said. "It's not like it was when I was a kid and couldn't wait to put my U of L stuff on in the morning if I was going to get to go to a game. These kids have a lot of options. And families have a lot of destination things to do that they didn't have 20 years ago or even five years ago."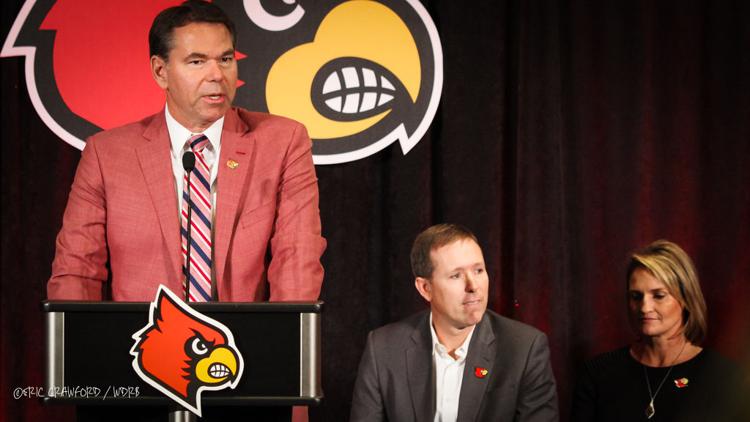 So you have to operate differently. The day Louisville hired and introduced new football coach Scott Satterfield, it did more than name a football coach. It began its own blitz. At the same meeting where Satterfield's hire was approved, the school's athletic board also approved a new season ticket package which reduced the cost of many tickets back to 2017 levels. And the school's ticket office went to work.
"We wanted to make sure when we announced Scott the next announcement would be the ticket pricing," Tyra said. "So we were able to say, here's a better value, along with the things we did -- menu and other options -- last season. Then we also introduced a payment plan, which we've never done. So if you bought in December, you have nine months to pay. In January you have eight months, February seven months, and so on. . . . I don't want to be the furniture company, where we're 12 months same as cash, but to some degree that's worked in a lot of industries, auto and other commercial retail industries, so why wouldn't it work for us? Why not go ahead and get people engaged now? We wanted Scott to see that support and we've had some traction on it. And the second thing is that we don't just want new season-ticket holders, but to retain season ticket holders who might be frustrated or have questions about what's going on, and make sure they're clear on what we're doing for the program in total, not just for them."
The problem isn't premium seating. Those sales for suites and other premium areas for football and basketball are exceeding budget projections. The problem is the upper decks – the UPS Flight Deck in Cardinal Stadium and the upper-deck at the KFC Yum! Center. Many fans are buying upper-deck seats at the football stadium and watching from the terrace or other areas. Tyra said that the school has looked to introduce value menus and other discount pricing to lure fans back to those areas.
For basketball and football, much more attention is paid to game experience. It's as if recruiting has spread from the realm of highly coveted athletic talent to a couple of at-risk fan groups – the everyday fan and students.
Before Louisville faced No. 9-ranked Michigan State at the KFC Yum! Center in early December, students were invited to a pregame tailgate at nearby O'Shea's. Tyra spoke to the group, and the department put together a script for students to follow while cheering during the game.
"They got there and had literally a newspaper script of exactly what they're supposed to do," Tyra said. "It was terrific, and fans noticed. And they can lead that environment in the lower bowl, and they will in some of these bigger games when they get back from break."
For football, athletics conducted parking-lot giveaways and other promotions to get fans back to the stadium. The marketing department fired up the fog machine and took videos of families running onto the field, texting them the videos immediately as a game keepsake. Students were given an "adidas activation code" which provided discounts for team gear and, for some, unlocked a locker full of gear they could win.
Attend a basketball game and you'll see new elements as soon as the lights go down for the starting lineups.
"You've got to do things different with the same, right?" Tyra said. "So with basketball, we've done the laser lighting (on the court), we've done the fireworks and pyrotechnics. You've got to have constant change in your opening videos. In football, we did a different opening this year, the runout. We tried to start creating some more traditions."
It moves fast, and not just on the court. It's one thing to be able to hide empty seats in the upper decks. It's another when the empty seats are near the court. Tyra said U of L is employing technology to make it easier for fans to give seats to friends when they can't attend, or upgrade a seat from upper deck to lower, and is employing dynamic pricing – variable ticket prices based on desirability of the game and ticket demand – to fill some gaps.
"If people can't make it to games -- and we know there's a lot of club sports going on with kids and things like that -- we have put in better technology so that if you want to email or text tickets to someone else, it's easy," he said. "If they can't make it, they can literally just go on their account and text the tickets to any contact they have or anyone they want. I do it all the time with my tickets. You hit send, pick the tickets, and pick the contact or someone else you want to enter, and boom, they can go in your place. And that creates attendance and team spirit in the arena. I don't want tickets going unused. If someone buys them, I want somebody to enjoy them."
In the end, Tyra hopes that messaging from the coaches will help, too. If Scott Satterfield and Chris Mack build the kind of teams the community wants to see – not just on the court, but off it – the reflection of values that people want to be a part of also could draw support.
"We know we have a core group of fans, call it 30,000 for football, who will show up on a regular basis, no matter the weather," Tyra said. "Beyond that, winning has a lot to do with it. And we've made a great hire with coach Satterfield. And there will be more fans that want to follow him and support the team because they win, but the intangible is what he and that staff are going to represent, and that's worth following and supporting as well. And I know that we have struggled with that at times."
In its marquee sports, Louisville has some rebuilding to do when it comes to building attendance. But the fact is, with the quality of sports broadcasts and new technology improving home-viewing all the time, attendance may not ever be what it was. But Tyra wants to make it as good as it can be, and perhaps even offer some wrinkles that might lure fans from back off the sofa.
Copyright 2018 WDRB Media. All Rights Reserved.