LOUISVILLE, Ky. (WDRB) -- They've had to replace some of the turf along one sideline at Lynn Family Stadium. You can't help but wonder if it's because Jonathan Gomez wore it out.
You needn't wonder about this: The 17-year-old left back for Louisville City FC is a young man on the move — and not just up and down LouCity's left side.
Last week, his itinerary included wrapping up a training stint with the Mexico National Team, returning to Louisville and jumping right back into the lineup where he facilitated the final goal with a deflected cross after another mad left-side dash in a 3-0 LouCity victory.
That he's a next-level talent isn't disputed. That he's in Louisville makes him a bit unconventional. He came here instead of staying close to home in the prestigious FC Dallas Academy because he wanted to play and perhaps earn a quicker route to Europe or the MLS, even though the Dallas academy probably could be considered the safer and more proven road to the same destination.
Gomez placed a bet on his own ability, and it would appear that it is paying off, judging from the attention he has gotten. A report in April by Goal.com said he's now being tracked by Manchester City and Dortmund, among many others. He's on the radar of European clubs and others and figures to have some decisions to make as his 18th birthday nears on Sept. 1.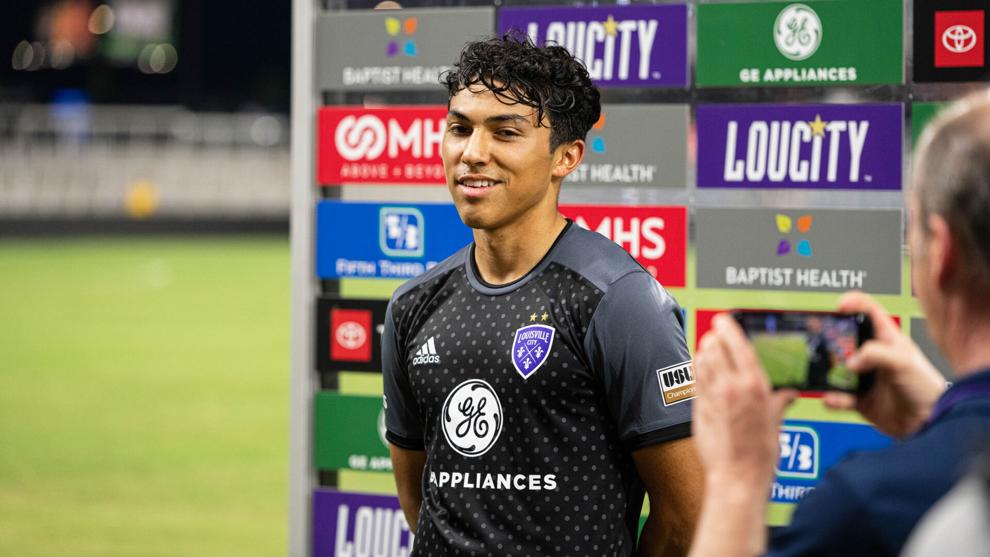 "His left foot is just like a wand," LouCity midfielder Corben Bone said. "He whips balls in and makes it super hard for the other team."
That's some high offensive praise for a back. But midfielders like Bone and Brian Ownby love his ability to cover the field and create chances.
"JoGo's got the wheels," said Ownby, who cashed in when Gomez played a ball into the box Saturday. "You can see. He's up and down that left side. I remember that exact moment (Saturday) when Paolo (DelPiccolo) played him through, and I just thought, 'I've got to get my butt in the box.' And he finds me. You can see he's really improving confidence. That last little second, instead of just kicking it, he picks his head up and tries to pick out a target. And for such a young age, that's excellent from him."
Talent is one thing. The confidence to use it is another. Gomez has the first and has developed the second. What is truly difficult, however, is to have both while managing to keep your feet down to earth. There's no question, Gomez's eyes are on bigger prizes, someday. But his head remains in Louisville with his current teammates, and LouCity coach Danny Cruz appreciates that.
While Gomez was gone with El Tri, Cruz was still getting phone calls, asking about the team and how things were going.
For his part, Gomez called his experience with Mexico, "surreal."
"To be with those kinds of players and in that environment for two and a half weeks, personally, I just tried to learn as much as I could from those players and bring it back here to implement it to help the team," Gomez said. "The very first training session I was put with Chucky (Hirving) Lozano and Hector Herrera in a passing drill. They came over to me and they introduced themselves to me and I was like, 'I know who you are.' That was just kind of funny to me."
Even after a solid game in a 3-0 win, with everyone singing his praises, he's asking for guidance.
"The kid is playing really, really well," Cruz said. "But more importantly, he's one of the most humble people I know. He comes in, knocks on my door, even after everybody feels he had a great game, and his first thing is, 'I have to be better with my service. I have to be better in the final third.' That is what I want in our locker room."
That's very much a staple of the culture that LouCity has built. No doubt, it has influenced Gomez. And it's also certain that he came in with a good bit of that mindset anyway.
For a player that young to come back to his team and not be puffed up, not to allow it to unleash his ego, is a really good sign for someone who wants to establish himself as a top-level professional.
"I don't think it's any kind of pressure," he said. "It's just like, I learned a lot, now can I implement it with the team and bring positive energy to raise the level?"
One look at the night's results — and maybe at that turf along the sideline — should tell you all you need to know about his ability to bring positive energy.
Perhaps the best advice where Gomez is concerned for LouCity fans — and even those in Louisville who have yet to see him play in person — is to enjoy him while you can. Certainly, everybody in Louisville should appreciate his efforts here. While he may play in some bigger settings, he has taken pride in what he has done in this city, and been fully engaged with this team and his teammates here.
"I believe in him. As time continues to go on, you're going to continue to see this kid excel, in whatever league or whatever place in the world he is," Cruz said. "But here's what I know about him, his focus is Louisville City. Even while he was away with Mexico, I had multiple, multiple phone calls with him. He was excited to get back. Don't get me wrong, he enjoyed the opportunity. It was a good opportunity. I think he did very well, from my communication with the Mexican Federation. But ultimately this kid wants to be here at Louisville City and help the team win, and that's what I love about him."
Gomez and LouCity will be back in action Wednesday night at 7:30 p.m. in Lynn Family Stadium when they play host to the Central Division-leading Birmingham Legion FC.
Copyright 2021 WDRB Media. All Rights Reserved.