LOUISVILLE, Ky. (WDRB) – It wasn't the disaster that oddsmakers foresaw when they installed No. 5-ranked Georgia as 17-point favorite, but it also wasn't the upset that might have been when Kentucky fell to the Bulldogs 14-3 on Saturday at Kroger Field.
Georgia marched for easy touchdowns on the first drive of each half, but other than that nothing came easy for the Bulldogs. The Wildcats' defense did its job, getting a couple of takeaways and otherwise holding a Georgia offense that was averaging 33 points per game in check.
But the Kentucky offense just couldn't do enough to take advantage. Check that. It couldn't do much of anything.
Sophomore Joey Gatewood, making his first college start, didn't make any major mistakes in the passing game but also didn't connect on anything long enough to pose much of a threat to Georgia. Kentucky not only didn't connect on anything downfield, but really didn't attempt anything deep.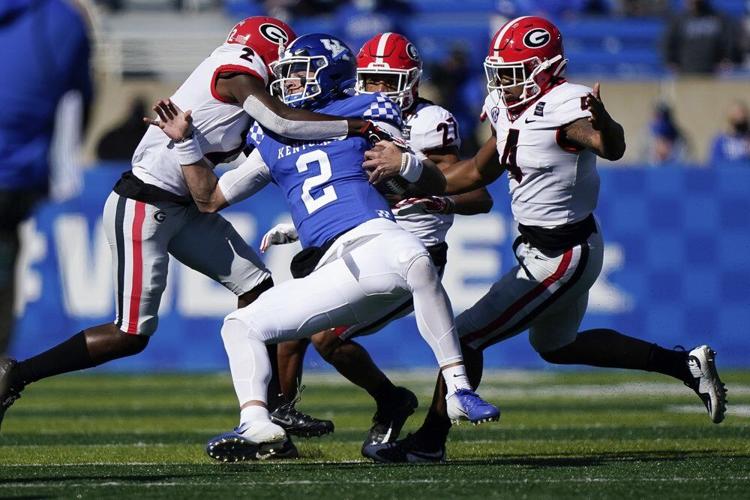 The Wildcats fared a little better than many Georgia opponents in the run game and sustained a couple of lengthy drives, but the offense couldn't produce the big play the Wildcats sorely needed.
Regardless, Kentucky got the ball and was right in the game, down just 14-3 with 9:03 left in the fourth quarter. But the Wildcats didn't seem to have much offensive urgency. They moved the ball deliberately and killed themselves with a holding penalty after converting a big third-down play at midfield. On fourth and 5 two plays later, Gatewood nearly threw an interception, and Georgia took over.
The Wildcats did not have a pass play of more than 15 yards and had only one running play of 15 or more. 
Gatewood completed 15 of 25 passes for 91 yards and rushed for 32 yards. Chris Rodriguez was Kentucky's only offense with 108 yards on 20 carries. The Wildcats finished with an anemic 229 yards of offense.
Copyright 2020 WDRB Media. All Rights Reserved.