LOUISVILLE, Ky. (WDRB) – You knew it would be something weird. In this installment of Louisville-Virginia basketball curiosities, the Cardinals made 10 first-half three-pointers and Virginia, the top three-point shooting team in the ACC, didn't make any.
Louisville led 37-27 in the half, and if you took a poll of the 17,529 fans in the KFC Yum! Center asking how many felt comfortable, the answer might've been 15. That, incidentally, is how many points Louisville scored in the second half, as Virginia steadied itself and pulled away for a 64-52 victory.
Gallery of images from Louisville's loss to Virginia on Feb. 23, 2019 in the KFC Yum! Center.
The key moment came with 8:17 left. Jordan Nwora drove for a basket, but was called for an offensive foul even though the defender, De'Andre Hunter, had a foot on the block-charge arc. The crowd went crazy, and so did Louisville coach Chris Mack, who received a technical foul.
Virginia made the two free throws, so instead of a tie game, Louisville trailed by four. That sparked a 13-5 Virginia run, which made the lead 10 at the under-4 media timeout, and that was that.
Louisville got off to a solid start, catching Virginia flat-footed with a 1-3-1 zone defense. While the Cards were making 10 first-half threes, Virginia went 0-for-11 from distance.
"We knew they could make shots in bunches," Bennett said. "They had some success with the 1-3-1 zone, which I really think they only played a possession or two against Duke, and it confused us."
But the Cavaliers scored the first six points of the second half, and Louisville's hot shooting did not continue.
"They missed some shots," Bennett said. "And we ran some decent offense."
Louisville coach Chris Mack, again, was concerned about his team's energy level to open the second half.
"Why we lost energy to start the second half is tough to understand," he said.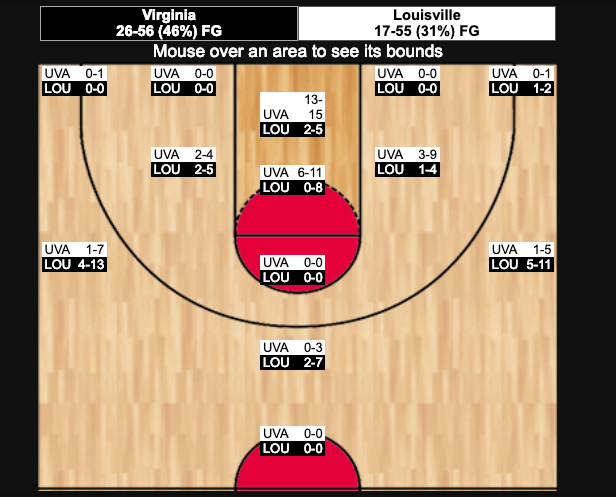 The Cards went just 2 of 16 from beyond the arc in the second half, and never generated much offense around the basket. They were outscored 38-4 in the paint. They were 2-5 on layps and 0-for-8 on other shots in the paint.
"You can't be a donut for 40 minutes. You can't just score on the perimeter. . . . We've got to be able to score about the basket," Mack said. "They never doubled us in the post. Probably shows their respect level for our post play. . . . Our bigs have to go better than 2-for-16. They just do."
Nwora led the Cardinals with 17 points. Ryan McMahon added 12. Virginia which shot 66 percent in the second half, got 26 points from Hunter.
"One of the things we talked about at halftime is we have to make more twos," point guard Christen Cunningham said. "Our game, we have to have baskets around the rim. . . . You can't live on three-pointers, unless you're Golden State. . . . The way we're playing right now is unacceptable."
Copyright 2019 WDRB Media. All Rights Reserved.