LOUISVILLE, Ky. (WDRB) – On the one hand, if you're the No. 5-ranked University of Louisville basketball team playing your only exhibition game, and playing without starting center Steven Enoch (as well as without big man Malik Williams and David Johnson, who have been out for a while), you can figure that it might be useful for other players to have to compensate and be forced to make winning plays without your best inside threat.
On the other, you'd like to have at least one public dress rehearsal with the full roster that you expect to take into action at Miami in the season opener on Tuesday.
Either way, Louisville coach Chris Mack expected a tough game against Bellarmine, and he got it. His Cardinals were up by only two with 2:54 to play, before a 9-0 run helped them pull away for a 75-65 victory in the KFC Yum! Center.
"It was a hard game and we wouldn't have expected anything different," Mack said. "Coming into this one, I don't know if our young guys realized, but our coaching staff and our older players certainly realized we were going to play a unique team, a team that moves the ball extremely well. They are just difficult to guard."
Moreover, without Enoch Louisville lost a key player in one key area of every game plan – pound the ball inside to score or get fouled.
"It is a little different for us right now because we are playing without two of our better players and our bigger guys," Mack said. "Guys that we would have tried to pound the ball into at least with Malik and Steven. Be that as it may, I think this was a great test for our team and we took a step forward from the scrimmage against Ohio State as I told our team we need to, because it is for real starting a week from tonight."
Even though it was only an exhibition, it was for real for much of the game on Tuesday. Bellarmine never let Louisville establish any breathing room. Before its late 9-0 run, Louisville's biggest lead had been six.
Bellarmine's Alex Cook and Ben Weyer had success with dribble drives, and the Knights held a two-point lead at the half.
In the second half, however, Louisville did a much better job getting into the paint. And with the game on the line late, Louisville's Dwayne Sutton fought his way into the lane for an offensive rebound that resulted in a pair of made free-throws, and the Cardinals got out on the break for a couple of baskets. Sutton wound up with 18 points and 12 rebounds against one of only a couple of teams to recruit him out of Manual High School.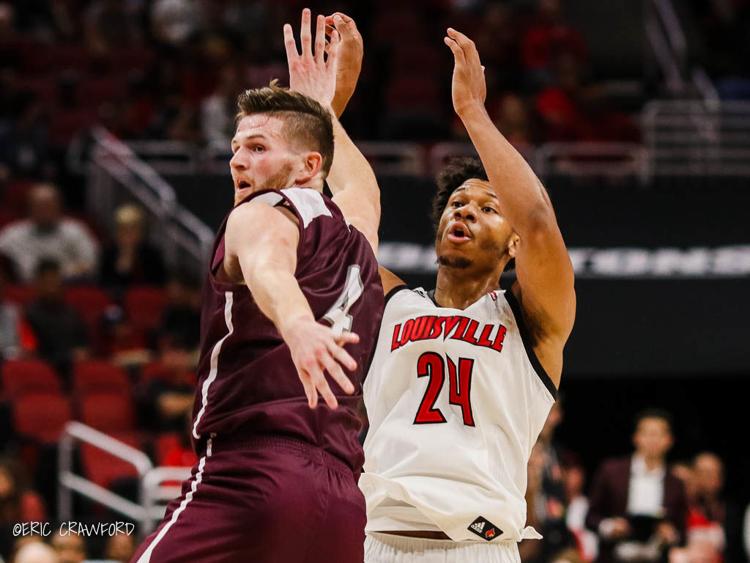 "This was a heck of a basketball game," Bellarmine coach Scott Davenport said. "If you look at the game, we out-shoot them; in the paint, even; off turnovers, even. That is second-chance points. I am the self-appointed president of the Dwayne Sutton fan club, just so you know. And I'm not apologizing. I recruited the heck out of him. His father is a fellow Iroquois alum like me. I thought we really had a chance between his sophomore and junior year at Manual. It didn't make a difference who they played, he got 20 and 10. They could win by 40, lose by 5, he got 20 and 10. We recruited him. His dad said, 'Coach, it kills me, but he really wants an opportunity to play Division I basketball.' And he goes to UNC Asheville. I wish him nothing but the best, because he's going to want to come home. The next call I get is from Coach Pitino. He says, 'Scotty, what do you know about this kid, Dwayne Sutton?' I said, 'Coach, he is incredible.' What was it, two minutes and (fifty) four seconds to go, two-point game, what does he do? Gets a put-back. That's him. He's a phenomenal basketball player."
The other difference-maker for Louisville was first-team preseason All-American Jordan Nwora. He finished with a game-high 28 points, went 5-11 from three-point range, had five rebounds and five assists in 38 minutes. He cramped up at the end of the game, but should be fine for next week's opener.
"You're talking about 38 minutes that he played," Mack said. "I don't want to play him 38 minutes, but we have a lot of inexperience on the floor, but I don't want to be known as the coach that loses to Bellarmine at Louisville. It would be tough going into my Dunkin' Doughnuts … so, no disrespect to them. I have lost them before, and I didn't like that feeling or want that feeling."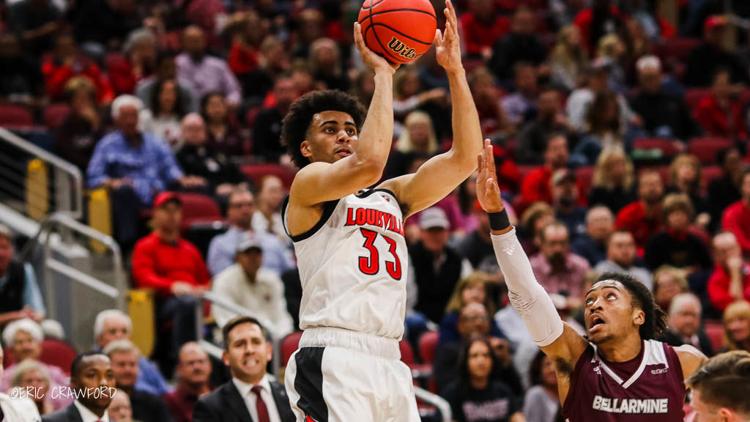 For Louisville, the concerns are multiple. They gave up too many points in the paint off the dribble. They didn't get enough paint touches on offense in the first half, though they did a better job in the second.
Darius Perry was solid at the point, but Lamarr Kimble still has work to do – which is not altogether unexpected. Perry finished with 10 points, seven rebounds, two assists and two steals, and the Cardinals were plus-11 in his 34 minutes. Freshman Samuell Williamson began the game a bit passive but got much better as the game went on and finished with an impressive 17 points and nine rebounds.
"We'll take inventory of tonight's game and figure out areas that, regardless of the opponent, we have to get better at," Mack said. "We're going to try to get some of our guys in better condition . . . and then we'll start to focus our attention on Miami and what they present. A team that is led by one of the better point guards in the league. A guy that can score at a high level and get in the lane. It's going to be a challenge but we'll worry about those guys here in a few days. We're going to worry about getting better from the Bellarmine game first."
"Offensively, I think we had what we statted as 13 paint touches in the first half and I think most of those 13 were in the first seven, eight minutes," Mack said. "I think we hit a couple of jump shots and our guys started to realize that is how we are going to open this thing. I thought we would have learned the hard way against Ohio State when we just played around the perimeter. That doesn't give you much chance to draw fouls. . . . The second half we had 25 paint touches . . . We were getting the ball in the lane and as a result we were in the bonus a lot quicker. That is how we have to play."
Copyright 2019 WDRB Media. All Rights Reserved.