LOUISVILLE, Ky. (WDRB) – For Chris Mack, Monday is the last day of involvement with his basketball team for nearly three weeks. His University of Louisville-mandated six game suspension begins with Tuesday's season-opener against Southern, and doesn't end until its Nov. 27 finale of the Baha Mar Hoops Bahamas tournament in Nassau.
During the suspension, Mack is prohibited from having any contact with the men's basketball coaching staff or players.
So far, Mack has spoken little about the suspension period itself. He likened it to discipline from a parent. He said he once kicked a soccer ball into the stands when he was mad about something that happened in a game, and his father spanked him.
"It is what it is," Mack said back on Sept. 19 at the Louisville Live event at Churchill Downs. "I feel like the team's in great hands with Mike Pegues. Do I wish it was different? Yes."
Mack said his team has had the entire preseason to prepare for this 6-game stretch (the suspension was handed down on August 30, for failing to follow university procedures in the dismissal of assistant coach Dino Gaudio, according to the school).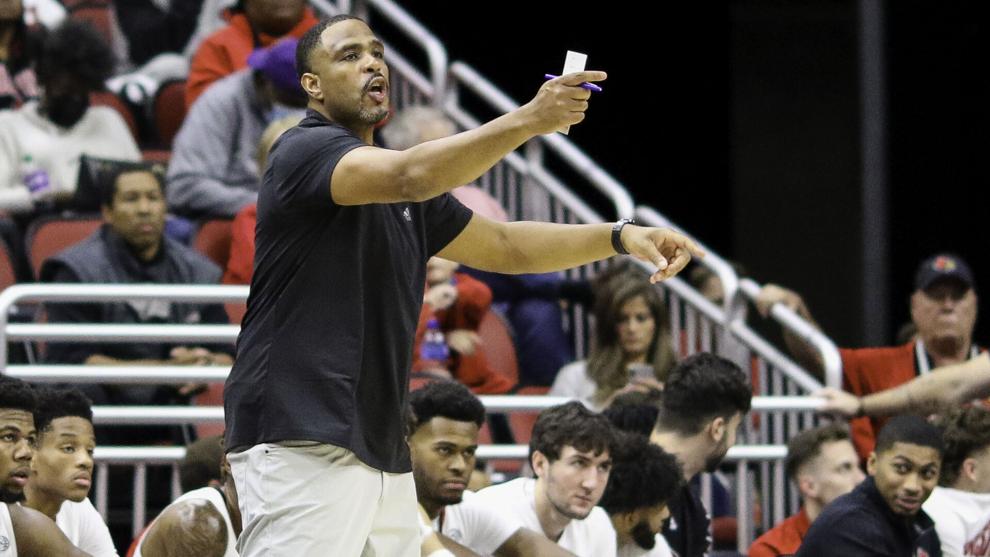 Mike Pegues, an assistant to Mack for a decade, dating back to his tenure at Xavier, will assume head coaching responsibilities in Mack's absence. At Louisville, he has focused largely on the development of big men.
But he'll get plenty of input from Ross McMains, a first-year assistant who has overseen the overhaul of Louisville's offensive attack, and who has been active on the sidelines in directing the team's offensive efforts in its first two exhibitions this season.
"I've known Mike for 10 years, and I trust him with anything," Mack said. "He's loyal, he's smart, he's passionate. He's a head coach in waiting, wherever that opportunity presents itself. It's going to present itself November 9, and he'll do a terrific job. He knows our system, he's been in all the same staff meetings, on court practices and post practice meetings. He has a great feel for our offense as well. Ross is obviously an expert at it, but Mike will do a great job in my absence, I have no doubt."
Sophomore Dre' Davis said the team has been preparing for this period in practice.
"We kind of (talk about it), scrimmaging against each other," he said. "With two different coaches coaching, we've kind of had that experience, but not to the full effect."
Davis said he's not sure how it will feel without Mack on the sidelines, but he does expect the expectations to remain unchanged.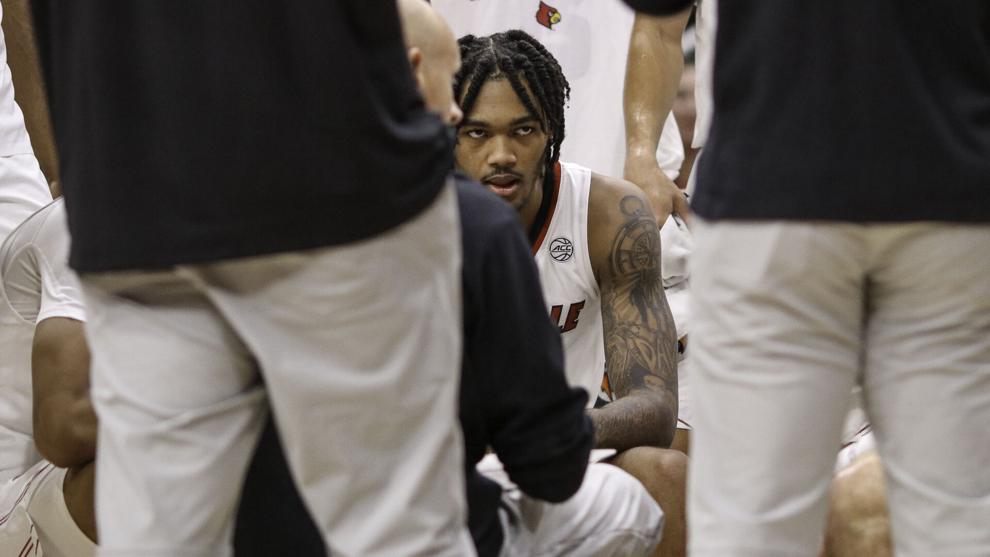 "It's kind of hard to answer, because we haven't experienced it yet," Davis said. "But I think it's the same expectations moving forward, you know. We all know what we've got to do. We've got a baseline of expectations. The players, we all know what we have to focus on. The attention to detail is there. So we'll just continue to have the same expectations and the same pop and focus on both ends of the floor."
And what will Mack do during the involuntary absence? No doubt it will be difficult. He suggested at Louisville's media day that he'll be a stay-at-home dad.
"It's gonna put me on pins and needles November 9, not being there," he said. ". . . I don't know what it'll be like, I've never experienced it. I have no idea what it's going to be like. I don't think I can do a whole lot. You can't do anything. I'll take my kids to school, and sit and wait till I pick them up."
And if things go wrong during his absence?
"If I see things on the floor that are sort of happening," he said, "I've just got to hope for a couple weeks they're getting addressed."
Copyright 2021 WDRB Media. All Rights Reserved.