LOUISVILLE, Ky. (WDRB) -- Nadia Nadim's first few days in Louisville have been a whirlwind of heat, humidity, sleep and traffic.
The 33-year-old forward has arrived in Louisville off a championship run at Paris Saint-Germain, and comes with a well-known story. The short version: Smuggled out of her native Afghanistan by her mother after her father was killed by the Taliban, she found herself in a refugee camp adjacent to a soccer field in Denmark. And the rest is history — soccer stardom, a spot on Denmark's National Team, global celebrity, humanitarian work for the United Nations.
She's your typical footballer-medical student who sprang out of a refugee camp, became fluent in seven languages and now is one semester from becoming a reconstructive surgeon, a goal which should be completed by next spring.
"Then you can call me Dr. Nadim," she said with a laugh on Wednesday morning after her first training session with Racing Louisville FC.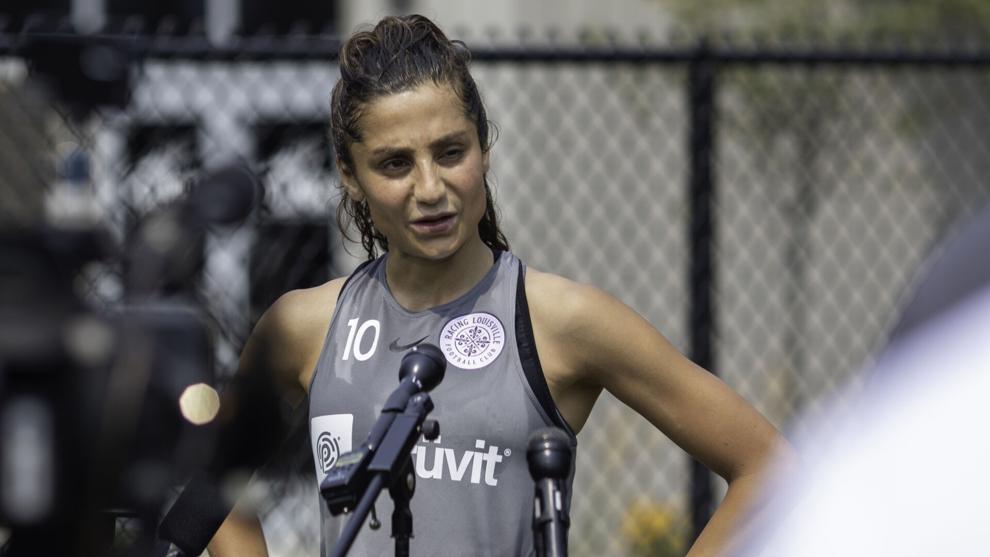 Of course, those kinds of things qualify you for one-of-a-kind status.
She arrived in town on Sunday with a made-for-Hollywood story, goals that stretch far beyond soccer, and a desire to create a legacy with a fledgling program. But first, she needs to crank up the AC. And adjust to the traffic.
"I knew it was going to be hot," she said. "I didn't know it was going to be like, this humid. And second, all these trucks on the streets. I've been in the states for three years, but all the cities I've lived in, it's been different. Portland was more like European. This is the first time I feel like I've been in the U.S. And I love the car that I've got. It's one of the big ones."
Racing coach Christy Holly goes a good way back with Nadim. He coached her during a previous NWSL stint with Sky Blue FC out of New Jersey.
"Nadia's way of doing things is just very different," he said Wednesday. "Seven o'clock in the morning we're sitting having breakfast with her and she's doing her thesis for her schoolwork. She opened up a paper she was reading, which is the 'Cultural Indicators in Organizational Innovation in Scandinavia.' And you've got a professional soccer player doing that. That's the level of intelligence behind this person, that's the level of intent behind everything she does, so that will rub off on the younger players for sure."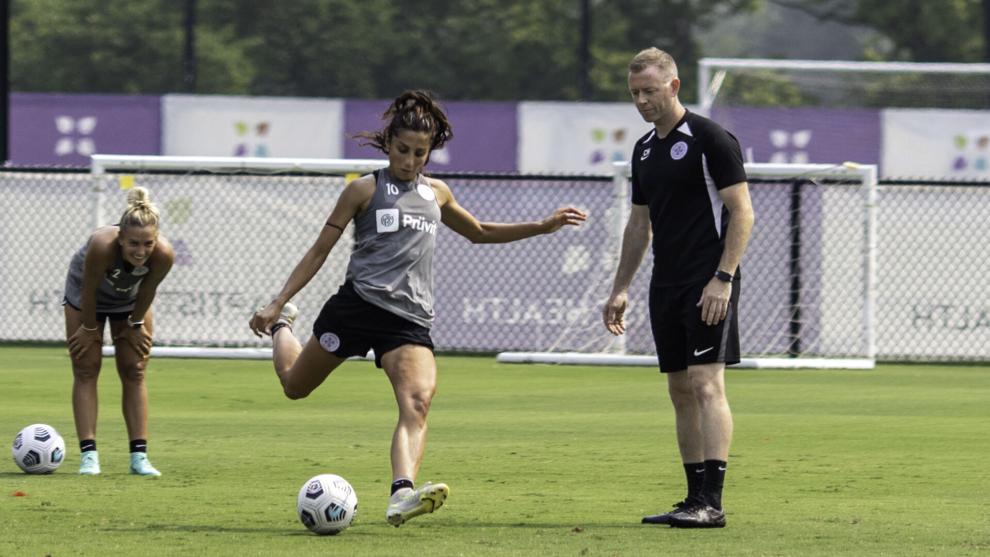 Nadim, of course, wouldn't be here without soccer credentials. She scored 10 goals and had four assists in helping to lead PSG to a league championship in the season she just finished. She is expected to provide an immediate boost to Racing's offensive fortunes, which already have been on the rise since the arrival of former Bristol City striker Ebony Salmon.
Racing and Holly began discussions with her before this season even started, but Holly said he was a bit reluctant.
"Every time I see her having success, whether it was Portland or Man City or PSG, I was delighted for her," he said. "And when we talked about the idea of bringing her here, my first answer was, 'I actually am really happy with where she is in her career at PSG. She looks like she is in a good place and I don't want to disrupt that, because I get a kick out of seeing her being happy.' But she said, listen, I want to come here. Her words, that I'll never forget, were, 'I want to create a legacy. I want to make history within the club at this city.' So, I thought, OK. Nothing else needs to be said. That's the type of person she is. She's driven by more than just soccer. She's driven by being the absolute best. By creating legacies and impacting other people in positive ways. When her soccer career comes to an end, she'll be doing surgeries all over Europe and Denmark. It's a different caliber of person, never mind soccer player."
Nadim said the challenge of building something from scratch appealed to her. And that she hasn't been disappointed in what she has experienced so far.
"My first couple of days have been really nice," she said. "The team is a really good mixture of players, really eager to learn, a lot of quality. I think the organization as a whole, the facilities as a whole, are amazing. The city, I didn't know anything about Louisville before I came here, but my first impressions have been amazing. I love the area that we live, close to the river. It's been all good so far."
Nadim said she had other options. But her history with Holly and the chance to build something new were enough to make Louisville an attractive option.
"My two goals are one, leave my mark on this club, being a part of creating something amazing," she said. "And secondly to oversee the Euros next season with the (Denmark) national team. Yes, I've had an amazing career but I'm really, really eager and hungry to achieve more and become a better player, and the day I don't feel that way, I don't want to play. This hunger that I have makes me wake up really early and makes me want to be the first one on the field and the last off of it."
And, in the meantime, she'll work to finish her medical studies, and spread a message of hope as she prepares for a future beyond football.
"I want to make an impact, help people, change the world," she said. "I know it sounds really big, but I think it can start in local areas. I want to help people and make a difference, that's my goal. I want to have my own clinic, my siblings, my older sister is a doctor, I have two nurses, so we want to have a clinic. I want it to be in Doctors Without Borders."
Asked how she has time to balance everything, she said, "I guess I'm super smart. I don't know. It must sound like a cliché, but I think if you really want something, you can achieve it. I've said this before, and it must sound like a Nike commercial, but it's not. It's like dedication, you know? I know I have 24 hours, like everyone else. I know if I have to get the studies done, or I have some other arrangements, I prioritize my time, and that's basically it. At times it isn't always fun. But at the end I know it's for something positive. I know that I want it, and that I'm going to make myself happy, but I'm going to make other people happy. These are the motivations."
She has told her inspiring life story more times than she can count, in TED Talks and to national media outlets, and in a memoir that has been translated into multiple languages. She will keep telling it, now in Louisville.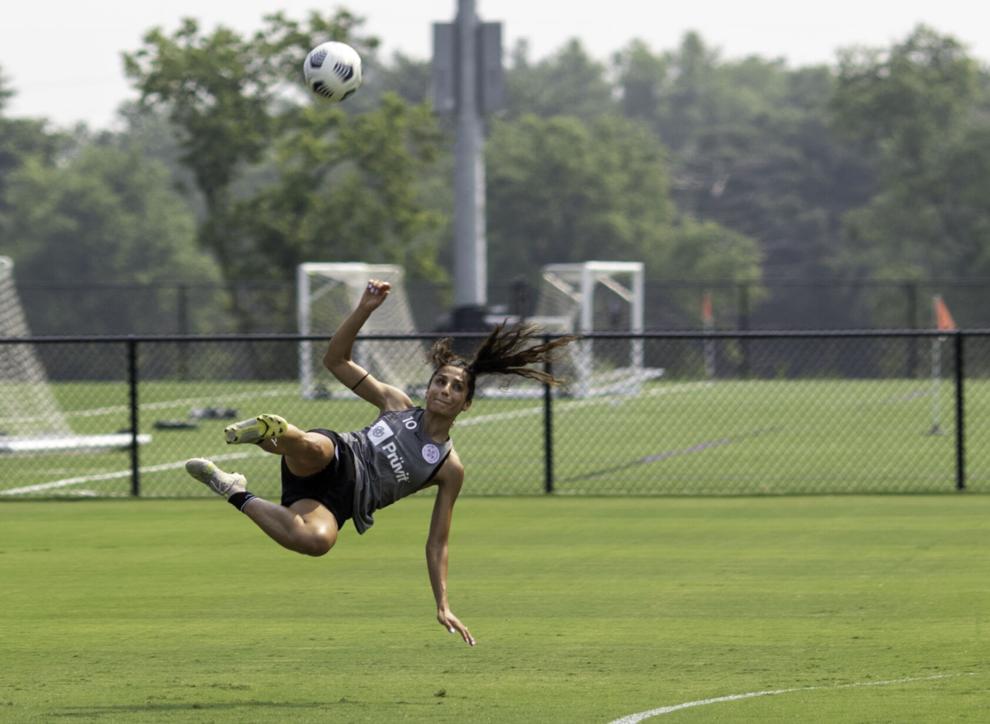 "You guys know about my life, my life story," she said. "I've always been really open about it. And one of the reasons I've been so open-minded or been telling my story so openly is that I know if I can help one person, people who may be struggling through something, had a rough beginning in life, I think that's the reason I've been talking about it, to help others. But on the other hand, I want to educate. I think, especially now, in a world where we are so easy to judge and so easy to close up and have certain opinions about certain people, tell them that, 'Listen, if you give people a second chance anything is possible.' If I'd never gotten a second chance, imagine where I would have been? I think that's the reason I'm really open about it, and I share my stories, my experiences, to inspire but also to educate."
For Holly and the leadership at Racing Louisville, Nadim's arrival is another step in building a brand centered around positive examples and athletic excellence. And she is a highly visible representation of that.
Holly said the opportunity to coach her again is a special thing for him.
"For me, it's one of the biggest privileges of my career," he said. "We first had her at Sky Blue. I remember coming back from a game in Western New York. It's an eight- or nine-hour bus drive down from New York to New Jersey. We probably lost a game. And a lot of the players were relaxing at the back of the bus, talking, during this bus journey. And Nadia had just gotten there and was sitting with something that was about a thousand pages big and I was wondering what could she possibly be reading and what would she want to read after losing a game? And it was actually a medical journal that she was reading, going through her studies to become a plastic surgeon. So right away I got that there was a whole lot more to this person than just soccer. And then we sat down and went through her background and her story, and Nadia is a high-octane person and she's very strong in her will and desire, and which is why, ultimately, that's she's here and she's done what she's done. She and I would butt heads in a good way and challenge each other. She's made me a better coach. She challenged me to think differently. She challenged me find things within her game that would hopefully make her better."
If it works out, it could add some luster to the early chapters of Racing Louisville FC's story.
Copyright 2021 WDRB Media. All Rights Reserved.