LOUISVILLE, Ky. (WDRB) — Racing Louisville Football Club could be in existence for a hundred years and not add a player with a longer, more courageous road to the city than Nadia Nadim.
The 33-year-old striker who just finished a two-season stint for Paris Saint-Germain by helping the club to its first women's title, has signed a two-year deal with Racing Louisville that brings one of the world's most prolific scorers and humanitarian athletes back to the National Women's Soccer League.
Racing has used allocation funds, made available to each NWSL club to sign players for more than the league's maximum contract, to complete the deal.
Her presence in Louisville, however, will be priceless.
"I'm looking forward to returning to the NWSL to be a part of Racing Louisville FC," Nadim said Tuesday. "The club has an interesting future with a lot of talented players and, from what I've seen and heard, a great fanbase. Everyone who knows me understands that I will give blood sweat and tears for that lavender jersey. I want to create history with Racing Louisville, and I can't wait to get started."
𝐺𝑢𝑒𝑠𝑠 𝑤ℎ𝑜'𝑠 𝑏𝑎𝑐𝑘?@nadia_nadim's returning to the @NWSL in lavender. 👊 pic.twitter.com/IxPAT4fWQe

— Racing Louisville FC (@RacingLouFC) June 9, 2021
She brings a story and mission that is well-known in women's soccer. It is the stuff of Hollywood blockbusters. She was profiled just five days ago by CNN, and has told her story to many of the largest media outlets in the world, in TED talks and through her work for the United Nations Scientific and Cultural Organization, where she has been designated a Champion for Girls' and Women's Education.
In Paris, she helped link up PSG with KLABU, a charity that works to build sports clubs in refugee camps around the world. An initial project is planned for Cox's Bazar in Bangladesh, the world's largest refugee camp.
It's a project Nadim is passionate about, because she was once a child in such a camp.
Nadim grew up inside a walled complex in Kabul, Afghanistan, the daughter of Rabani Nadim, a general in the Afghan army who was executed by the Taliban when Nadia was 11. Not long after, her mother had sold most of the family's possessions and begun the process of smuggling Nadia and her four sisters out of the country. They left their home in the dead of night and waited in an apartment near the border of Pakistan, cut off from the outside world, turning down several chances to separate and leave until an offer came to smuggle out the whole family.
Nadim's first trip on an airplane was to flee Pakistan for Italy with a set of forged passports and airport officials paid to look the other way. Once in Italy, the family was put on a truck and told they were headed for London, where Nadim's mother had extended family. Instead, they wound up several days later in Denmark, tired and starving, but safe.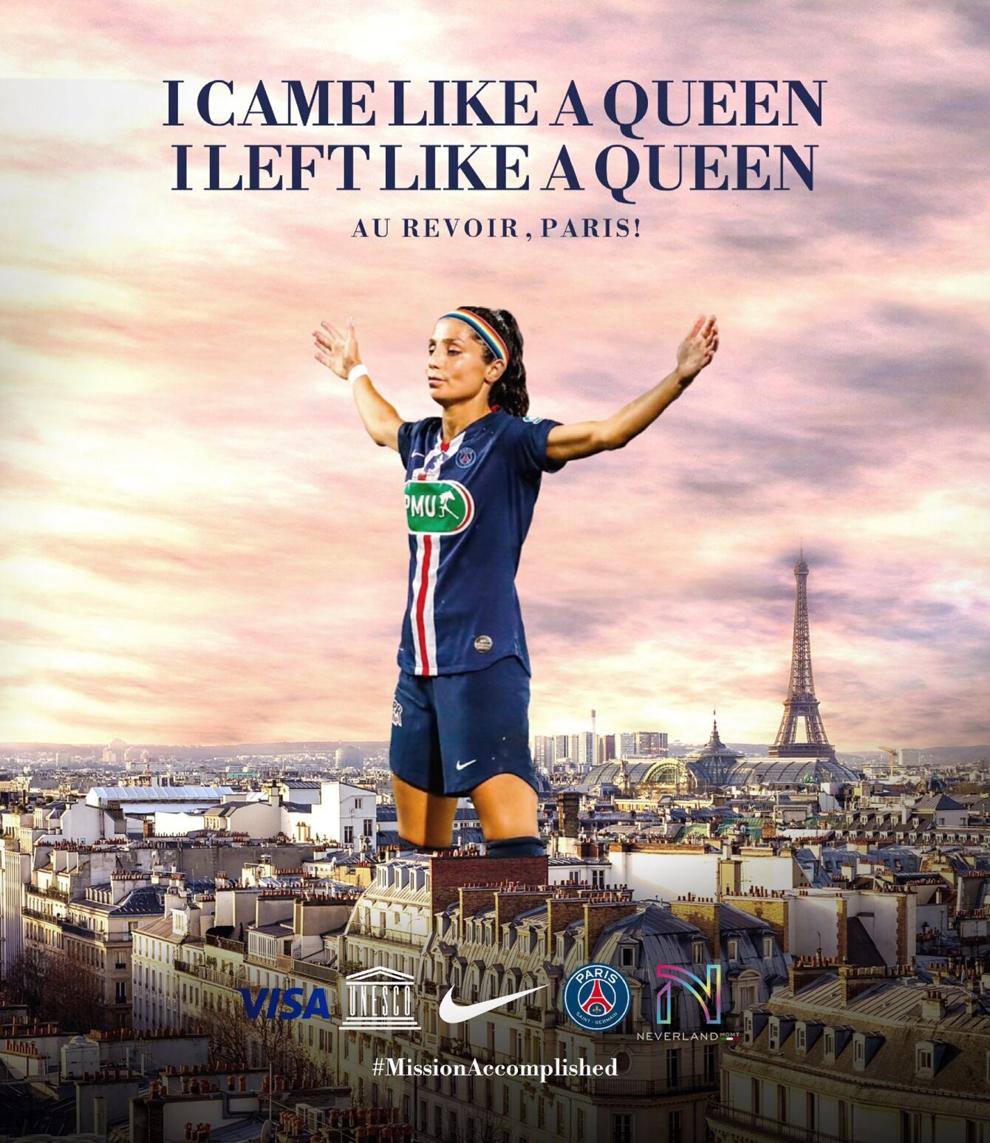 There, a policeman saw the family. As happened with another prominent Louisville sports name, Muhammad Ali, an act of kindness by a policeman left a mark.
"We are unloaded in a little village, outskirts Denmark, where this police officer sees that we're hungry," Nadim said in a TED Talk. "So he gets us some bananas, milk and toast. A small gesture. But this is the kindest thing anyone ever done to me. And bananas never tasted this good."
Beside Nadim's refugee camp was a soccer complex. She watched from behind the fences. Then edged closer. Soon she was playing.
The family was granted asylum in Denmark and given a stipend and an apartment. Over time, Nadim worked to make money to help her mother. In high school used her rusty bike, bad brakes and all, to deliver newspapers. Twice a week, rain or snow, her younger sister on the seat behind her, they got up in the middle of the night to deliver newspapers. A year after starting, Nadim had made enough to buy her own scooter and add more routes. Not long after that, she had earned enough to buy her own media kiosk.
But football was her dream.
"Every night when my head hit the pillow, I dreamed of being a footballer," she said. "I'm doing all the skills like Renaldo. Bending balls like Beckham. During the days I play, I train, I practice. It's almost like an obsession. It's the first time in my life that something is pulling me forward."
Her flair for the game was quickly evident. She became the first naturalized citizen to play for a Denmark national team. She was voted the nation's player of the year in 2016 and '17. In 2017, she was voted the nation's person of the year.
Born in a country where girls were prohibited from going to school, she excelled in her academic pursuits in Denmark. For several years, she has put off her final semester of medical studies at Aarhus University, where she has specialized in reconstructive surgery and hopes to practice once her sports career winds down.
Nadim spent two seasons with Sky Blue FC (2014 and '15, where she worked with current Louisville Coach Christy Holly), two more with Portland Thorns FC (2016-17) and one with England's Manchester City (2018) before going to Paris.
"Racing Louisville contacted my agent in January and, after hearing the plans that James O'Connor and the ownership has for the club, it became interesting quite quickly," Nadim said. "The fact that Christy Holly is the coach later made it a priority. Since leaving Sky Blue, I've always said I wanted to work with Christy again. Now we reunite at such a great organization. I'm thrilled."
She speaks nine languages and her autobiography will have been published in five when the French edition comes out this fall.
And now, the latest chapter of her remarkable story will be written in Louisville. Her arrival in the city after receiving her work visa will be another important development in the young franchise, which in a short time has become one of the more intriguing developments in international women's soccer, and one of the most significant stories of the year in Louisville sports, and in the advancement of women here general. To miss that significance is to fail to appreciate the gift of an influential women's sports and humanitarian institution plopping down on the city's doorstep.
Nadim's signing sends a message not only about the club's ambition to improve and be taken seriously on the field, but its desire to stand for important issues off it.
Nadim's next game will be Thursday when Denmark faces Australia in a friendly at noon. Racing Louisville returns to play on June 20 against the Houston Dash at 3 p.m. It will be the club's first game at 100% capacity in Lynn Family Stadium.
The team will have a more international feel when play resumes. Gemma Bonner, a defender who signed with Louisville out of Manchester City, is expected to be active, as is Ebony Salmon, a forward who is joining Racing from Bristol City. They join Yuki Nagasato, who has played every game.
"We are delighted to have Nadia in our club and city," Holly said. "We feel that being able to secure an iconic, world-class player is a strong statement of our intent moving forward. Nadia has had a tremendous amount of success throughout her career, and we are excited to tap into those experiences as we build our club."
Copyright 2021 WDRB Media. All Rights Reserved.