LOUISVILLE, Ky. (WDRB) -- Louisville City FC entered Wednesday's U.S. Open Cup fifth-round game against Nashville SC with a rare 2-game losing streak but with plenty of motivation, facing a Major League Soccer opponent on its home pitch for the first time since moving into Lynn Family Stadium.
A crowd of 8,638 saw the home team open the scoring with a Brian Ownby header from 15 yards out off an assist from Amadou Dia in the 37th minute, only to have Nashville's Ake Loba pull the visitors even from close range two minutes later.
But a couple of high-profile substitutes gave Nashville a late lift, a last-minute goal and a 2-1 victory to propel to the franchise to the U.S. Open Cup quarterfinal round for the first time in its history. LouCity, meanwhile, suffered a third consecutive defeat for the first time in 7 years.
LouCity more than held its own against the MLS side, controlling 60% of the first half possession and taking 13 shots in the match to just 4 for Nashville.
But U.S. Men's National team performer Walker Zimmerman came on in the 67th minute and MLS MVP runner-up Harry Mukhtar came on for Loba in the 77th, and it was Mukhtar who threaded home the game-winner in the 89th minute.
"Obviously it was a difficult way to end the match," LouCity head coach Danny Cruz said. "I told the players that a couple mistakes cost us. You give that level of opponent a half-chance, and they take it. They had four shots on the night. We had more possession. But ultimately, what matters is the result. I'm proud of the mentality on the night, but mistakes cost us."
Said Ownby: "We are disappointed. That game was for the taking for us. We gave up cheap goals, and they cost us."
The game could be more costly for LouCity. Center back Josh Wynder had to leave the game with an injury in the 57th minute. Cruz did not have an update on his status after the game.
It's been a tough stretch for LouCity with a congested schedule and a good bit of travel. Cruz said that's no excuse. And the home team will get no break. It faces a quick turnaround to face Tulsa at home on Saturday at 2 p.m.
"You know, this whole season so far we've had four actual weeks to be able to a full week of training, where you're able to get through issues and work through areas of improvement, and we've only been able to do it for four weeks out of the start of the season, which is difficult," Cruz said. "At the same time, it's clear where we need to be better. So we're very much looking forward to a quick turnaround against Tulsa. I was able to manage some minutes tonight, some of the subs were based off of having an important game on Saturday, as well as some cramping and things like that. But I certainly saw an improvement in the mentality. And I think if that group, if we have that every week, you're going to see more positive results than negative."
Cruz said his team is missing too many scoring opportunities, and in its recent run of difficulty, has been dealing with some fatigue. Late goals are evidence of that. But he said the tough stretch should be instructive for his players.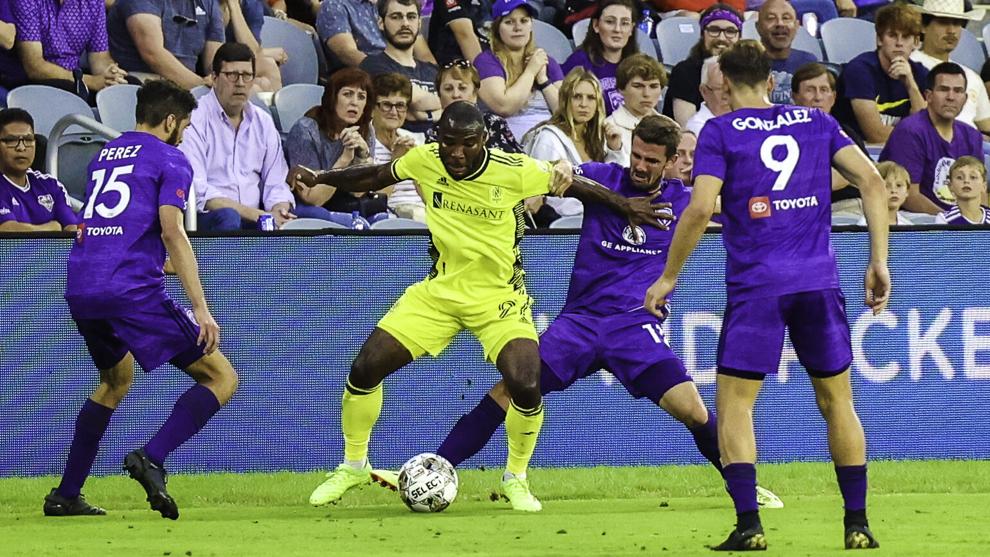 "Absolutely," he said. "Against LA, I think we played a young academy player who was on loan three days before that -- and he started the game, which put him in a tough spot – but I was really proud of him," Cruz said. ". . . After Saturday, we will have played since the start of the season, a game every four days, and traveled cross-country multiple times. Again, not an excuse. It's not an excuse for me, I have said to you guys and everybody else, I believe in every player in that locker room and believe every player can start when you travel, it just makes it a little bit more difficult on the on the legs. Does it play a role? Yeah, but you know, I'm not going to go and look for excuses when we lose."
Cruz said diagnosing the problems on LouCity's conceded goals isn't difficult.
"I think you can go back and look at every goal that we've conceded this year and they're all one of two things -- either a poor turnover or a ball over the top," Cruz said. ". . . These are things that we can fix. Which is why, you know, I'm not sitting here extremely concerned. I'm not feeling like there's been one game where an opponent has outplayed us. If that were the case, I'd probably be a little bit worried. But I'm confident that that we're going to turn things around on Saturday."
Copyright 2022 WDRB Media. All Rights Reserved.