LOUISVILLE, Ky. (WDRB) – There was a lot to like in Racing Louisville FC's 2-1 loss to Portland Friday night in Lynn Family Stadium. There was great competitiveness after the Thorns struck early, with U.S. National Team standout Sophia Smith scoring in the 7th minute.
There was Alex Chidiac's first NWSL goal. There was the return of Nadia Nadim to the starting lineup and putting in a full 90 minutes for the first time this season. Emily Fox was back from national team duty and Satara Murray made her first Louisville start in defense after playing with the Jamaican national team.
Racing put more shots on target (7) than Portland (6), which moved to the top of the NWSL table with 3 points earned Friday. There was a season-high attendance of 7,089.
Still, the team remains winless since May 22, and it's tough to accept the good when you want to end that long streak of losses and ties so badly. The stretch without a win now stands at 8 games.
"Right now, the only thing we want is 3 points, so we are disappointed today," Racing coach Kim Björkegren said. "They are fighting, and we played against a good team. They are doing their best. There are details we need to be better at and still there are way too many second-chance goals, so it's about having a better reading of the game but also small details."
The game-winner for Portland's Hina Sugita's came after Racing goalkeeper Katie Lund turned back a shot by Thorns' midfielder Raquel Rodriguez. Sugita was there, however, to put the rebound home.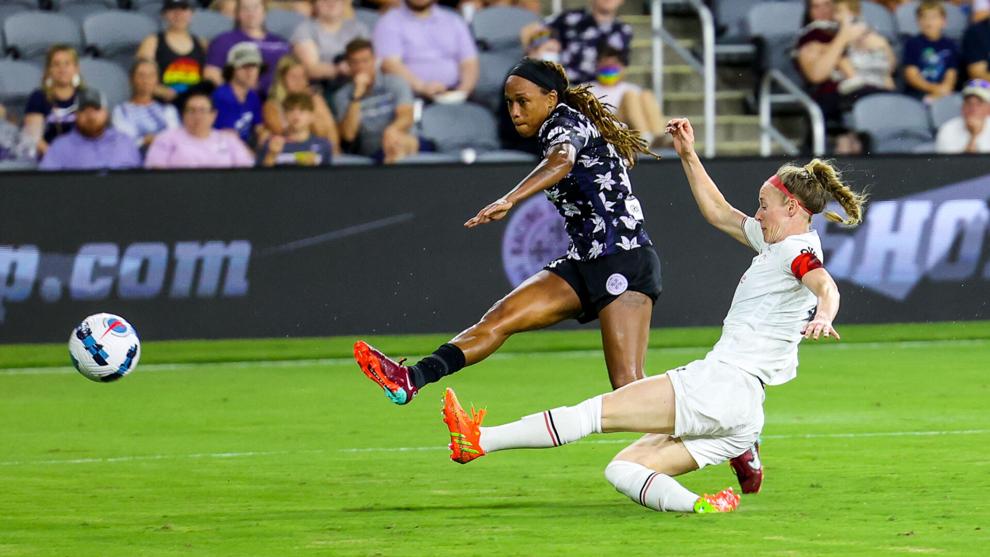 Chidiac tied the score in the 30th minute when she took a long pass from Jaelin Howell, beat her defender along the end line, dribbled toward goal and tapped home a shot inside the near post.
"I just saw the defender gave me space to go around," Chidiac said. "And as soon as I was coming toward the goal the keeper decided to move slightly to defend the back pass and I saw the opportunity and took it. I think I toe-poked it in the end, probably not the best technique but I got the goal."
She said the team remains upbeat, despite its struggles. Racing is 2-6-5 with 11 points on the season. Portland improved to 6-1-6, with 24 points.
"It's really difficult Each game we are taking a lot from that – the team is really close," Chidiac said. "A lot of people from the outside probably don't realize that, and they think these results are breaking us. But sometimes that's football. We're going to get the results – we definitely feel that. There are glimpses of really great football out there. It's probably good for us that you've got two more games coming up really soon because we can rectify this loss.
When Chidiac said soon, she meant it. Racing is back in action Tuesday night vs. OL Reign in Lynn Family Stadium. It then plays again next Friday at 8 when Washington Spirit visits Lynn Family Stadium.
"We want to be winning games," Chidiac said. "We need to keep moving up the ladder. We still have ambitions to make playoffs, so every game matters massively from now on. Each game's a final, really."
IMAGES | Racing Louisville FC falls to Portland Thorns
Copyright 2022 WDRB Media. All Rights Reserved.