LOUISVILLE, Ky. (WDRB) – The Louisville football team gets a Friday night national TV spotlight when Central Florida visits Cardinal Stadium in a game to be televised by ESPN.
It's the third game in 12 days, and second on ESPN, in a challenging opening stretch for Scott Satterfield's team, and he hopes it fares better than it did in its opener against Ole Miss.
The Cardinals are coming off a 30-3 victory over Eastern Kentucky, and badly need a victory at home to build some momentum for the ACC schedule, which begins next week at Florida State. They also need a victory to buoy the enthusiasm of fans, many of whom were put off by long lines at concession stands and other logistical problems in the home opener that Louisville athletic administration has promised to fix.
In short, Louisville needs to get things right on Friday night. A look at the game:
TIME: 7:30 p.m., Cardinal Stadium (60,800).
WHERE TO WATCH: ESPN (Jason Benetti play-by-play, Andre Ware analyst, Paul Carcaterra sideline). ESPN+ streaming service.
WHERE TO LISTEN: 840 WHAS-AM (Paul Rogers play-by-play, Craig Swabek analyst, Jody Demling sideline).
THE LINE: Central Florida by 7. Over-under: 68.
THE SERIES: Tied 1-1. Last meeting: UCF beat Louisville 38-35 for its only loss of the 2013 season in another Friday-night matchup in Cardinal Stadium. Blake Bortles led the Knights on a late rally after trailing 28-7 midway through the third quarter to stun the Cardinals, who were ranked No. 8 in the nation with a record of 6-0 coming into the game. The crowd of 55,285 was the fourth-largest in Cardinal Stadium history at the time and still ranks No. 11 overall.
THE COACHES: Scott Satterfield is 64-37 in his ninth season overall, and 13-13 in his third season at Louisville. Gus Malzahn is 79-38 in his 10th season overall, and is in his first season at UCF. He led Auburn to the national championship in 2013.
FRIDAY NIGHT LIGHTS: Louisville is 51-32-1 all-time in Friday night games and went 1-1 last season. The Cardinals have won 10 of their past 15 Friday night matchups.
RECORDS: Louisville is 1-1 after last week's win over EKU. UCF beat Bethune Cookman 63-14 to improve to 2-0.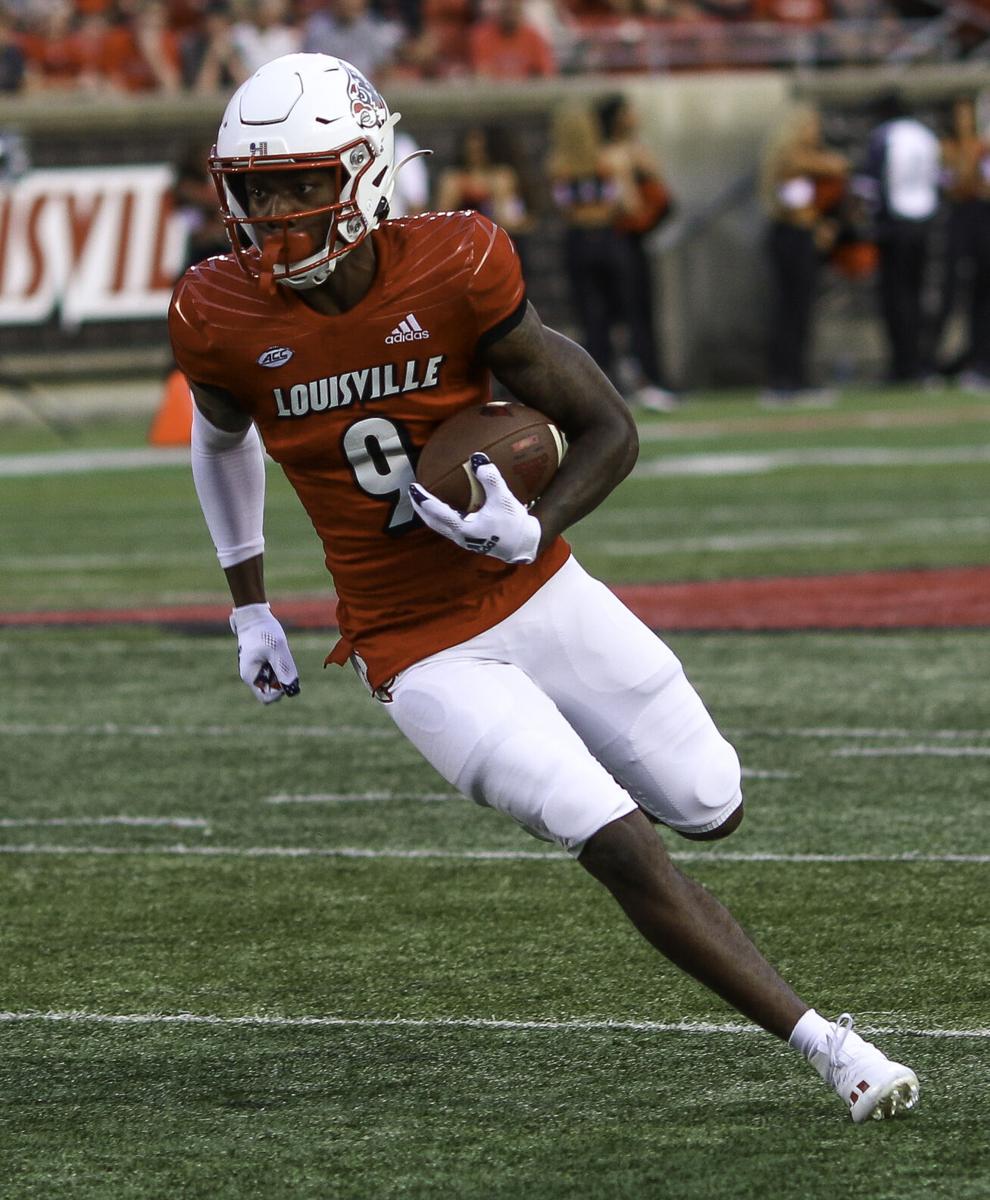 PLAYERS TO WATCH (Louisville): Forget dropping the ball before crossing the goal line in what would've been a 95-yard TD reception and the longest in school history, true freshman receiver Ahmari Huggins-Bruce showed signs of being the playmaker Louisville has been looking for in its win over EKU. He had four catches in the game for 150 yards, breaking the school record for most receiving yards in a game by a freshman set by Tutu Atwell (132) during the 2018 season. His late-game sprint after catching a midrange pass on a crossing route showed just the kind of big-play burst that the offense had been lacking up to that point. On defense, the Cardinals will need another big game from cornerback Kei-Trel Clark, whose two interceptions were key against EKU, and earned him co-Defensive Back of the Week honors from the ACC.
PLAYER TO WATCH (UCF): It all starts with QB Dillon Gabriel, who came into the 2021 season as one of the top returning quarterbacks in the nation, having led the country in passing yards per game last year, when his 357 passing yards per game set a UCF record. He has started the season averaging 315 passing yards per game and ranks in the top 10 in the nation in passing touchdowns, points responsible for, and total offense. Gabriel was on the watch list for every national quarterback and offensive player of the year award heading into the 2021 campaign.
SIDELINE STORYLINES: Coming off a disappointing 4-win campaign in the COVID-plagued season of 2020, Louisville was hoping to build off some momentum it built in a spirited win over Wake Forest in its season finale. Instead, it opened the season flat against Ole Miss, trailing 20-3 at halftime and never threatening. While it beat EKU handily, its offense still didn't sustain a great deal in the way of scoring drives. Of its three touchdown drives, only one took more than three plays. Defensively, the Cardinals generated three takeaways, but now must try to do that against a much more accomplished offense. UCF is looking to re-establish its name among the top national programs after losing a program five players to the NFL Draft following last season. Malzahn brings them a proven offensive innovator, and Gabriel is dangerous at the controls. But UCF also comes into the game second in the nation on defense against the run. The school this past week accepted an invitation to join the Big 12 Conference in two years.
QUOTABLE: Satterfield on the UCF defense -- "They're a really good run defense and I think they do that with how aggressive they are up front. We got to find ways to (run) and that's what we're doing now in game planning, finding the ways where we can try to get some edges and to be able to get some pops from runs in there. There may be something that you do different on that as well, if they're all stacked in the box and we got to do something outside so a lot of it is just kind of going where they're not mentality, but we've got to figure out a way to stay on the field, keep sustaining drives, keep their offense off the field and then we got to get down there and score touchdowns."
THE PICK: UCF 38, Louisville 28.
Copyright 2021 WDRB Media. All Rights Reserved.