LOUISVILLE, Ky. (WDRB) -- It's been called the most expensive private development in Louisville's history: a massive mix of apartments, offices, stores, restaurants, a hotel — up to 18 stories tall — at the corner of Lexington Road and Grinstead Drive in Irish Hill.
But the mega-project dubbed "One Park" won't happen unless taxpayers foot a significant share of its cost, the developer is telling elected officials.
Jefferson Development Group, which has pursued the ambitious project since 2016, is quietly seeking support for a "tax-increment financing" — or TIF — arrangement that could provide $244 million in subsidies from Metro and state taxpayers over 30 years for One Park, according to documents obtained by WDRB News.
The project — expanded last year with the addition of "One Park North" on the north side of Lexington Road — is estimated to cost $603 million in all, according to a presentation the developer has shared with city officials.
A "partnership" with the state and Louisville Metro is "needed to complete the capital stack" for the project, according to the presentation.
The plan would redirect $96.3 million in Metro government tax revenue and $147.9 million in state tax revenue to the developer over the 30-year life of the "TIF" district, according to the presentation.
Jefferson Development Group, led by Kevin Cogan, declined to comment for this story, according to its land-use attorney, Bill Bardenwerper.
Not everyone is on board with providing public funding for a development that will include luxury amenities like rooftop pools and a grocery store in an already well-served, high-income part of Louisville.
"The public needs to be involved in these discussions. ... I think people should look at this and say, 'Is this something we really think is a good investment of our tax dollars?'" said Metro Council member Bill Hollander, a Democrat whose Clifton-Crescent Hill district includes the One Park site. "... I hope that we (Metro Council) will look at it very carefully."
---
'What type of a city do we want to be?'
While some neighbors think it's too big, One Park is the sort of urbanist development that city planners dream of: a dense, compact, pedestrian-friendly mix of uses built near Louisville's city core and at the foot of one its finest public assets, Cherokee Park.
One Park is "exactly the kind of economic activity that is anticipated and promoted by" Louisville's land use plan, the Metro Planning Commission gushed when approving the original One Park rezoning in 2019. It would replace a hodge-podge of small buildings and parking lots that developed haphazardly over time in the triangle between Grinstead Road, Lexington Road and Etley Avenue.
Meanwhile, Jefferson Development Group is seeking a zoning change that would expand One Park to the other side of Lexington Road, on the lot formerly containing the Jim Porter's Good Time Emporium nightclub. That part of the plan is called "One Park North."
In all, One Park would have 600-700 apartment units, 200 hotels rooms, a grocery store, restaurant/retail space and common areas such as plazas and terraces, according to the presentation obtained by WDRB.
Jefferson Development Group has said One Park is the sort of project seen in faster-growing cities like Nashville.  
Hollander, who voted for the 2019 zoning change needed for the original One Park, said he applauds the development for its density, despite "legitimate" concerns about added traffic.
"Whether you think this would be a good development for the community is one thing. And I do," Hollander said. "Whether you think the taxpayers should pay for it is another thing. And I'm not sure I do."
Metro Council member Markus Winkler, a Democrat who represents the Springhurst-Anchorage area, supports a TIF deal for One Park, saying it would be "a shame" if the project doesn't materialize.
It's "the sort of development you see in lots of other growing cities," he said.
"What type of a city do we want to be? Do we want to be a city that attracts new people, new business, new opportunity? Or, do we want to be a city that stays the same or shrinks, right? And you either grow or you die," Winkler said. "... Responsible growth — making sure that we're attracting a workforce here, that we're attracting companies here — is what's critical to the success of our city."
Jefferson Development Group would have to negotiate the TIF deal with Mayor Greg Fischer's administration, which would then go to Metro Council before state government would approve its portion.
It's too soon to say whether Fischer, who is wrapping up his final months in office, supports a TIF for the One Park project.
"The mayor is definitely supportive of the development of this area, but we will have to wait for a specific application to be filed before we can comment further," spokeswoman Jessica Wethington said in emailed statement.
Metro's economic development agency, Louisville Forward, also declined to comment.
---
TIFs don't always work as planned
One of the few economic development subsidies available to Louisville officials, TIFs have proliferated in recent years, underpinning the financing of the KFC Yum! Center arena, the Omni Louisville downtown hotel and several new apartment complexes.
The much-anticipated "West End TIF" is designed to bring millions of dollars to impoverished west Louisville over 20 years.
The idea is that something newly built — such as an arena, a hotel or an apartment complex — results in increased tax revenue. A portion of that new money is then redirected over time back to the developer to help pay for the project.
In theory, cities and states still come out ahead, even if they let the developer share in the gains.
But the economic assumptions undergirding TIFs are often questionable, said Greg LeRoy, executive director of Good Jobs First, a Washington organization that researches state and local economic subsidies.
Usually, at least some of the "growth" is illusory because the activity was already happening elsewhere in the same metro area, or would have happened anyway even without the subsidy, he said.
For example, if a company already located in Louisville takes up new office space in One Park, that wouldn't be a net benefit to the city. Even if an out-of-state company relocates to Louisville, that may have happened anyway regardless of the development, LeRoy said.
"If you can safely assume ... that 100% of every business, every tenant, every hotel night, is going to come from afar and wouldn't have happened otherwise except for this one, spiffy building, then you can claim it's all 'incremental' (growth)," LeRoy said. "I would never try to defend that position."
Supporters of TIFs also accept another article of faith: that private developers wouldn't build their projects except for the subsidy.
Winkler said it seems obvious that something on the scale of One Park isn't possible without public support.
"With this case, specifically, one would look at our market and say, 'Are there lots of projects like this being built?'" he said. "And the answer to that, quite simply, is 'No.' ... We have nothing like this in the city. And so I think that is strong evidence."
Hollander conceded that the "mega-development" proposed for One Park might not happen without the subsidy, but he said the private market could still support a worthwhile project on the site.
"I am not convinced that it could not be developed in some other way," he said.
Hollander questioned whether the One Park project meets the state-law requirements for a "blighted urban redevelopment area." One of those requirements is that the Metro Council certify that the area "is not reasonably expected to be developed without public assistance."
The area encompassed by Lexington Road, Grinstead Drive and Etley Avenue is home to businesses including Le Moo, one of the most expensive restaurants in the city.
"It has a pretty high-end restaurant," Hollander said. "It has a pretty high-end exercise studio. It has a very nice coffee shop there. ... I'm not sure it qualifies as being blighted."
Hollander added that it would be difficult to justify subsidizing a presumably high-end grocery store — which is planned in One Park North — in one of the wealthiest areas of Louisville.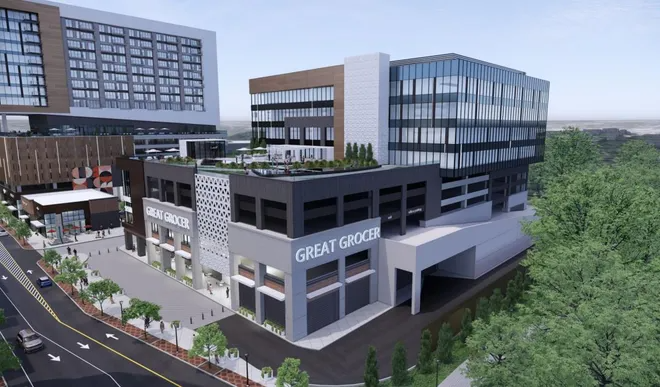 "With food deserts in other parts of the city and a long overdue emphasis on equitable investments in all neighborhoods, I have real concerns about a proposal to provide tax incentives to build a grocery store adjacent to Cherokee Triangle," he said. "We all should."
Hollander supported Metro government's TIF deal that provided about $112 million in public funds to help build a luxury hotel, the Omni, downtown in 2018. But One Park is not as essential to Louisville's future, he said.
"With the Omni, I think we were trying to get a major hotel into town which would help our tourism business and particularly our convention business, which, pre-COVID wasn't doing extraordinarily well," Hollander said. "This (One Park) this is a little bit different. ... I don't know anybody saying we have to have this for economic development."
As WDRB reported last year, TIF deals for the Omni and the downtown Marriott built in 2002 left taxpayers with a $5 million tab because tax revenue didn't materialize at the hotels during the COVID-19 pandemic.
The TIF for the KFC Yum! Center, which was built in 2010, also didn't produce the new tax revenue that had been projected, causing Louisville taxpayers to contribute more to help the arena meet its debt payments.
However, in the presentation shared with city officials, Jefferson Development Group said the One Park TIF would work differently: The developer — not taxpayers — would be on the hook if tax revenue is less than expected.
Hollander also worries about TIF subsidies becoming the norm for new developments.
"I don't think we can be in a position, as a city, to have every developer come in and say, 'I won't build this (without a subsidy). Therefore it meets the 'but for' test, and so I don't want to pay my taxes," he said.