Thursday, October 21, is International ShakeOut day. The third Thursday of October is recognized internationally as the day to practice your earthquake drill. Around here most of you probably do more tornado drills than earthquake drills, but you need to know what to do during an earthquake, too. We are close enough to the New Madrid and Wabash Valley Seismic Zones that we need to be prepared when the earth shakes.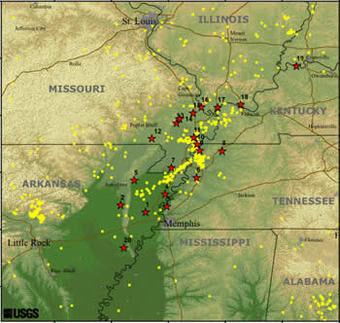 You can register online if you want to participate in the Great ShakeOut and get more information and resources. But it's a really simple event! Thursday, October 21, at 10:21 AM local time, all you need to do is Drop, Cover, and Hold On. 

It's important to do this drill so you can identify good shelter places in your home, school, or place of business. When the ground is shaking, it's too late to try to figure out what to do. If you do this drill ahead of time, you can save yourself and your family precious seconds when the time comes.
DROP where you are, onto your hands and knees
COVER your head and neck with one arm and hand, as you crawl for shelter under a nearby table or desk.
HOLD ON to your shelter with one hand until shaking stops (remain on your knees and covering your head and neck with your other arm and hand).
It's also important to remember that it's usually debris that hurts people in earthquakes, not the act of the ground shaking. It's most important to get to a safe place as close to you as possible and stay there. Moving to a different location while the quake is happening is very dangerous. 
You may not always be inside or at home, though. ShakeOut.org says:
"If you are outdoors when the shaking starts, you should find a clear spot away from buildings, trees, streetlights, and power lines, then Drop, Cover and Hold On. Stay there until the shaking stops. If you are driving, pull over to a clear location, stop and stay there with your seatbelt fastened until the shaking stops. Once the shaking stops, proceed with caution and avoid bridges or ramps that might have been damaged."
According to ShakeOut.org, last year more than 29 million people in the United States participated. Our region already has more than 2 million people registered to participate tomorrow!