A student in Eastern Kentucky University's online program was studying to be a family nurse practitioner, until injuries suffered in a motorcycle accident intervened. Faculty kept in touch with him, inquiring about his progress and encouraging him to eventually see his education through. Tim Matthews recently received a message from the student, now back in school, praising EKU's faculty members for their understanding and empathy.
"Those are the kinds of stories we hear repeatedly," says Matthews, EKU's executive director for the Office of e-Campus Learning. "The success stories are numerous, and they run the gamut across all disciplines. These are students who can only fulfill their educational goals by coming online, and they choose EKU because of the caring and committed faculty that we have."
Online learning is a priority, due to the coronavirus pandemic that has impacted much of the United States. That includes colleges and universities, which have extended spring breaks and shifted the remainder of the spring semester entirely online. But well before this current episode, online learning at EKU has played an important role in bringing college to those who might not otherwise have a chance to access it.
The average age of an EKU online student is 35, as opposed to 20 on campus. Online students are often working parents, so classes are converted to eight-week sessions. They're usually transfers from a community college, or returning students who had previously studied at EKU. They pay a similar tuition as other students, and have access to financial aid. And like their on-campus colleagues, roughly 40 percent of them are first in their families to attend college.
"An education for those students doesn't just change their own lives and their families' lives, but also their communities, in many cases," says Gill Hunter, EKU's executive director of retention and graduation. "Peoples' vision is expanded when they see a teacher or a social worker or a nurse or a police officer who has an education from EKU and has chosen to go back to their community and make a difference. And that's what we're preparing these students to do."
Classes three months in the making
EKU offers more than 40 online programs. While the delivery mechanism is different, the goals are the same as those pursued by students studying on campus. Online students use an internet-based learning management system called Blackboard, receive engagement and feedback from classmates, and communicate with professors and fellow students via chat, email, discussion boards and forums, and interactive videos.
Faculty members take time and care to set up online classes, which normally take between six weeks and three months to assemble. In contrast, the remote learning classes that on-campus students are returning to were assembled under tighter time constraints, and by many faculty members who aren't accustomed to teaching online. While traditional EKU online students will continue to see the planned academic experience as normal, due to extraordinary issues raised by the COVID-19 pandemic, on-campus students transitioning to online will likely see something different, out of necessity.
"We're in an accelerated mode of delivery with our on-campus students," Matthews says. "One reason EKU extended spring break was to give faculty the opportunity to get online course content built. What would normally take six weeks to three months, we're now doing in the time period of a week. So the odds are pretty good that what our on-campus students are going to see with online course delivery is not going to look exactly like what you would see with a typical online course."
Much of EKU's on-campus faculty has spent the last week trying to build up two weeks of online class content, Hunter adds. That's because "a lot of the faculty now teaching online are faculty who opted not to teach online in the past," he adds. "And thousands of our students who are now taking online classes are students who either by their own choosing or by strategic advising, have not been taking online classes in the past. And so this is very unfamiliar territory for both sides of that instructor-student relationship."
Some on-campus EKU students, though, are very familiar with online classes — those who take online classes over the summer. On-campus students often complement their summer work schedules by taking online courses that can put them several credit hours ahead the following semester.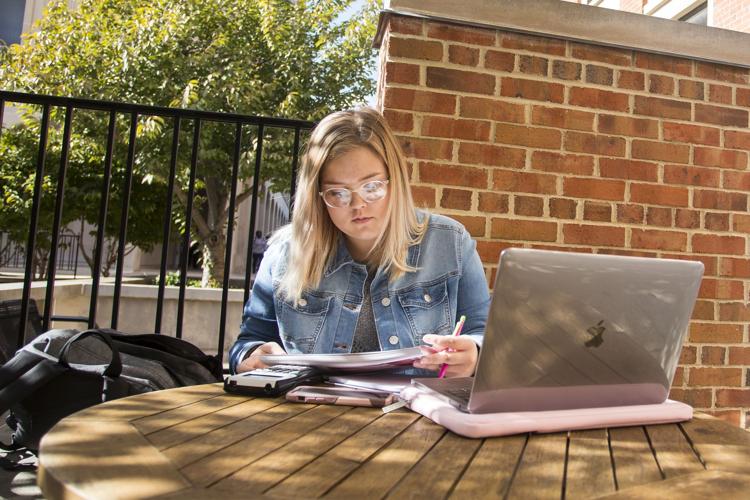 "We have thousands of students who have to be able to work through the summer in order to pay on their tuition the following year. And so they take summer classes to keep going, but they work as close to full-time as they can," Hunter says. "So they really like the luxury of being able to do both of those things during the summer. And we're comfortable with it as advisors because we know that in summer students are only taking one or two classes at a time, and a student doesn't have to juggle too much."
Programs that make a difference
Although traditional online students interact with professors and classmates, they often face work and personal distractions that younger, on-campus students don't. And their diffuse locations can make it difficult for them to benefit from the kind of wraparound support that on-campus students have, leading administrators to put a different type of safety net in place.
"We are working with faculty and students, trying to get those groups to be responsive when the student doesn't show up — and by show up, I mean log into our learning management system," Hunter says. "Or when a student has a question, we're trying to surround those students through technology with people who help them at every turn."
That type of involvement is part of the EKU mission — to change lives by providing affordable access to quality programs, especially for first-generation or nontraditional students, who can then go on to impact their communities in a positive way. 
"When you look at the programs we're offering, they're criminal justice and homeland security and nursing and fire science, child development and education. These are the disciplines that are making a difference in our world and our society," Matthews says. "And these are disciplines that our students want to be involved in. And so in order for us to reach the nontraditional population—that's why we exist, and that's what we're really proud of."
Interested in learning more about what EKU has to offer? Learn more about the programs available EKU by visiting https://programs.eku.edu and see online-only programs at https://ekuonline.eku.edu.