When members of the freshman class at Eastern Kentucky University reported for the 2019-20 academic year, they brought with them hopes and dreams for the future as well as anticipation and enthusiasm for college life. And over half of them carried something else — merit-based scholarship money, a result of EKU's efforts to help more first-year students pay for the cost of school.
An enhanced scholarship model at EKU meant that 51 percent of incoming freshmen for the 2019-20 academic year received some type of scholarship award, up from 39 percent the year before. The scholarships went to both residential and commuter students, with the average amount for this academic year being $4,700.
"We're trying to spread it out," says Bryan Erslan, EKU's Director for Student Financial Assistance and Scholarship. "If a student is getting scholarship money, then we're retaining them at a much higher percentage. You can't award everybody a scholarship, but if they had a good high school GPA and their ACT was competitive, they could qualify. So this was to try and reward more students with scholarships, and retain them over their time here."
Student aid on the increase
Almost 40 percent of EKU students are the first in their families to attend college, making it paramount that the university help them with their financial need. In addition to the enhanced scholarship model that distributes money to more students, Erslan expects the commonwealth's College Access Program Grant to increase by about $200. Also, the Pell Grant is expected to increase by $150 for the 2020-21 academic year. When cobbling together a financial aid package, every little bit helps.
"Any increases we can get, we're encouraged by. That helps families," Erslan says. The increases "are good news for students in need, and many of those first-generation students fall under that category."
Helping students from diverse backgrounds is also a priority at EKU, evidenced by the Dr. Rodney Gross Diversity Scholarship, which is intended for minority students pursuing their first undergraduate or graduate degree. The award can range from $1,000 to $3,000 annually and can be retained from year to year if students meet certain criteria.
 "We're just trying to meet as much need as we can," Erslan says, "and help families finance their children's education."
Outreach and information
EKU's financial aid office also has an outreach program which regularly visits high schools throughout the commonwealth. The university has around 13 visits already scheduled for 2020, and expects that number to increase.
"We're willing to go to just about any high school. If there are students there that want to put together financial aid packages, we'll go to them," Erslan says. "I think that's important, to be accessible and to talk with families. Because it's a transition for any student to go to college. We want families to understand when they're coming to EKU what the charges are, what their financial aid is, what kind of responsibility they have. All those things are important, and the sooner we can get that information to them, the better."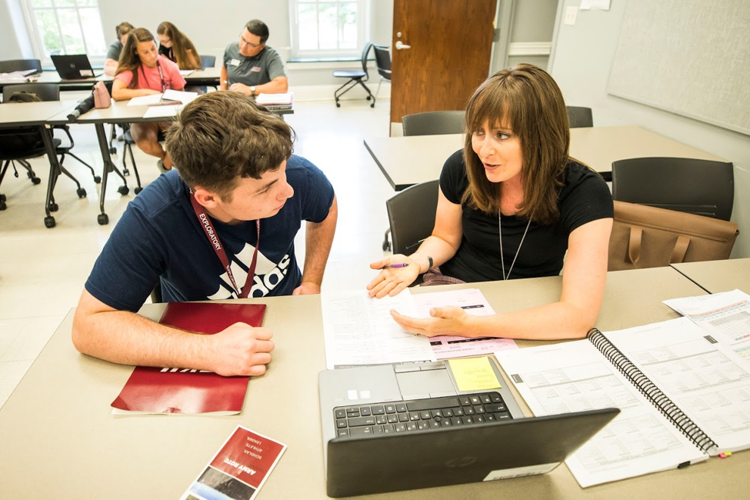 EKU financial aid officials also provide families with information on student loans —advising them first and foremost to borrow only what they need, rather than the full amount. Erslan refers families to reputable websites like FastWeb and CollegeBoard where they can conduct scholarship searches without fear of being scammed. And EKU catalogues all the types of scholarships available to students, both private and from the institution itself, on its website.
"Any kind of scholarship request that we have, we put it on our website. We have a list that's continuously being updated. It's ever-changing," Erslan says. "Families may have to do some work looking them up, but it can be worth their time."
Interested in learning more about the types of financial aid available to students at Eastern Kentucky University? Contact the EKU Office of Student Financial Assistance by phone at (859) 622-2361 or by email at finaid@eku.edu, or visit their website at FinAid.EKU.Edu for further information.