LOUISVILLE, Ky. (WDRB) -- Violent crime is up. Property crime is down. And in Metro Louisville overall, crime reported to city police has decreased by nearly 10% from the same period last year.
Data collected by the Louisville Metro Police Department through Aug. 8 show the already well-documented rise in homicides and auto thefts, along with increases in robberies and assaults.
The number of home burglaries has fallen, a decline police attribute to stay-at-home trends and business closures during the early days of the coronavirus pandemic. Overall thefts also are lower than a year ago.
At the same time, there has been a 30% decrease in total police activity. Officers have issued less citations, made fewer arrests and executed nearly half of the number of warrants they had through early August of 2019.
The data are preliminary – and they don't include independent cities in Jefferson County such as St. Matthews, Shively and Jeffersontown. But they provide a glimpse into how upheavals amid COVID-19 and social unrest have affected neighborhood safety and policing alike.  
"It literally is a tale of two different types of crime," said Lt. Col. Joshua Judah, the department's patrol bureau commander. "And very frankly, LMPD's ability to deal with either of them is a challenge right now because of the constraints on our manpower, attrition, things like that."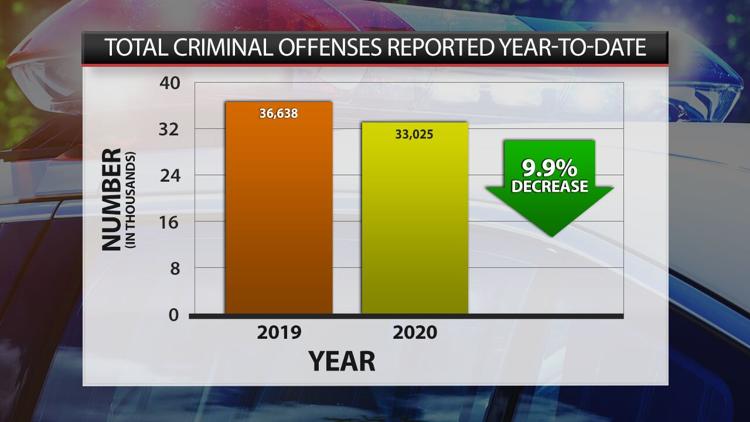 In March, police announced that officers would limit in-person responses to incidents that weren't deemed critical, such as car crashes. Judah said officers continue to be more selective about responding to incidents, in part because of increased public scrutiny and the risk of contracting COVID-19.  
"Every interaction you have with somebody is a potential for exposure," he said. "We have had dozens of employees who have been exposed to the virus, who have contracted the virus, who are in some form of quarantine because of it."
Meanwhile, since late May, protesters have marched and demonstrated over the death of Breonna Taylor, a 26-year-old Black emergency room tech whom police shot and killed inside her home during an early-morning raid March 13. Daniel Cameron, Kentucky's attorney general, is conducting an independent investigation of the shooting.
LMPD has a sworn staff of 1,154, according to department data, compared with 1,189 at the same time in 2019. Judah said "several dozen officers" are recruited from across the department for protest duties each day.
Ryan Nichols, president of the River City Fraternal Order of Police, said the police department is operating with "lean" staffing that's been laid bare by the pandemic and protests. 
"Not only do we not have enough officers out there to patrol and help deter and prevent crime, we don't have enough manpower with everything that's going on now to have the folks that should be investigating those crimes, investigating those crimes in a timely manner," he said. "And our victims – the citizens – continue to suffer."  
Tiesha Calbert said police haven't been responsive to her report items were allegedly taken from her late father's home in the Berrytown neighborhood in eastern Louisville.
Calbert, who said she owns the house with her siblings, told WDRB News that she has evidence of who stole the belongings from a garage but that police have dragged their feet investigating.
She said she hasn't heard from detectives in the case for more than two months, despite leaving repeated phone and email messages.
"I can't even get any kind of resolution or peace behind it – not even a phone call," Calbert said.
Among all crimes reported to LMPD this year, there have been year-over-year increases in homicides (+35%), robberies (+27.2%), assaults (+9%), auto theft (+7.2%), according to the preliminary police data. In all, violent crime reports are up 9.8%.
Federal officials launched a task force last week after a rash of carjackings in the city -- more than 30 in July, compared with four during the same month last year.  
But there have been fewer reported overall thefts (-17.4%), burglaries (-5.3%), rapes (-28.7%) and sexual offenses (-14.5%).
The steepest drop has been among reported drug offenses, which are down nearly 47%.
"Certainly it's not that there are fewer drugs," said LMPD's Judah. "It's that we are making fewer arrests or citations for drugs."
The reduction, he said, is almost entirely the result of a decline in "self-initiated activity," such as a traffic stop that may yield narcotics.
Also contributing, Judah said, is a policy change last August by the Jefferson County Attorney's Office to stop prosecuting marijuana possession – the "drug we encounter most."
Judah said officers no longer are writing citations for marijuana possession, although they will seize it because it remains illegal under federal law and in Kentucky.
There have been 355 total nonfatal criminal shootings, according to LMPD data, up from 162 at this time last year; 173 in 2018; and 185 in 2016. In all, 40 of those cases have been closed.
"That's a direct result of trust, cooperation or the lack of it," Judah said. "So the overwhelming number of these shootings we believe we know that the victims have a fairly decent idea who was targeting in the shooting. But they are unwilling to speak to us."
LMPD has reported year-over-year increases in overall crime in just one of its eight patrol areas – the Second Division, which stretches across neighborhoods in western Louisville such as Algonquin, California, Park Hill and Shawnee.
The area has seen a 15% increase in violent crime, and a nearly 5% climb in property crime.
Metro Council member Donna Purvis, whose 5th District takes in part of the division, said she believes a "factor of things" is contributing to increased crime, including young people who have fewer things to do because of the pandemic and fewer patrols in those neighborhoods.    
"We just need to get to the base of what's causing so much criminal activity in order to address it," she said.
As she meets with residents, Purvis said some people also have shared stories of officers taking an hour to respond to calls or not showing up altogether. And, she added, many of her constituents simply don't trust the police.
Mayor Greg Fischer has ordered a top-to-bottom review of the department. The city also is seeking a new LMPD leader to replace former Chief Steve Conrad.
Fischer fired Conrad in June after officers failed to follow agency guidelines and turn on body cameras when police and the Kentucky National Guard went to the Russell neighborhood in response to a crowd near 26th Street and Broadway.
David McAtee, a well-known barbecue business owner, died after he was struck by bullets fired by at least one guard member, Kentucky officials have said.
Purvis said she doesn't know if any of the Fischer initiatives will ease her concerns about the department.
"It is – it was – a broken system and then when you have an administration that does not hold you accountable for your actions or inactions, it's just bad."
Copyright 2020 WDRB Media. All rights reserved.